One of the country's most unique Undergraduate honours degree programmes, the B.A Visual Arts (BAVA) based on Sherkin Island is issuing a final call to interested participants for this year's intake which is due to begin in September.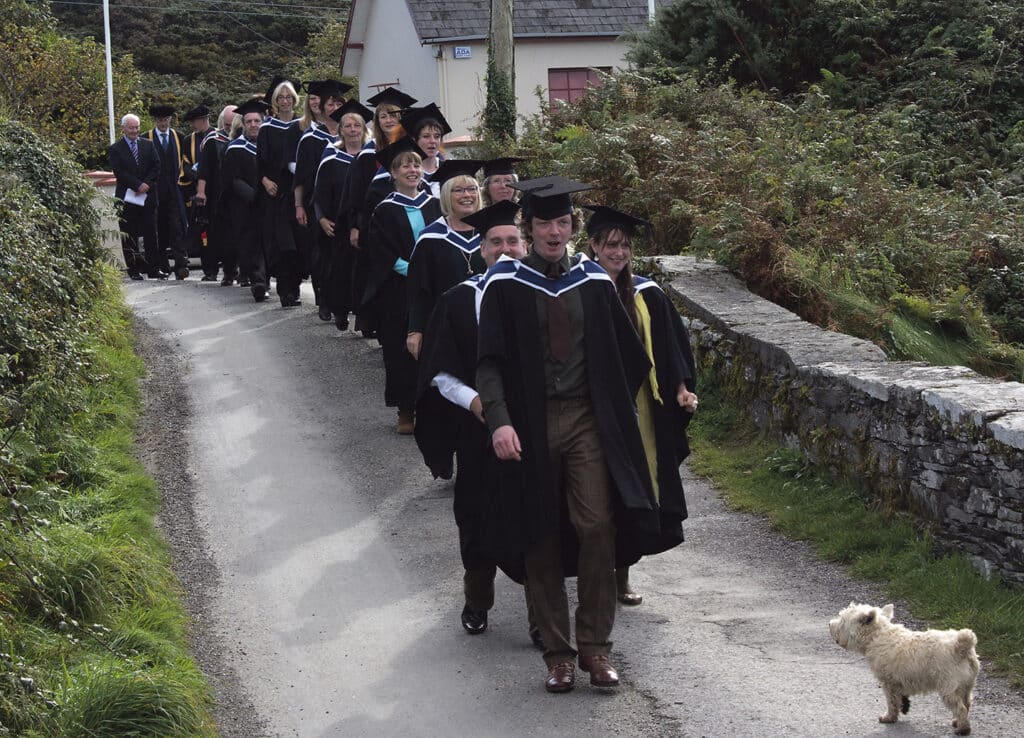 The course which is fully accredited by TU Dublin offers an exclusive opportunity to study visual art on beautiful Sherkin Island off the coast of West Cork. The remarkable island location coupled with a combination of studio workshops and a range of online distance education technologies offers students the artistic freedom to live the best of both worlds while completing their studies. The aim of the programme is to provide students with an advanced knowledge of the nature, role and potential of contemporary art led by renowned lecturers and facilitators.
The BAVA programme has a particular focus on the investigation of the meaning of place, how it can be generated and regenerated through art-making. Since 2000 over 100 students have graduated from the programme with many going on to establish themselves as professional artists while others have found employment in the cultural and community sectors as gallery assistants, arts officers and curators.
Speaking of the programme, Aisling Moran, Sherkin Island Development Society said, "The BAVA is a one of a kind course anywhere in the world as it allows students to fully explore their artistic boundaries on one of the most unspoiled lands in Europe while also offering cutting edge distance learning technologies. Over the past few months we have seen an increase in queries about the course, most likely because lockdown has given people time to return to their creativity and reassess their lives with many new incumbents saying they felt it was "now or never". If this pandemic has taught us anything it's that we should never put off until tomorrow what we should or could be doing today. So this is the final call for the Sherkin ferry to new found talents and creativity if you will!"
Also speaking of the BAVA past graduate and artist Rob Monaghan said, "I was among the first students on the course in 2014 and since then I have grown enormously as an artist with a new found confidence in my work. As amulti-disciplinary artist working between Cork City and West Cork, the course allowed me the opportunity to explore my artistic boundaries on one of the most beautiful places on earth and provided me with amazing opportunities to collaborate nationally and internationally."
On completion of the programme graduates will be able to demonstrate an advanced comprehension of the nature, role and potential of Art in the context of their community and in a wider international context. Additionally they will develop professional artistic skills necessary for the visual expression of significant ideas and concepts and an ability to present their work in a professional manner.
The first two years of the programme are designed to give the participants basic technical skills in drawing, sculpture, painting, photography and digital media, and a good understanding of the critical concerns and context of modern and contemporary art practice. The final two years are self-directed, allowing participants to develop their particular focus in terms of medium and content, building upon attained research methods and skills, allowing participants to develop a similar self-directed approach in Critical Theory.
Those interested in discovering more and applying should visit; www.bavasherkin.com or contact; Glenn Loughran, glenn.loughran@dit.ie
*BA (hons) in Visual Art is a community-based, four year, honours degree, visual art programme based on Sherkin Island. It is fully accredited, managed and delivered by the Dublin School of Creative Arts, TU Dublin in partnership with Sherkin Island Development Society (SIDS) and Uillinn: West Cork Arts Centre, and is part-funded by the Department of Culture, Heritage and the Gaeltacht and Cork County Council.