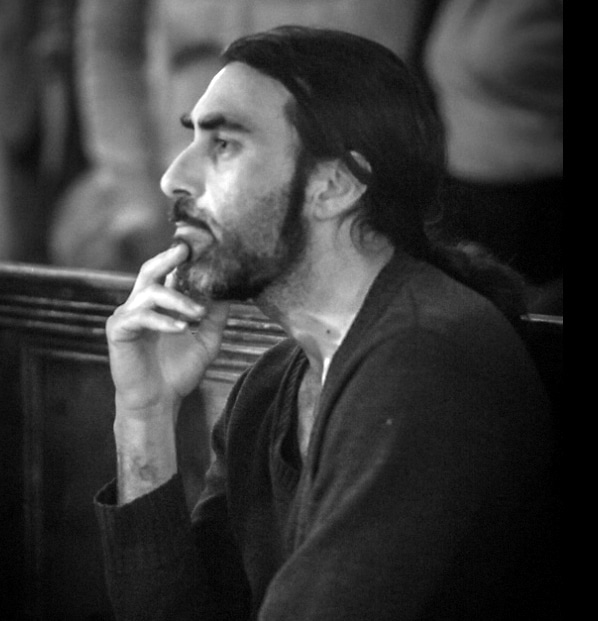 The shape of things
James Waller is an Australian born artist and poet based in West Cork. Through this column James explores the world of art, introducing the reader to major works of art and artists and reflecting on what makes them so engaging.
James offers a range of studio-based courses for children and adults in Classical painting, drawing and printmaking at Clonakilty School of Painting. See www.paintingschool.
jameswaller.org for details.
Navigating a high modernist terrain, somewhere between Rothko and Tapies, Michael McSwiney's new paintings deliver that unique combination of chromatic punch and visceral, mood-trembling, surface which never fails to capture the gaze, before holding it in meditative stillness. It is a combination we've come to expect from this exceptional West Cork artist and his new show at the Clonakilty Community Art Centre doesn't disappoint.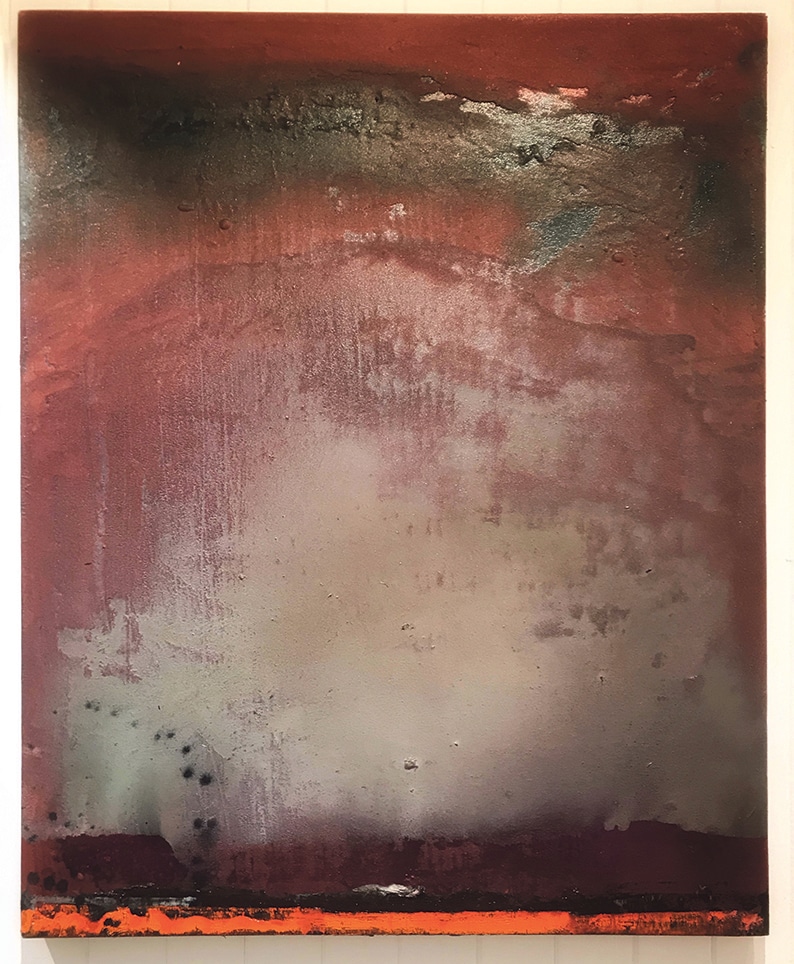 The surprise colour-key in this show is electric orange; its presence, though minimal, is inescapable. 'Under Shrouded Skies', for example, is brought to stunning life by a one inch wide sledge of orange paint, extruded and palette knifed along the bottom edge of the painting. It shines out, for the simple reason that above it – the majority of the painting – is a heavily muted field of dark umbers, magentas, greys and reds. The orange quickens the eye in contrast with the sombre, meditative tableau above it. But in turn it is this tableau, which invites the deeper contemplation. Here we find layers of oil and sand, pooling, congealing, surrounding and opening, like formations of sand and sea on a tidal flat.
Another work, which speaks strongly in this respect, is 'Sky over Rusted Land'. Layers of cerulean, red oxide and sand, deposited and abandoned like a genuine wall of rust, are electrified by wide sledges of orange, dragged quickly over its rough, granular surface. The eye is quickened by the velocity of the movement, the deposits of orange paint speeding like flames along the hand's trajectory, delivered by something like a plasterer's trowel.
Paintings of sombre orange fire are balanced, in the show, by tableaus of pale aqua, layered over hints of magenta and red oxide. The largest work in the show, 'All at Sea', presents a quiet, meditative alluvial plain of aqueous and lunar sediment, craters – formed by spraying water into oil – revealing under-layers of Naples yellow and red earth. Splashes and sprays of pinkish white leave their traces over the left and right regions of the lunar-like surface, whilst a deeper phrase of cobalt blue breathes out along the bottom, anchoring the piece. Complementing the blue, shafts of cadmium red breathe in from the sides, gently encasing the pale green-blue aquas, which dominate the field.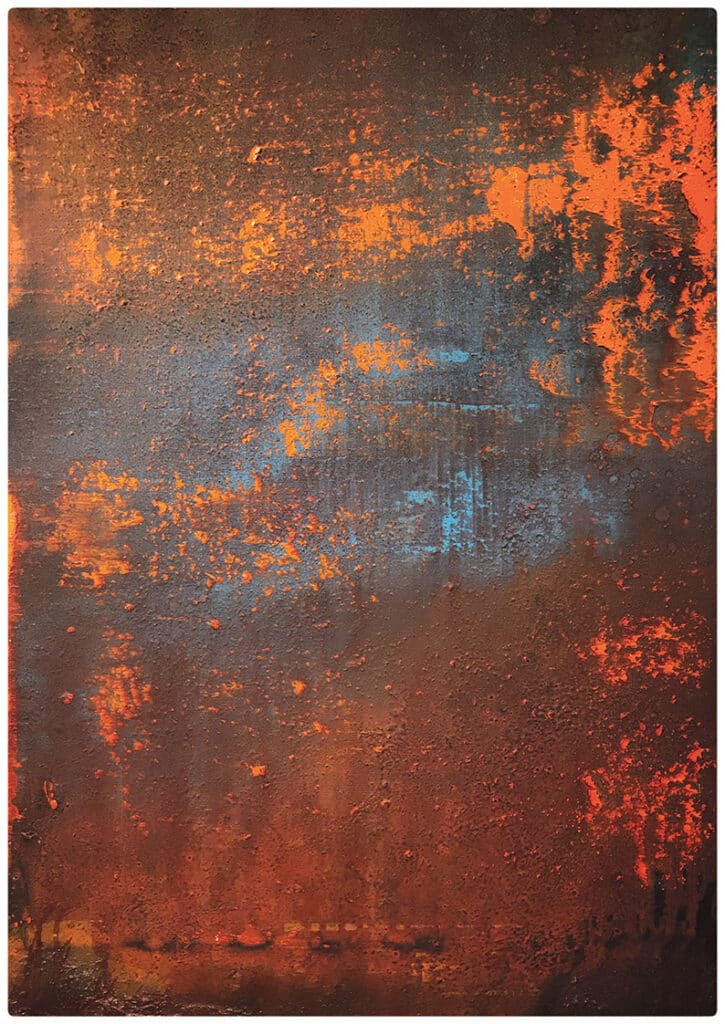 The way a show is hung crucially influences how we see individual pieces in an exhibition. McSwiney's 'New Paintings' is very thoughtfully balanced between 'hot' and 'cool' paintings, large and small. There are six pairings, one of which brings the hot and cool themes of the collection very sensitively together. The two works in this pair, 'Veiled Horizon' and 'Sky of Possibility', contrast colour fields of red-mauve and mauve-aqua. 'Veiled Horizon' receives its name from a broad glaze of transparent mauve, almost entirely veiling a rich field of cadmium red and blackish green, revealed as a band across the bottom of the piece. 'Sky of Possibility' is heavily weighted at the bottom with black, mauve and magenta mixed with sand. Both under-laying and over-laying the sides and top we see a sand-enriched vermillion, cratered in parts by sprays of water. The majority of the field is an expanse of pale aqua, breathing out and also down, like dust upon the dark band of the bottom. Together these two works spell a Rothko-esque harmony, distilling the essence of McSwiney's chromatic and material language.
Between streams of magical fire and cooling, chromatic earth, McSwiney continues in this new collection, to magnetise the viewer's gaze. It is a mature and exciting poetic of colour, matter and space, and a welcome return to life for the visual arts in West Cork.
New Paintings by Michael McSwiney runs from May 21 – June 11 at the Clonakilty Community Art Centre. Open Tues-Sun, 11-5pm.
James offers a range of studio-based courses for children and adults in Classical painting, drawing and printmaking at Clonakilty School of Painting.See www.paintingschool.
jameswaller.org for details.