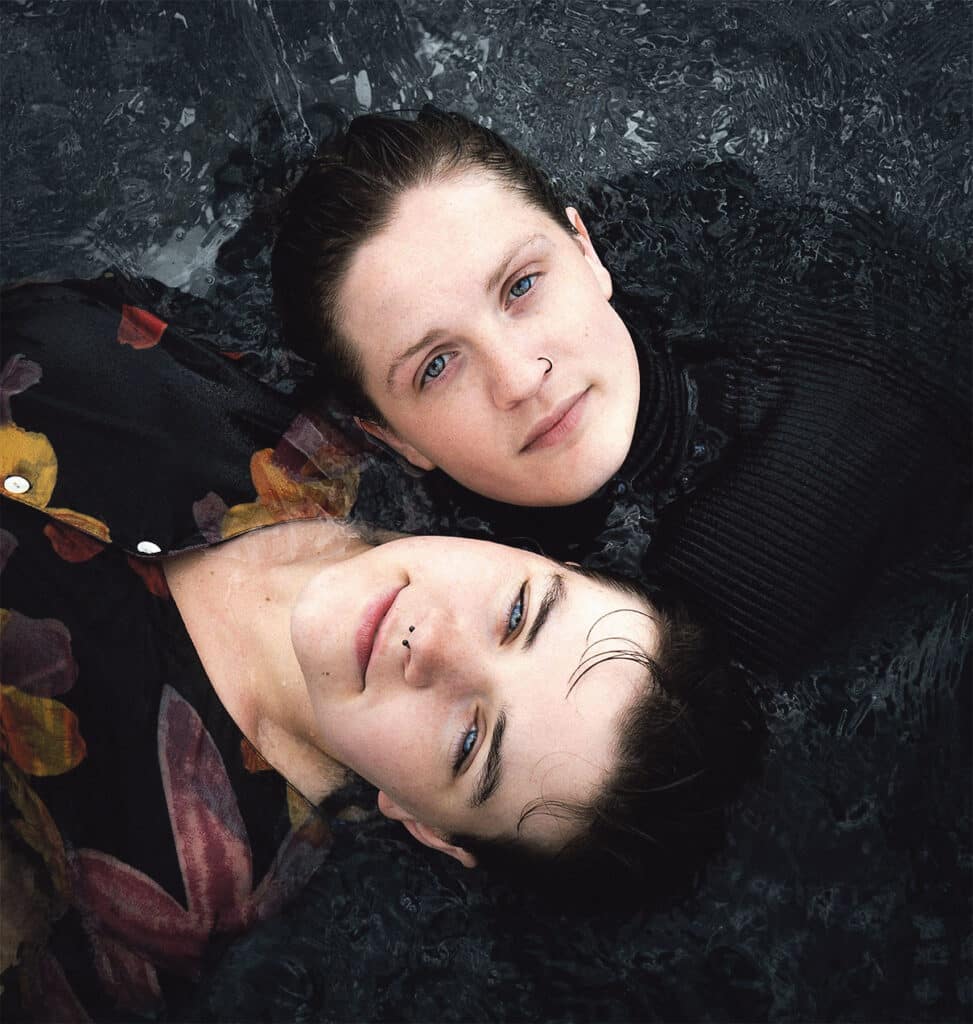 There is a lot to be said about how fate or destiny, or whatever you want to call it, can take people in many different, surprising, and life-changing directions. For instance, if Colyne Laverriere hadn't asked her mother for one more chance to stay in Ireland, and if her search for a paying job hadn't taken her to Ballydehob, then she would surely never have met Julie O'Sullivan, a Ballydehob resident and aspiring songwriter.
In November 2017, Colyne moved to Ireland from France ("to learn English"), fancied Galway as a stop-off point, but within weeks realised that "€400 doesn't get you very far". An au pair job came up, and by the end of the year, she had settled in the West Cork town. Meanwhile, Julie had applied to Dublin-based BIMM for a place on a songwriting course but was side-tracked by the news of a similar one much closer to home in Cork ("so I took that and ended up staying"). As 2018 rolled by, both Colyne and Julie started working in the town's café, Budds, which is where destiny provides another twist to this story.
"At the end of a work shift, after we had cleared up," begins Colyne, "Julie put on some music and we both started singing. Then Julie told me she was a songwriter, and I told her that I also wrote songs, which was an absolute lie. A few days later, Julie came over to my house with a bottle of wine – a great call! – and from that night onwards we started writing songs." The first attempt to put words to music was, says Julie, "a very personal poem that Colyne had to translate and explain every emotion of it. It's about her mum and is now a song called Rejane. It was a great evening, we just spent hours chatting about everything."
From that point onwards, Colyne and Julie, under the collective name of Les SalAmandas, slowly but surely continued to build up a collection of songs that are, says Julie, "mostly about us and our lives. Also, they're a narrative of the last four years, since we first met, and signposts as to how we have grown as people. We would talk for hours and get ideas from that…"
"The songs reflect our own experiences, yes," agrees Colyne, albeit with an advisory note, "but at the same time they're very general in that people in their 20s are going through similar things such as relationships, failed ones, new ones, old ones, coming out of something and starting something new, struggling with mental health and trying to become a certain kind of person."
Whatever the subject matter, the songs on Les SalAmandas' debut album, There's a Sea Between Us, tell equally compelling, emotionally charged tales. The eleven tracks – unadorned indie/folk gems bolstered by engaging melodies and watertight harmonies – were crafted over the past three years by performances at Ballydehob's acclaimed Levis Corner House pub/music venue and (in 2022) at festivals such as Body & Soul, Coughlans Live, Doolin Folk Festival, and Vantastival. Between then and now, Julie and Colyne have shared stages with Irish music luminaries such as Paul Noonan (of BellX1), Wallis Bird, Mick Flannery, and Gemma Hayes.
The idea for an album evolved over time, they say. Throughout the pandemic, remote working and recording with multi-award-winning Canadian producer Daniel Ledwell (who has worked with Mick Flannery, Ben Caplan, and Jenn Grant) took place, the outcome of which included Les SalAmandas' first two singles, Now is the Time, and Mouldy.
Cue the force of destiny once more. In what was surely a bolt from the blue, it was suggested that in order to finish the album within a reasonable time, Julie and Colyne should meet with Daniel at his residential studios in Lake Echo, Nova Scotia, and off they headed.
Just over one year later (with a surprise but justified nomination in the Best Emerging Artist category in RTÉ Radio 1 Folk Awards 2022), the arrival of There's a Sea Between Us is due to the organic chemistry of the songwriting, the tenacity and talent of Les SalAmandas, and the people who crowdfunded it into existence. Julie and Colyne are especially grateful to the community of Ballydehob – "from the first time we performed at all there was so much support," says Julie. "Everyone was delighted to see us just trying" – and to their respective families and friends.
Les SalAmandas' debut album, There's a Sea Between Us, is out February 14.