Matthew Hurley looks at the remarkable rise of Ardfield native and soccer prospect John O'Donovan. The first year Arts student in UCC is training with the Cork City senior squad in preparation for the new League of Ireland season, starting on February 17, when they play Bohemians at Turners Cross.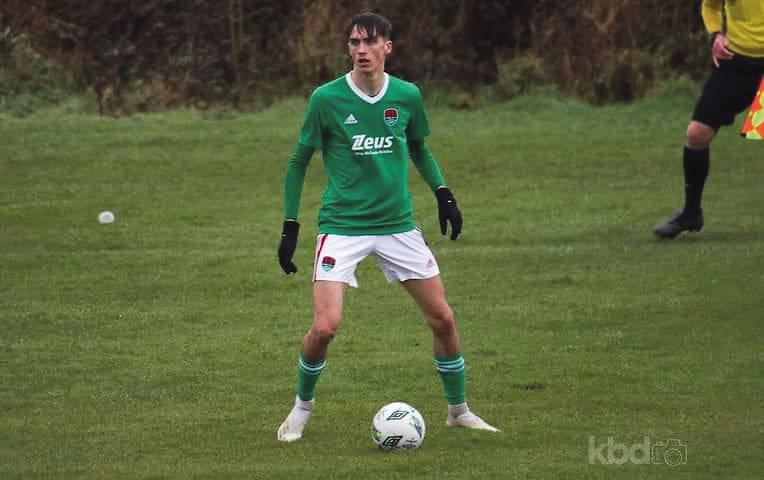 O'Donovan, who plays in the defence, was part of the recent Rebel Army squads in three pre-season friendlies where they beat UCC (2-0) and Treaty United (3-0), before narrowly losing to Dundalk (1-0). This is ideal preparation for a player who always had great potential.
"I've been coming up through the U15s, U17s and U19s for the past few years and I've been loving it," O'Donovan explains.
"The standard is very good with them, in fairness; just seeing players move on as well to bigger and better clubs, like Mark (O'Mahony) who recently joined Brighton. It's great to be playing with players that have top class quality.
"It's another step up altogether, but hopefully it will benefit me in any situation, like with my strength and my on-the-ball possession traits."
It all began in the West Cork Schoolboys League in his home parish, Ardfield.
"I started playing with Ardfield when I was about six or seven and I came up the ranks with them. There's Sean O'Reilly, Hugh O'Reilly and Johnny Lawless who were all there to help me get through.
"Then with the West Cork team, I went to the Galway Cup and the Kennedy Cup. That's where I got noticed by Corinthians up in Cork."
College Corinthians AFC are a well renowned club in Cork for nurturing exciting talents such as O'Donovan or other standout performers in the regional leagues all over the county.
"I played only four or five months with them and then I got onto the Cork City U15 team. It's all thanks to Ardfield FC from where it began. Over in Carrigroe in the home pitch, there was nothing better," O'Donovan says.
Ardfield have had their own successes in the last year, winning the Carbery junior AFC and gaining promotion to the county premier JFC in Gaelic football. With O'Donovan's brilliant performances though, it epitomises that the area isn't just steeped in sport success revolved around GAA.
"Ardfield are a great team to have around the locality. They bring in brilliant players from Rosscarbery and Ardfield, it's a great team to go for. It's well run by Hugh and all the lads. They just keep it going, the training was top quality as well," O'Donovan explains.
Even his friends back home are wishing John all the very best in his recent successes: Whether it's getting a game for Cork City or producing a great performance.
"Every time I play a game with the first team, I have heaps of texts on Instagram from all the lads. They're great to keep in touch and keep backing you.
"It helps me because you get a buzz when one of the lads contacts you. They see you come on for 45 minutes or say well done on starting. It's great they're backing me up," O'Donovan says.
He has come up through the West Cork schoolboys league all the way to the biggest soccer club in the county. The changes have been evident, but the Ardfield man is enjoying the challenge.
"There was always a change. I pushed myself no matter what it was. With Ardfield, it was a great level and I wanted to push on even more.
"With West Cork, we were playing squads that had very good players, a lot of teams in the Kennedy Cup were brilliant. That was another step up altogether," O'Donovan adds.
"Then Corinthians was brilliant as well because they were the team to go to at the time. The Cork league is absolutely fantastic for bringing up young players. I just tried to push on myself and get better. You could go to a team lower down but then you try to get above them and that was my aim."
It isn't just the soccer that John has had on his busy schedule. Currently studying in UCC, after successfully completing the Leaving Cert in Clonakilty Community College, O'Donovan is set, just in case things don't work out in future years.
"I've been enjoying the course in fairness. I was just happy to get the Leaving Cert out of the way really, that was my main focus. Once I had that done, I could focus on my soccer more because I always knew that I had the leaving cert if I wanted to go back to college anytime just in case soccer didn't work out. Whatever happens, happens. I'll always have college to fall back on, which is good."
O'Donovan attended Clonakilty Community College up until 2022 and the pride that the school has in their past pupil's amazing achievements is clear in their school congratulations to him on Instagram when he was named FAI International schools player of the year recently.
"It was great for the Community College to show the amount of talent is there, whether it's football, hurling, rugby or soccer. It's a great school for sport. It's getting better every year too, which is great to see."
Playing in West Cork was fantastic for John but playing with Cork City was something that was always a dream of his.
"I would've been going to the matches all the way up with Ardfield. You don't realise until you're there how good it is. After the Treaty match, there were a load of young kids coming up and asking for pictures and signatures. It was enjoyable.
"I liked it because you'd never think you'd be in that position a couple of years ago. It is really cool to play with them. It's a great step up and hopefully I'll be pushing on soon," the defender adds.
The senior manager for the City this year is legendary former player Colin Healy. Healy has been in conversation with O'Donovan along with other players and making them feel welcome in a League of Ireland set up.
"He works with the team really to try and meet everyone and if you want to go to him and ask him any questions, he's always there to answer. I've been enjoying being in with the first team and the feedback Colin has been giving me is I've been doing very well. It's been an enjoyable few weeks, we'll see what happens next," says the Ardfield man.
Last year, O'Donovan was even picked for the Republic of Ireland U18 schoolboys' side in the Centenary Shield last year. It was a tournament comprising of the U18s of England, Scotland, Wales, Northern Ireland and the Republic of Ireland. John came out of the tournament with a lot of praise and even won an award.
"I've been up and down with trials in the U16/U17 squads and last year I was picked for the U18 Ireland schools.
"That was a huge step up really, it's just a completely different level. Unfortunately, we lost in the final to Wales, but I came out of it winning player of the year which I was absolutely delighted with. I have a nice old plaque at home. It was enjoyable."
Mark O'Mahony's recent move from City to English Premier League club Brighton and Hove Albion delights O'Donovan.
Even players such as 18-year-old Meath man Evan Ferguson have massively impressed for the south English club having recently been plucked from the League of Ireland.
These success stories give the Ardfield youngster belief.
"It gives me huge confidence in fairness. I've been playing with Mark for the past few years and seeing him signing for Brighton, you'd be thrilled for him. It just shows that the work he puts in is rewarded," O'Donovan explains.
"Alex Healy-Byrne going to Burnley too, he's a great friend of mine. It pushes you on more then, to give you a boost. I'd love to be going over as well. It's a great thing for the team seeing the talent coming out of Cork City.
"That would make scouts come over and watch Cork and any team in Ireland as well with Evan Ferguson doing so well. The amount of Irish players going across the water is brilliant to see."
The question posed to John about his dream Premier League move yielded an interesting response.
"I support Chelsea, so I suppose I'll have to stick with them," he laughs.
"That's a huge step up but that would be the dream."
O'Donovan has already had a good start to 2023, but with the League season starting this month, he has high aspirations.
"The hope for this year would be to get a few first team games under my belt. It would be hard to start but I'd love a few games, which would be great really. Even for clubs over in England to see that I have a few senior appearances.
"I'm working hard in pre-season now so hopefully I'll get a break into the team. That would be a great thing," he concludes.