A long lost personal effect of Michael Collins was found during lockdown research at Michael Collins House and will go on display soon at the museum.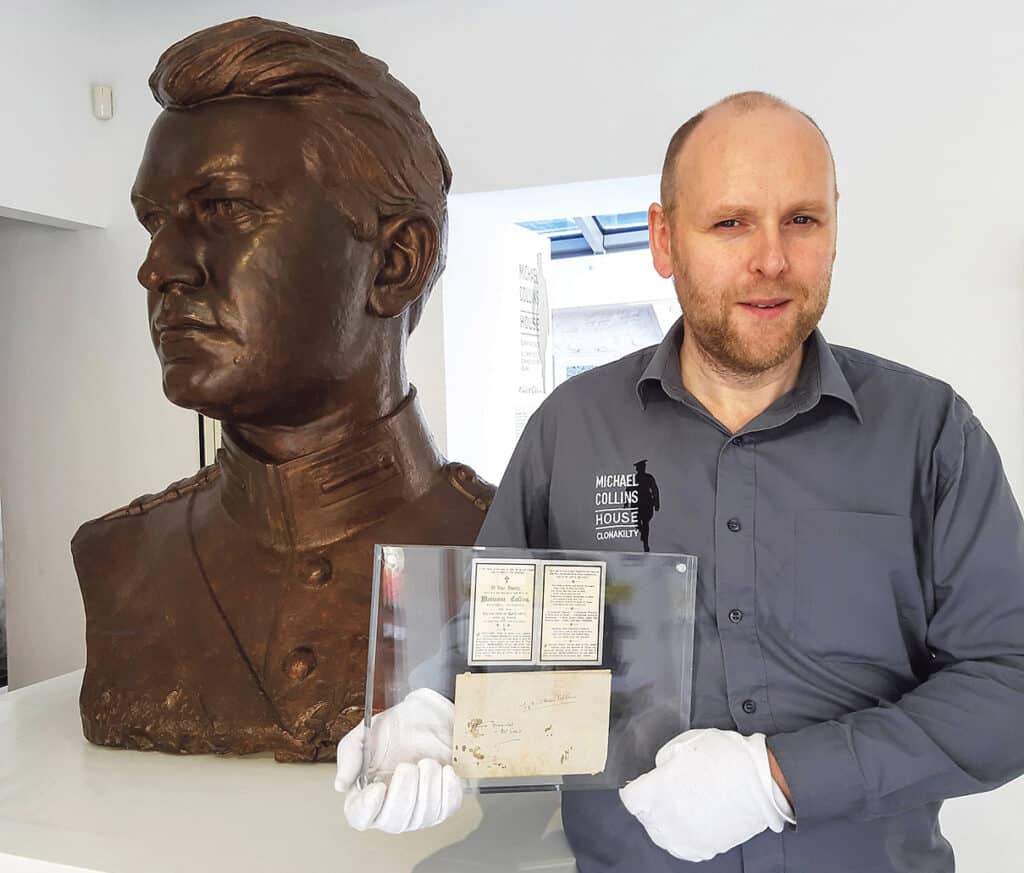 Michael Collins' personal copy of his mother's memorial card was found at Michael Collins House during research into a collection of artefacts and papers on loan to the museum from the Collins Family. Staff members at the museum were in the process of cataloguing the collection when a small white envelope fell from in-between the pages of one of Collins' books. Upon opening, it was found to be a memorial card to Marianne O'Brien, Michael Collins' mother. Interestingly her age at her death '54' was incorrect and underneath someone had written 52. This struck a chord with the staff of Michael Collins House when they realised this card was the one described in the Michael Collins biography by Tim Pat Coogan. The numbers '52' had been written by an 'ever sentimental, ever meticulous', 17-year-old Michael Collins. The memorial card was kept in the envelope along with a small newspaper clipping of a poem printed in the 'West Cork People' in memory of Marianne. Interestingly she had provided funds for the establishment of that newspaper, which was owned by her son-in-law, Patrick O'Driscoll.
Both the memorial card and newspaper clipping, along with their envelope, and all in surprisingly good condition, will go on display at Michael Collins House in the coming weeks. Discussing the finding of this artefact, Manager of Michael Collins House, Jamie Murphy said; "We are delighted to have uncovered such a valued and prized possession of Collins' and be able to display it for others to see. It's something that has possibly remained locked away and forgotten since Coogan uncovered it in his research in the 1980s. We try to give a thorough depiction of Collins in the museum, not just the legendary figure that many are aware of but the other sides to Collins too. This little envelope that he held so dear certainly shows a more fragile side to Collins. Then just a teenager who had just lost his mother, and indeed both his parents at this point, while he attempted to begin a new life in London."
As well as this wonderful new artefact on display, the regular house tours of the museum continue, as does the Irish War of Independence Exhibition, at the museum until December 2020. The only exhibition of its kind in Cork and set in the hearth of the 'Rebel County' in West Cork, this exhibition gives an in-depth local and national look at the war and its participants. It features important artefacts never displayed in West Cork before, from important revolutionary figures such as Tom Barry, Tom Hales and of course, Michael Collins.
Since reopening, the museum is now operating on a pre-booking system. This allows for limited numbers to ensure the safety of staff and visitors alike but it does mean advanced booking is necessary, as the museum is regularly booked out. Without the ability to give guided tours, the museum has further developed its audiovisual guide. In addition to information boards, artefacts and audio-visuals, the guide adds another dimension to your tour, as it leads you around the museum. The guide, which is available through your own mobile device, also has lots of added extras to bring home after your tour including articles, podcasts, documentary videos and more.
Michael Collins House is now operating on revised opening times of 10am to 5pm Tuesday to Saturday. Book you visit by phone on 023-8858676 or email info@michaelcollinshouse.ie. For more information visit michaelcollinshouse.ie.