Renowned for his finger-tapping and slapping virtuoso guitar style and soulful vocals, Jon Gomm uses a single acoustic guitar to create a multi-layered sound involving drum, bass and melodies, drawing on a range of influences from rock to flamenco. The English singer-songwriter and acoustic solo performer, best known for his song 'Passionflower' which attracted millions of views on YouTube and was voted sixth in the '50 Greatest Acoustic Songs Of All Time' in Total Guitar will play Clonakilty Guitar Festival in September. Just home from a US tour, Jon chats to West Cork People.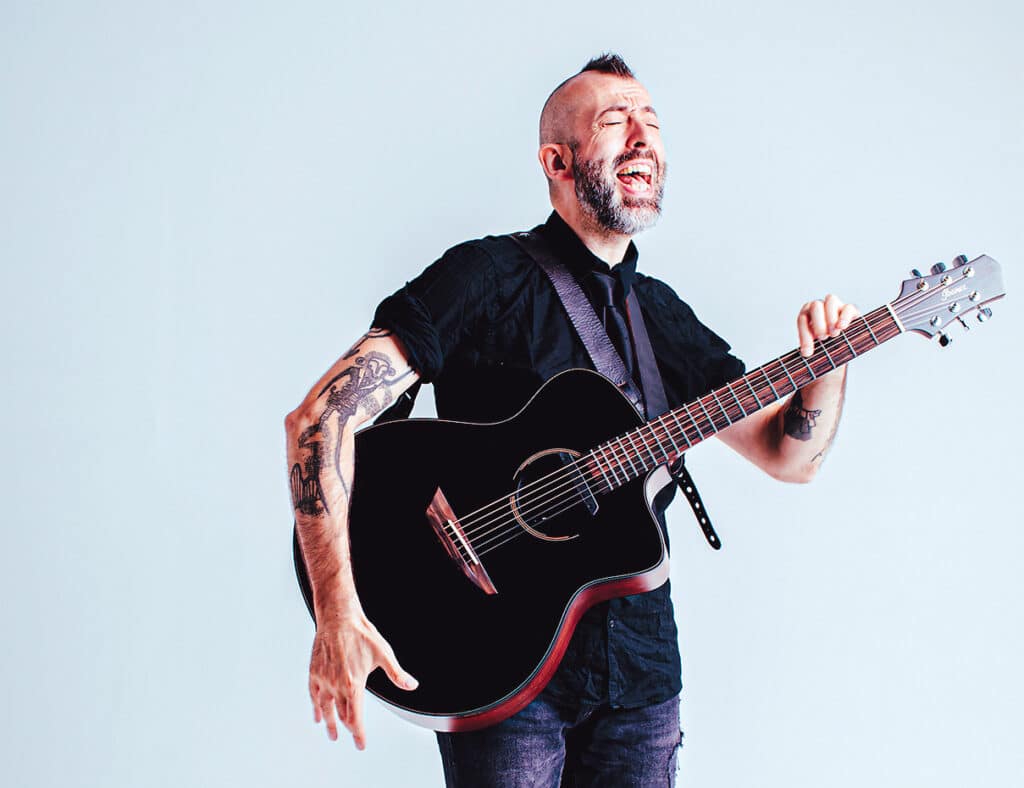 Clonakilty won't be a flying visit for the musician who says he's looking forward to meeting up with his old friend George Lowden and catching some performances at the guitar festival.
"I've been once before and I've been desperate to go back ever since," he shares. "I've played in a lot of guitar festivals around the world and Clonakilty Guitar Festival is unique; completely different to anything I've ever experienced. There's no main venue, instead the town is just filled with the sound of guitars coming from a pub, a church, a hall… seemingly every corner. And this isn't about acoustic or fingerstyle or any genre or style. The performers come from all traditions; they're united simply by the fact that they all do something beautiful or interesting or brilliant with the instrument."
Known for his interactive style, Clonakilty can expect an emotive and memorable performance from Jon with favourites like 'Passionflower' mixed in with new material and even a few cover interpretations.
"I am working on new stuff at the moment but it's top secret," he laughs. "I'm not very good with secrets though, so I will probably test out a few songs in Clonakilty!"
One of the world's most gifted acoustic guitar players, the musician admits to feeling slightly intimidated whenever he plays in Ireland.
"The standard of musicians in Ireland is so high, it's extraordinary, in fact it's a little bit scary," he says. "Everybody can play, everybody can sing and those who can do it well are just so good.
"But Irish people don't judge music by any kind of set standard that says you're not good enough or technically proficient enough. There's an incredible openness here, which is very special.
"The only other country I've ever been to in the world where music is so embedded into the culture and there is so much access to live music is Cuba."
Music has been part of Jon's life for as far back as he can remember. He got his first instrument at the age of two, a ukulele – the story goes that he smashed this in frustration and it was replaced with a guitar – and was attending gigs with his dad, an editor and music reviewer in a local paper, from the age of eight. As he got older, Jon started writing reviews for the paper too.
"There were a lot of blues gigs,' he recalls."No-one famous but I thought they were all superstars, they were my idols."
He recalls going into school on a Monday morning and telling the kids about seeing the American blues guitarist and singer-songwriter Walter Trout play at the weekend.
"I thought I was so cool but they didn't know who I was on about, they just thought I was a geek," he laughs.
"Those blues guys taught me that you don't have to be a pop star to play music as a job," he shares.
Growing up, working his way through his dad's enormous collection of vinyl, Jon was introduced to a broad range of music genres from classical to blues, country to rock. His father was a big fan of The Shadows, an English instrumental rock group.
"I listened to instrumental guitar music from an early age and there is something special about it, when there's no words and you have to invent your own meaning. It can just take your imagination anywhere.
"I used to like turning off all the lights, especially at Christmas, as I'd just leave the tree lights on, put on an album and get lost in it, there were all these worlds to escape in."
Accepted to study English at Oxford, Jon instead opted to take a gap year to go study at the London Guitar Institute.
"That gap year is still going," he laughs.
He loves poetry, which is reflected in his lyrics, filled with metaphors and rich imagery.
'It's important for me to be able to communicate in the right way through words. As a musician, all I want to do is make people feel something."
A passionate advocate for mental health and neurodiversity, Jon shares how his ADHD has contributed to him embracing a wide range of genres.
"I get bored very easily," he says. "If I see something that's new to me, I just have to learn it… I couldn't be a real classical guitarist, as it's too confined and disciplined for me."
People with ADHD experience heightened emotions, which Jon reckons is a positive for his performances. His gigs are known for being personal and emotive. If he does get anxious before a gig he deals with it by holding his breath, tensing and pushing hard up against a wall. "It helps to get rid of the adrenalin and makes you feel much better," he shares.
For his last album 'The Faintest Idea' he listened to a lot of Chinese pop music, in particular Sa Dingding, a Chinese folk singer and songwriter of Mongolian heritage.
"Her music is incredibly beautiful and the production is really amazing, organic sounds using traditional Chinese instruments with a lot of electric mix."
Jon's also well known for his wit. While he's incredibly open to all musical influences he admits to never really liking U2.
"I've always found them to be a bit grandiose," he shares.
That is until he watched Bono perform the part of the lion in the animated film Sing 2 with his seven-year-old daughter Indigo! "My hair was literally standing up with the power and emotion in his voice and I realised I've just been a snob all these years not liking them," he says laughing.
Prior to Clonakilty, Jon is playing the Transilvania International Guitar Festival, which he's very excited about. "It's a real fun one as it's free and attracts a great mix of people….it's still not as good as Clonakilty though!"
Jon Gomm plays DeBarras during the Clonakilty Guitar Festival on Sunday, September 24, 4.30pm. Tickets €20 from debarra.ie.