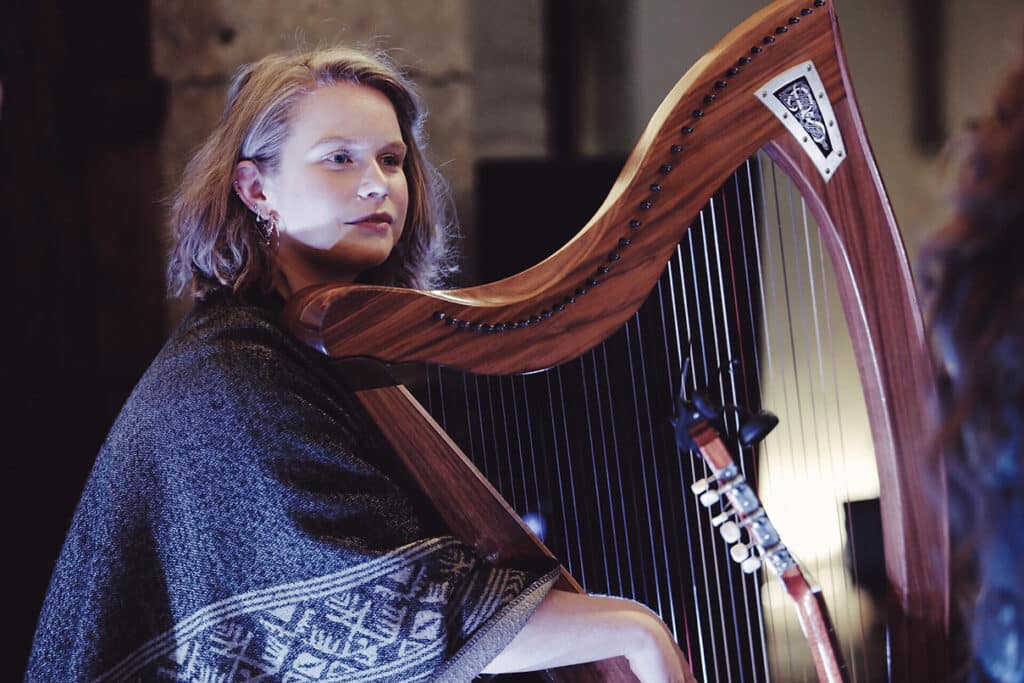 The Drimoleague Singing Festival returns to various venues across the West Cork village this September to celebrate the human voice in all its forms. The festival will feature an array of events over four days to delight the Drimoleague community and visitors. Singing sessions, singing and songwriting workshops, informal pop-up choirs, and even a singing competition are on the cards, and big names such as sean-nós singer Iarla Ó Lionáird (The Gloaming, Afro Celt Sound System), aboriginal Australian singer Jessie Lloyd, folk songwriter John Blek, and Jack L will complete the line-up. Lauren Guillery turns her attention to Kenmare harpist Aisling Urwin, who will support Susan O'Neill (also known as SON) at St Matthew's Church on the Saturday evening.
Originally from Bonane, a small village between Kenmare and Glengarriff, Aisling Urwin picked up the harp at the tender age of nine. She comes from a traditional Irish music background with both parents playing the mandolin and singing – her father's instrument of choice is the bouzouki and her mother's the bodhrán – so it's no wonder Aisling is keeping the family tradition alive. When her parents asked her if she wanted to learn to play an instrument, she chose the harp after seeing someone play it on the Late Late Show on RTE. As there weren't any harp teachers nearby, the dedicated couple drove their daughter to Castleconnell in County Limerick once a fortnight so she could attend classes.
Aisling started playing in trad sessions from about age 12. Though she's had many great harp teachers over the years, her favourite has been the trad session itself. "I learned trad backing by listening to my dad on the bouzouki at sessions, listening out for chord progressions, and getting excited about all the chord possibilities for one melody. Trad backing is a type of improv," she clarifies. "You get to learn many new songs at sessions, some may have a different name or a different version. I love the stories behind tunes or the total mystery behind an unnamed one."
The harp has been a huge part of Aisling's life for already two decades. Though she played the guitar and piano when she was younger and learned the sitar as part of her degree in music at UCC, the harp remains her number one love because of its deep roots in the history, culture and folklore of Ireland. "There is an eternal magic to the instrument that can be felt as the wind blows through the strings, in the swell of a slow air and in the pulse of a polka," she says. Her instrument, which she affectionately calls her "baibín", is a lever harp as opposed to a pedal harp. The lever harp, also called the Celtic or folk harp, is smaller in size than the pedal harp, and has levers along the top to allow raising the pitch of the strings as they are played. "People always underestimate how big a harp is," she laughs. "It's difficult to travel with it and it's pretty much always an issue every time I travel. My harp did get lost once, on a connecting flight. It turned up the next day and I managed to get it back ten minutes before our concert started."
The wildness of the Beara peninsula and majesty of the Iveragh are no doubt inspirations for Urwin, who feels deeply rooted there between mountains, woodlands, and sea. The gentle strumming on the harp combined with her angelic melodies do wonders to remind us of the beauty of the land and the natural world, and through her music Aisling strives to challenge traditional views of what a harp should sound like, painting it in new colours and taking it into new sonic spaces.
Though still a young musician, the south-Kerry harpist already has an impressive collection of albums under her belt. Her very first album 'Awakening' was recorded by her musician neighbour Chris Liddle when Aisling was only 17. Her second album was done while in college and is a live recording with singer-songwriter, fiddler, and composer Clare Sands entitled 'Live at Charlie's'. Fresh out of college, she recorded an album of Irish fusion music with saxophonist Andre Van Der Hoff called 'Resonance', and in 2019 she released 'The Dragonfly Jig', a collection of versions of some of her favourite trad and folk songs.
Aisling speaks fondly of her time spent in studio, which she really enjoys. "I love the feeling of a song coming to life, becoming immortalised in the form of a recording, I love the playfulness of creatively experimenting with sound. If I could spend every day in a studio, I would," she enthuses. Thankfully, her partner Seán O'Sullivan is a recording engineer at Tunnel Road Studios in Bonane, so she can freely record in her pyjamas!
Her good friend Siobhán Moore, with whom she performs as part of the duo Woven Kin is also a music producer. Together they recorded 'Hibernate' in 2020 during the pandemic lockdown. "It was partly recorded in Ireland, partly in the US," she explains. "We asked a few musicians we love to play on the album, so we had files coming to us from Mexico, Puerto Rico, Texas, California, New York, not to mention Bandon." A project very close to her heart, Aisling confesses that she really loves what they have created together. The album features Liam Ó Maonlaí (Hothouse Flowers) and Leah Song (Rising Appalachia) among others. 'We spent a lot of time sending things back and forth to each other, I was especially grateful for the internet that year and what it allowed us to achieve with an ocean between us."
Aisling first met Siobhán Moore, who performs as the world music outfit Ajeet, at her own album launch at Crowley's Bar in Kenmare in 2018. The musician approached Aisling to record harp on her next Ajeet album, and a few days later invited her to join the band on tour. "Being able to travel the world playing music with Ajeet and the wonderful band has been such an opportunity, I am very grateful," Aisling confesses. "There are so many places I would've never seen otherwise, if it wasn't for music and meeting in the pub that night."
Apart from writing, performing, recording, and touring the world with Ajeet, Urwin teaches the harp online. "I noticed a trend of people coming to me wanting to learn to sing with the harp. When Covid hit, everything moved online so I decided to use the time I had to put an online course platform together." With The School of Harp running courses for beginners and more advanced players, Aisling admits to loving teaching and sharing the magic of the harp with others. "It's so satisfying to see the growth of a student, to see them grow in confidence and explore their own creativity."
Though she has an album in the works, she is particularly excited about a concert that will take place at the Ionad Cultúrtha in Ballyvourney on November 18 with fellow harper Niamh O'Brien as part of a Music Network 'Resonate' residency. "We're going to be composing new pieces and making contemporary arrangements of old Irish harp music. We're also going to be collaborating with visual artist Colm O'Neill and bringing in an element of place to the concert in an audiovisual format."
For the Drimoleague Singing festival this month, Aisling will be joined with her dear friend Andy Yelen, a guitarist from Sneem. "I've been playing with Andy for years and it's really wonderful to be able to make music with someone who feels like they can read your mind when you play. He has a tremendous ear and a really beautiful touch to his playing." No doubt the acoustics at St Matthew's Church will complement the duo's performance on September 23.
The Drimoleague Singing Festival takes place from September 21-24. Aisling Urwin will support Susan O'Neill at St Matthew's Church, Drimoleague on Saturday, September 23.. More info at www.drimoleaguesingingfestival.ie