This month marks the passing of century since a day-long battle played out in the neighbouring West Cork villages of Enniskeane and Ballineen. Pauline Murphy tells us more about November 4, 1922, when a fierce fight took place between large parties of Anti-Treaty IRA volunteers and Free State troops, resulting in casualties on both sides.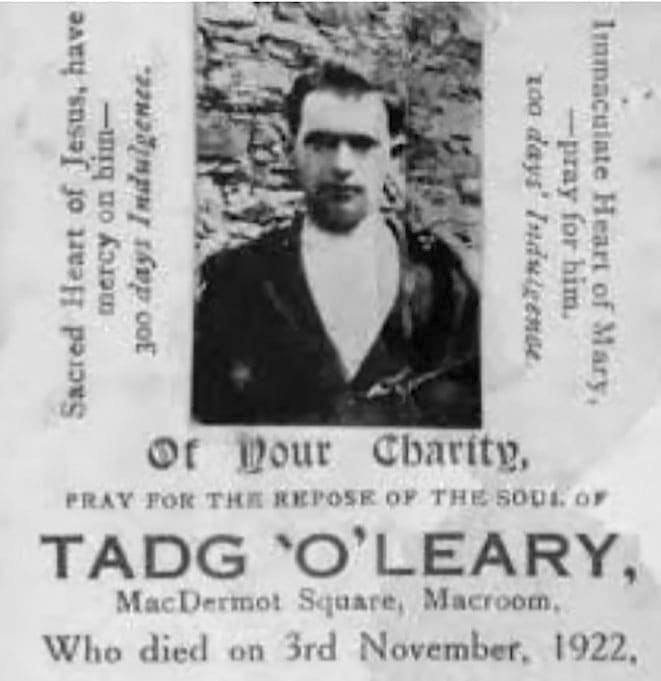 This major engagement began as dawn broke on a stormy Saturday morning in November 1922. Having escaped from internment in Kildare just months before, General Tom Barry led a large contingent of IRA volunteers, made up of his own flying column and men from the Macroom Company, in an attack on the Free State base at O'Donovans Hotel in Ballineen. 
The Free State troops in Ballineen consisted of 38 soldiers of the First Eastern Division and two officers-in-command. Their comrades in neighbouring Enniskeane numbered 25 soldiers and one officer. Captain Ben Byrne was in charge of the Ballineen troops while Captain Larry Finnegan of the Dublin Brigade was in charge of the Enniskeane base; both had been members of Michael Collins' squad in Dublin during the War of Independence.
The IRA took the ground floor of O'Donovan's Hotel and besieged the Free State forces on the top floor, firing through the ceiling at the soldiers above with a Lewis gun. Captain Byrne climbed out of a back window and tried to fire on those below but the stronger IRA party overpowered Byrne and took him and his men prisoners.
Private Thomas Gallagher was one of those who was fatally shot at Ballineen. The 18-year-old from Kill O'the Grange in Co. Dublin was a student before joining the Free State Army Medical Corps. Gallagher was struck as he went to assist Private Michael Woods, who had been hit by a bullet in the abdomen.
Gallagher managed to stagger across the road where he collapsed in the doorway of a Mrs O'Sullivan. He died a day later and was buried in the Free State plot in Glasnevin Cemetery.
Private Woods, a 22-year-old from Drogheda, was a textile worker before joining the 15th Infantry Battalion of the Free State Army. He was taken to Bandon Hospital where he died later that night.
The IRA party then moved to Enniskeane, where house-to-house fighting took place.
Whilst manning a Lewis gun, Free State Private Andrew Hogan was wounded when an IRA bullet hit his thigh. Hogan was 24-years-old and a native of Clonmel, where he worked as a van driver for his local Co-Op. Although still so young Hogan was already a veteran of WWI and, during the War of Independence, had fought with the famous IRA Third Tipperary Brigade. In May 1922 he joined the Second Company of the South Eastern Divison of the Free State Army. He was taken to Bandon Hospital where he died from sepsis three days later.
There were two casualties on the IRA side; 26-year-old Section Commander Tadhg O'Leary was shot during the attack on the hotel in Ballineen. Today a plaque marks the spot, near what is now O'Driscolls shop. From South Square, Macroom, O'Leary worked as a harness maker and joined the Irish Volunteers in 1916 with his older brother John, while his sister Hannah joined Cumann na mBan. The siblings were active during the War of Independence, which resulted in the family home being targeted by Crown forces. O'Leary died hours after being shot and is buried in Inchigeela Cemetery.
IRA Volunteer Jack Howell was a native of Doneraile, North Cork. The 31-year-old was shot through the heart in Enniskeane and died instantly. A plaque at The Village Inn marks the site of his death. Howell worked as a butcher in Magner's Butcher at 2 Pearse Street, Clonakilty and lived above the shop. Before that he worked in Midleton and Dundalk, where he joined the IRA. In 1920 Howell was captured by Crown forces and spent time in both Ballykinlar Internment Camp and Preston Prison in England. Once released he returned to Cork where he joined the West Cork Brigade. Howell is buried in Old Court Cemetery in Doneraile.
The Republican forces under General Tom Barry held onto Ballineen and Enniskeane for just a day before Free State reinforcements retook both villages. The Battle of Ballineen and Enniskeane was brief but brutal and added yet another sad chapter to the bitter civil conflict in West Cork.