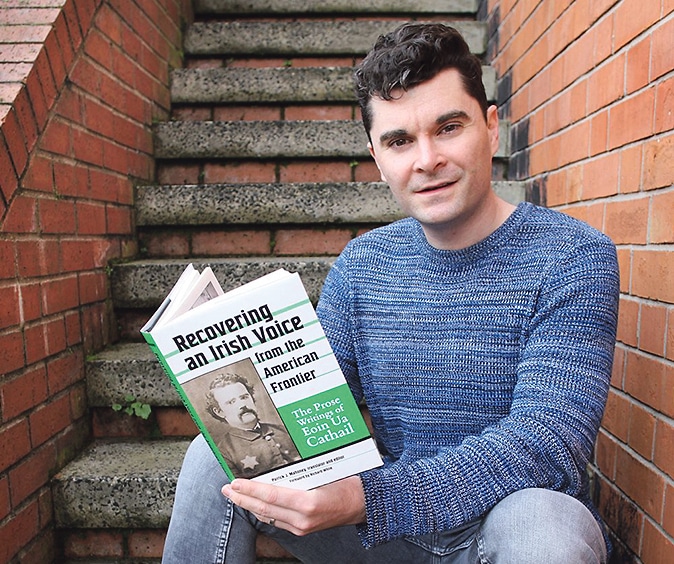 The Irish language writings of Templeglantine, County Limerick native, Eoin Ua Cathail, have been translated and published for the first time by Patrick J. Mahoney, who served as a columnist with the West Cork People for several years.
"Aside from offering invaluable insight into Irish emigrant life during the nineteenth century, the works are extremely significant in that they mark the first attempt to adapt the popular genre of the American Dime Novel to the Irish language," said Mahoney. 
Among the topics addressed within the volume, Ua Cathail describes battles with Native American tribes during the Plains Wars, back-breaking labour and immigrant success stories, and the details of everyday life in the beautiful yet unforgiving woods of the Midwestern United States. Rather than presenting straight-forward recollections, Ua Cathail's writings often veer toward the mythic and fantastic in their descriptions of nineteenth century America.
Mahoney points to one story in particular with a strong West Cork connection as reflective of this tendency: "The account is presented as an oral history with an elderly West Corkonian named Mícheál Ó Mathúna who had settled in Illinois. Ó Mathúna recalls accompanying a wagon train across the Great Plains to California in the late 1840s when they are set upon by a Native war party. As he soon finds out, the leader of the fierce group is an Irishman from the same townland back in Cork, who is successfully posing as a Native. I won't give away any other spoilers as to how things shake out, but he obviously lived to tell the tale!"
In other far-fetched plots, Ua Cathail estimates a number of slaughtered wolves surrounding his cabin to be in the hundreds while comparing the scene to the aftermath of a battle with the Fianna of Irish lore, while elsewhere he relays the particulars of an incident in which a young girl is kidnapped by a bear, much to the horror of her parents.
A passionate Irish-language activist, Eoin Ua Cathail became involved with the Gaelic League in America around the turn of the twentieth century, which is reflected in his writings. "He saw the Irish language as essential to the identity and future success of the Irish in America," Mahoney said, adding: "He was at times experimental with the language as he attempted to adapt it to describe life in the West, and to this effect he actually included a glossary of terms for his intended readership back in Ireland."
Renowned Irish literary scholar Declan Kiberd notes the significance of Ua Cathail's newly translated writings, noting that "[they] anticipate Twain and Hemingway in a multicultural world of settlers, shysters, and simple idealists still confronted by the challenge of Native Americans."
Recovering an Irish Voice From the American Frontier: The Prose Writings of Eoin Ua Cathail (UNT Press, 2021) is available by special order in local bookshops or online from Amazon and An Ceathrú Póilí.