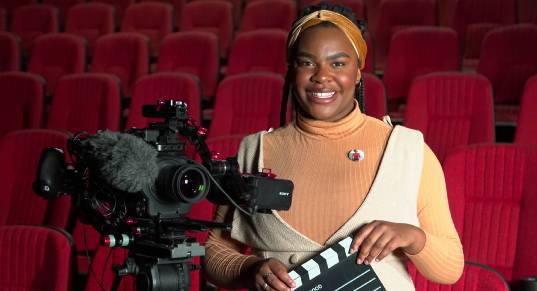 Ireland's Young Filmmaker of the Year Awards 2020 are giving young filmmakers a platform to shine as this year's awards move online due to the current Covid-19 restrictions with Cork girl Demi Isaac Oviawe, star of RTEs 'The Young Offenders', hosting this year's online awards.
Ireland's Young Filmmaker of the Year Awards 2020 were due to take place at Fresh International Film Festival in Limerick this past March but now because of the Covid-19 outbreak the awards are now taking place online with the Senior Finals taking place on Wednesday, May 13 at 7pm LIVE on Fresh Film Festival's YouTube channel and the Junior Finals to follow one week later on at 4pm on Wednesday, May 20.
Nineteen-year-old Demi is the perfect choice to host this year's awards, as she is very popular and well known by young people all over the country. In 2017, the Irish Examiner named Demi as one of their annual 'Ones to Watch' for 2018. She is best known for her role as Linda Walsh in the RTÉ/BBC-produced comedy series and also appeared on 2019 series of the Irish edition of Dancing with the Stars.
Demi said, "I am honoured to be hosting this year's awards. Fresh International Film Festival encourages young people to tell their stories through film and the record number of submissions this year shows we have a nation of young storytellers with something to say and the creative means to say it. The future of filmmaking in Ireland is bright."
With the cancellation of events and festivals nationwide due to Covid-19, Jayne Foley, Fresh Film and Ireland's Young Filmmaker of the Year Awards founder said, "The Fresh team at HQ have devised a virtual solution for this year's awards as we have an amazing community of young filmmakers and while we can't bring them together in one room for now, we can bring them together online. In the spirit of Fresh we want our online activities to connect, inspire and support young filmmakers."
Now in its 24th year, Fresh International Film Festival invites young people from Ireland and overseas, aged seven to 18 years, to create, exhibit and share films. The festival provides an opportunity for these young filmmakers to have their work seen on a cinema screen for the first time and to compete for the title of Ireland's Young Filmmaker of the Year. All films submitted are also considered for a range of Specialist Awards including the Radharc Trust Award (documentary), the Cartoon Saloon Animation Award, the RTE 60 Second Short Film Award and the RTE Factual Award, in addition to the International and Audience awards.
Fresh International Film Festival encourages young people to make films by hosting an annual international film festival for young people, presenting Ireland's Young Filmmaker of the Year Awards, acting as an advocate for young filmmakers and promoting their work worldwide. Fresh Film runs a number of initiatives throughout the year, including a Hothouse programme designed to bring young people of different ages and diverse backgrounds together to share their film experiences and create new collaborative work, as well as distributing Irish films made by young people to festivals all over the world.
Further details are available from www.freshfilmfestival.com.