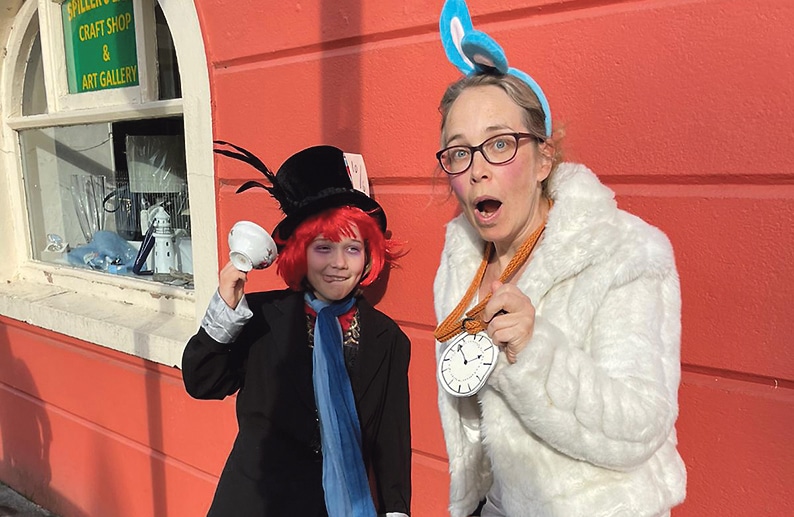 Crowds gathered in Clonakilty on Friday, September 23 for a Mad Hatter-themed circus extravaganza, as part of Culture Night 2022 in Cork County. Performances by Moss Russell and Brian O'Mahony were enjoyed at The Bike Circus followed by a Mad Hatter themed tea party in Emmet Square.
The Clonakilty Playground Fundraising Committee and The Bike Circus Clonakilty were delighted to mark Culture Night 2022 in Cork County with this exciting suggestion inspired from a student at St Joseph's Girls National School, which received the most public votes earlier this year in a competition involving local schools. The event combined circus skills, mad hatter antics and of course, tea and cake!
The evening also included prizes for Best Dressed, with one of the winners, Fionn O'Driscoll, getting into character, as he enjoyed the lively celebrations alongside his mum Zoe Turner, both from Clonakilty (pictured).
Donations from the event were greatly received by the Clonakilty Playground Fundraising Committee who are now €1,000 closer to their €190,000 fundraising target for a new inclusive children's playground in Clonakilty.
Orla O'Donovan from The Clonakilty Playground Fundraising Committee said, "It is truly remarkable how fundraising events like this one are bringing the local community together and helping to support us in delivering the much-needed redevelopment of the Clonakilty playground. We are extremely grateful to the generosity and continued support of the families and children of Clonakilty but also to the amazing partnerships we have created with The Bike Circus and Exploding Tree for their help in setting up the event, and to the amazing performer's Moss and Brian."
She adds, "We are excited to have been involved in the line-up of events as part of Culture Night 2022 in Cork County and to the support of Cork County Council and the Department of Tourism, Culture, Arts, Gaeltacht, Sport and Media through the Local Live Performance Programming Scheme."
If you were unable to make the event and you'd like to donate online please visit GoFundMe/clonakilty-playground or follow on Facebook and Instagram @Clonakilty_playground