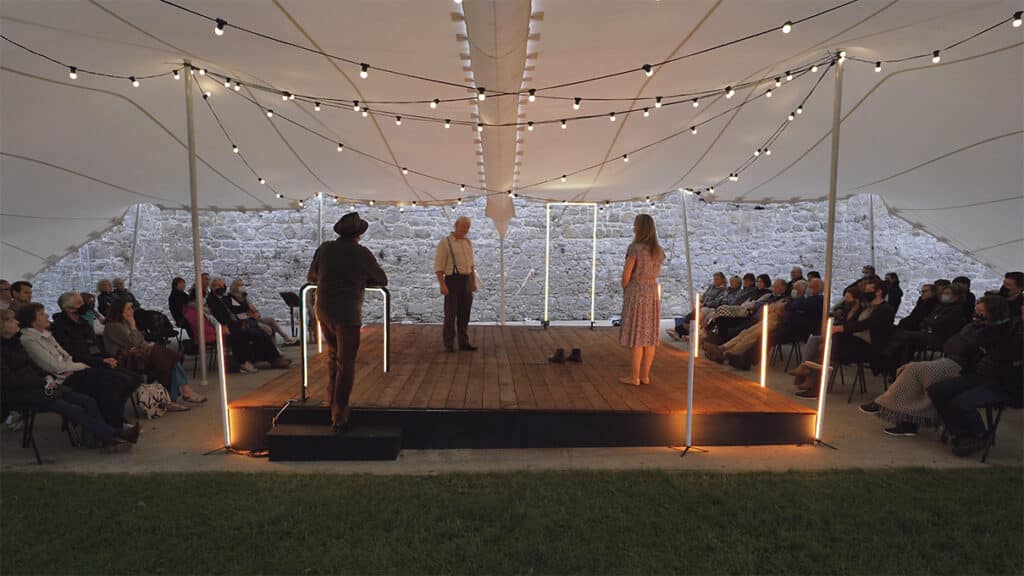 It is 15 years since the first Fit-up Theatre Festival was launched in Kilcrohane in 2009 with a one woman play called 'Smallone'. The actor who played that part to rave reviews and helped launch the hugely successful Fit-up festival was Joan Sheehy. This summer Joan is back in West Cork, in her role as a director rather than actor, with her beautifully crafted production of 'In The Middle of the Fields' by the Meath writer, Mary Lavin. 
The production has a cast of four; Seamus Moran, who people will know as the beleaguered bistro owner in Fair City, Kathy Rose O'Brien who starred recently in RTE's Whistleblower, Mark O'Regan from Cork city who has a long list of credits including The Commitments, Angela's Ashes and Father Ted and the brilliant accordionist Dermot Dunne.
Audiences can expect a unique atmospheric experience that harks back to the theatre fit-up tradition of the 1940s and 1950s, but with a vivid, contemporary staging.
The evocative story centres around a young widow who displays a strong, independent spirit in running her farm. An encounter one night with a neighbouring farmer becomes emotionally charged and unsettling, posing provocative questions about past passions in a shifting and surprising story that will leave you captivated.
Performances of 'In The Middle of the Fields' are at 7pm from Tuesday, July 11 to Saturday, July 15 in a tented area adjacent to Ballydehob Community Hall. The play lasts for one hour. Tickets are limited to 60 per performance so booking at Eventbrite is essential.