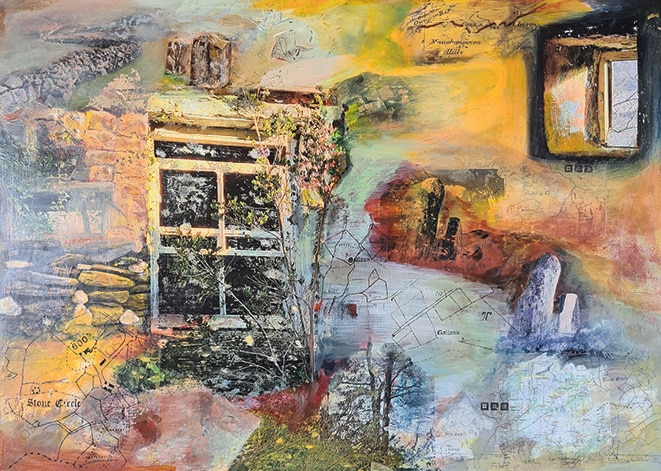 Sitting on top of Spring and looking forward to Summer, Blue House Gallery is hosting an exciting run of exhibitions and artists that in their own way reflect the spirit, colour and times we live in.
Running May 27 until June 15: (on the ground floor) Nigel Huleatt-James offers us paintings in watercolour of wonderful intensity; delivered with a lightness of touch and bold use of colour that complement not only the subject matter he portrays, whether that be figurative or landscape but also the mood and spirit of such.
Also on the ground floor, Richard (Tich) Breathnach presents, 'The Bog in the Bale'; Photography bordering on the abstract as the familiar silage bale gets transformed under intense focus of a creative eye. From the common the fantastical emerges as Breathnach records the reflections of the passing seasons.
Upstairs Debbie Godsell shows, 'Residues'; her latest collection of screen-prints. Haunting and original her work often explores the relationship between humankind and the earth and landscape we inhabit and influence, what is changed and what is left.
Also upstairs Fiona Power presents, 'An Alentejo Connection'. Following a residency at the Foundation OBRAS in rural Portugal, Fiona shares new paintings inspired by the landscape and the shared heritage between our two countries.
From June 17 until July 6: (on the ground floor) Ayelet Lalor's 'Juxtaposition' showcases her new ceramic sculptures of heads with fantastic headdresses trademarked with Ayelets usual flair for attitude, style and flamboyancy. Balancing Ayelets exuberant pieces are etchings by Yoko Akino. "Elements" brings together works of quiet, simmering intensity. Subjects are treated with a strongly traditional influence and yet are refreshingly contemporary and personal.
Upstairs, 'Creative Spaces II', sees the continuation of a documentary photographic journey by Melanie Black and Geoff Greenham. Following on from their very successful first exhibition series in 2019 they have increased their catalogue of artists in the West Cork area, beautifully capturing the artists themselves and the spaces wherein they work and create.
Rounding out the cusp of seasons Dick Richards presents, 'Fragments', an exhibition of mixed media collage. Using map routes explored when under the 5km lockdown as a starting point each pieces then takes a journey of dreamlike imagination.
Blue House Gallery is open every day 11am-5pm.