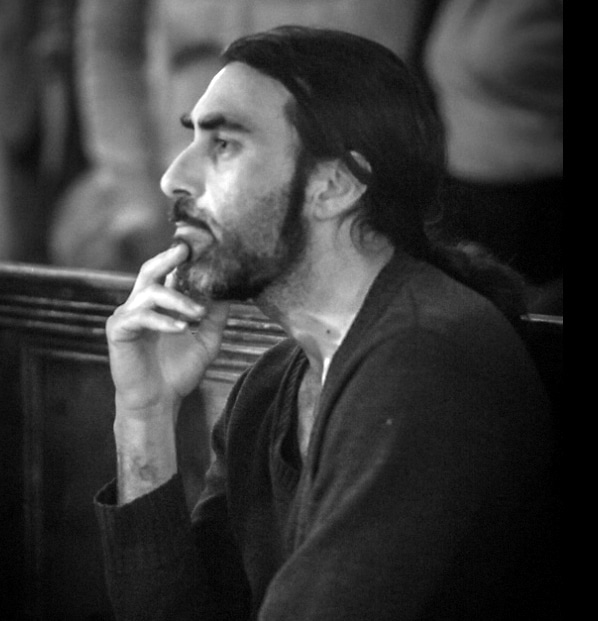 The shape of things
James Waller is an Australian born artist and poet based in West Cork. Through this column James explores the world of art, introducing the reader to major works of art and artists and reflecting on what makes them so engaging.
James offers a range of studio-based courses for children and adults in Classical painting, drawing and printmaking at Clonakilty School of Painting. See www.paintingschool.
jameswaller.org for details.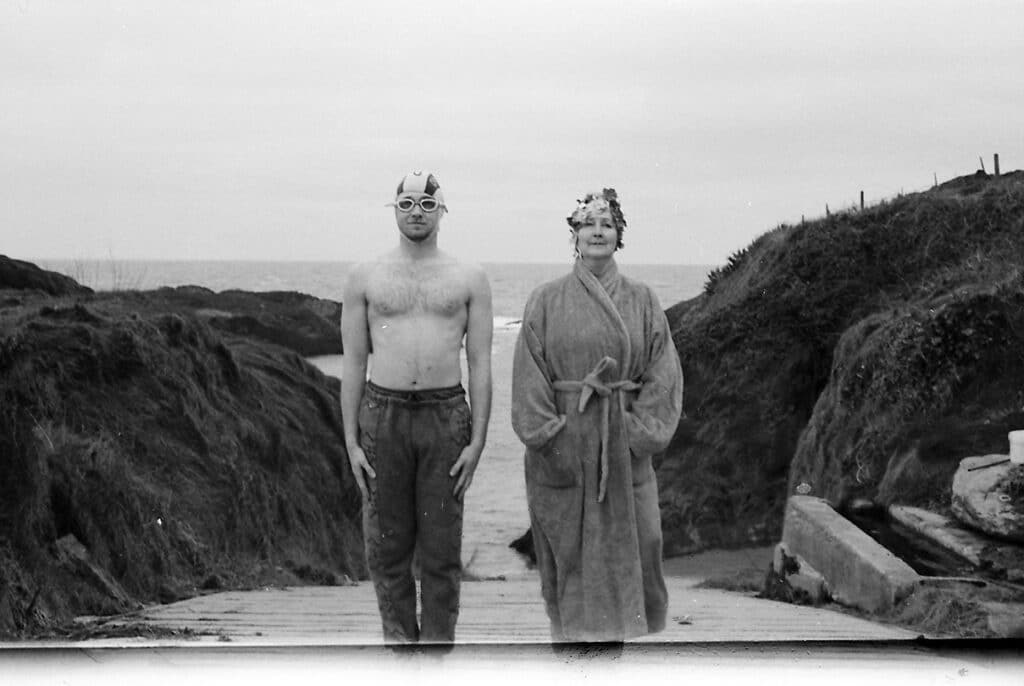 Working in the Clonakilty Arts Centre feels like how I imagine an old ship to be; the floorboards creak and the roof sags like sails in a lull; the walls between rooms are patched and paper thin, pigeon feathers waft through old windows and the dim light articulates dust as it settles on rickety shelves. On the second floor one feels close to the 'crow's nest', and it is here, from my studio, that I regularly hear the cheerful greetings of Thady Trá, as he enters his cave of alchemy; his beloved darkroom, no larger than a small bathroom, held together, it feels, by old nails and tape.
It is in this modest darkroom that Trá coaxes images he has captured, around Clonakilty, into visible life. His disarming and beautiful exhibition, 'What I See' (January 15-29) reveals Trá as a photographic poet. He has an eye for tender moments (such as a mother and her grown-up son walking hand in hand into the sea), for mysterious glimpses (such as a view of Lisselan through the woods), for quirky signage, street life, and how light plays upon objects, such as bicycle wheels and spoons. Familiar faces mingle with sea cliffs, woodlands, streetscapes, cafes and workshops; the glow of a welder's torch, the spokes of a bicycle wheel, faces in a cafe, a couple on a bench; the images linger and travel with you, disclosing your community softly back to you.
Entering 'What I See' feels like entering an intimate portrait of Clonakilty by the secret red light of a darkroom. Trá has presented his prints pegged to string, as if they had been freshly fished out of the developing tray. To emphasise the darkroom experience, a third of the gallery lights have been covered in red cellophane, bathing the prints below in a soft red light. Whilst making the affected prints a little harder to see, the strategy effectively increases the intimacy of the images, as well as putting the viewer in mind of the processes of analogue photography; the quiet joy of seeing an image slowly emerge out of silver gelatin paper, immersed in its birthing fluid.
What emerges is the result of a conjunction of craft, chance and a composer's eye. Trá knows his analogue equipment well (in a digital age we must remember that the analogue photographer cannot instantly see their image!) and shows us that he is willing to experiment and play with the results. In one intriguing work he has deliberately manipulated the developing fluid to create flowing, abstract forms which swirl around two bottles on a table. In this case the darkroom processes upstage the original image, revealing Trá as a creative spirit looking to explore the limits and edges of his medium.
Two things shine through all of Trá's photographic work: one is a great gift for composition and the other a genuine love of the world he lives in. His love of what he sees magnifies his natural powers of composition, which in turn allows the images he captures to echo and linger in the viewer's mind. In this way many of his photographs feel iconic; that feeling of an authoritative image that gathers up, within itself, a union of feelings and forms that one cannot easily forget. A photograph of Trá's mother and brother, centred in the frame, his brother standing to mock attention, his mother in a bath robe, in front of a ramp to the sea, is one such iconic image. Trá shows us that the ordinary moment can be extraordinary; it depends how you see it, how you feel it, how you frame it.
In contrast to Trá's wide-ranging subject matter, Jack Knowles' exhibition 'The Chess Tables' takes us into one concentrated aspect of the world around him; the skateboarding scene in the Chess Tables area of Dun Laoghaire, Co. Dublin. Knowles spent the summer of 2021 getting to know, and documenting the skaters and their environment, taking as his inspiration the immersive approach of American photographer Bruce Davidson as a way "of creating the strongest and most meaningful work."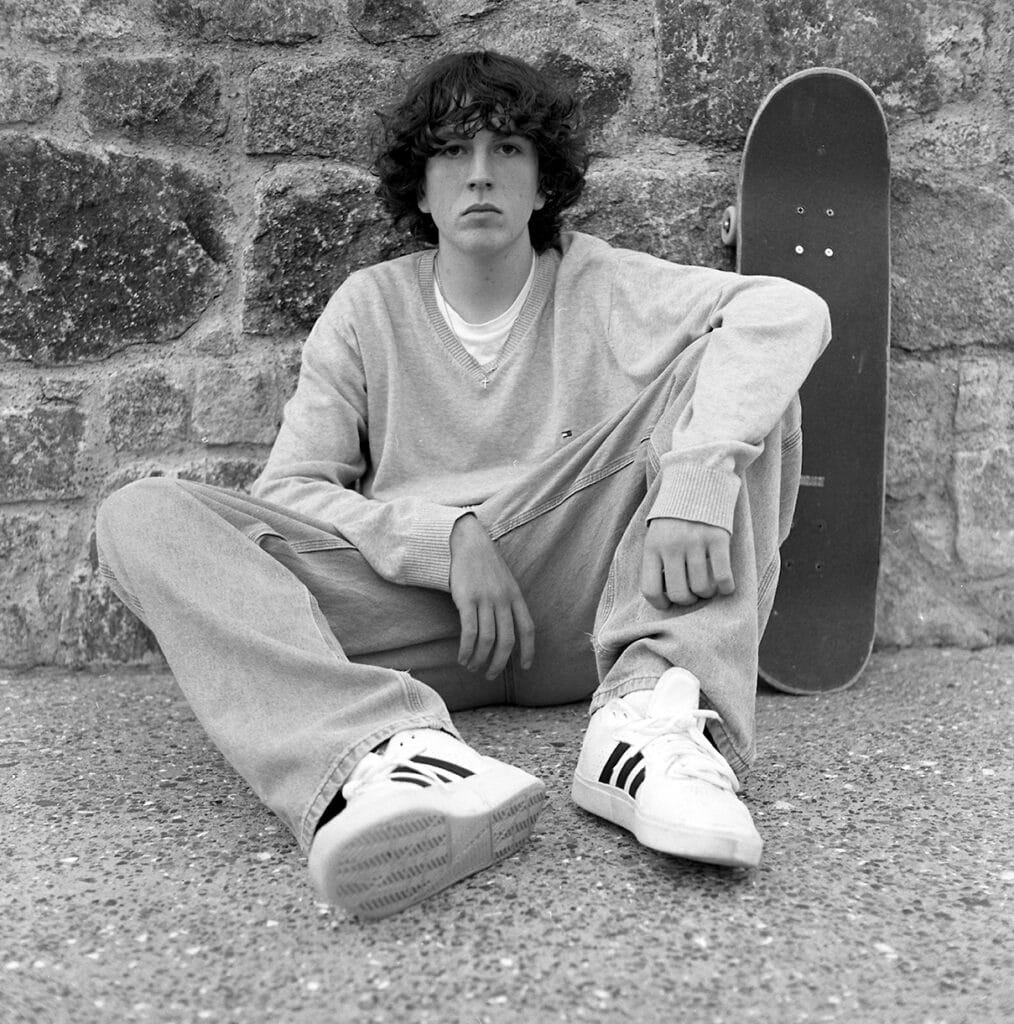 Shot on 6×6 120 black and white film, 'The Chess Tables' is an exhibition predominantly of skateboarder portraits, punctuated by still life images and two long-exposure action pieces.
Amongst the portraits on show 'Ben' and 'Aidan' stand out as exceptional. 'Ben' captures a cool, almost sullen gaze from a low angle, in a print of wonderfully light tones. Like all of Knowles' work it is a crisp, clean print, delicately detailing the texture of stone and ground around the subject, allowing the foreshortening of the boy's legs to gently diffuse. 'Aidan' is, by contrast, lighter in mood but deeper in tone. Knowles constructs a beautiful composition of slight diagonals and verticals, dark and light tones, all crisply printed.
Two double exposure pieces bookend the exhibition and reveal Knowles' dexterity with live action photography. The images, showing skateboarders in multiple positions of movement, provide us with a glimpse of skateboarding action which Knowles otherwise eschews. It is an interesting strategy which draws our attention to the boys themselves, chilling out in their zone, their various gazes by turns cool, sullen, light-hearted and ambivalent.
Knowles' delicate, square format, black and white prints have something soft and special about them. Technically accomplished and well composed, his subjects at ease and relaxed, Knowles succeeds in portraying a subculture cooly and candidly from the inside. These are gently moving portraits of young people by a young photographer with talent to burn.
'The Chess Tables' runs from February 5-26 at Gallery Asna, Clonakilty Arts Centre. Opening 7:30pm on Saturday, February 5.