One of Ireland's leading ceramic artists, Etain Hickey specialises in highly decorated and lustred ceramics and has exhibited both nationally and internationally. Inspired by the richness of her West Cork surroundings, she uses rich glazes and lavish decoration techniques incorporating gold to explore her love of colour, patterns and textures. Her work is also inspired by her love of icons, oriental rugs, block print fabrics, Islamic art and architecture and painters such as Matisse, Chagall, Modigliani and Frieda Kahlo.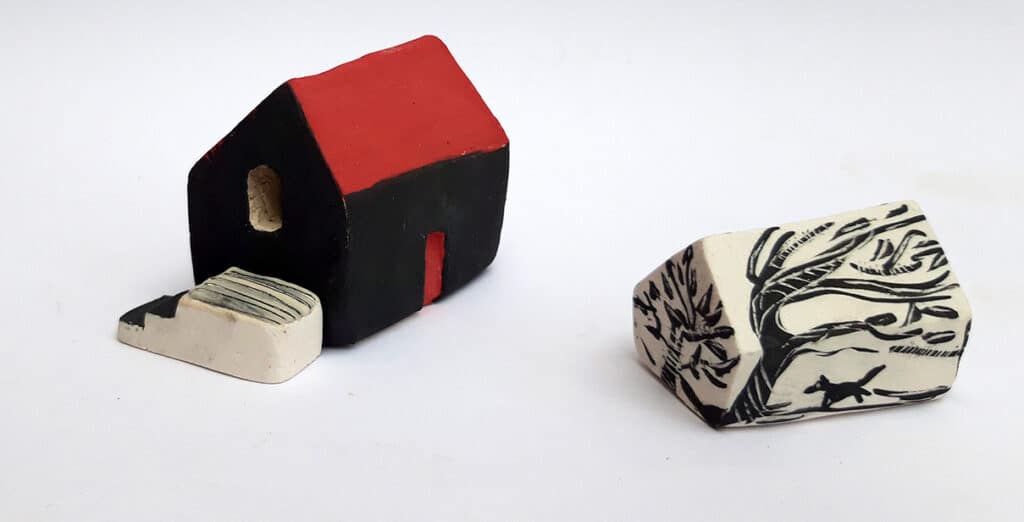 Etain shares her creative journey in West Cork; from setting up a Pottery in Rossmore with her husband Jim Turner in the mid-eighties, to opening a shop and gallery in Clonakilty in 2005, which survived flooding, roadworks and a recession before finally closing its door in 2020 following the Covid-19 pandemic. However for every end there is a new beginning as they say, and Etain, a woman of many talents, is looking forward to the next chapter in her career.
Etain nostalgically recalls getting her first wholesale order of red clay strawberry and parsley pots from the late Barry Shanahan Senior of Shanahan's Nurseries and Garden Centre in Clonakilty. Started by Etain and Jim in the mid-eighties, Rossmore Pottery soon spread its wings and took flight. There was a vibrant craft scene in West Cork at the time and although Ireland was in the midst of a recession, high quality arts and crafts, in particular pottery, was very much in demand. "I remember dropping off our first Christmas order in Cork and as we unpacked the pots people were literally taking them out of our hands," says Etain. In 1985, the couple visited their first trade fair in Dublin and thereafter orders started coming in monthly to the Pottery.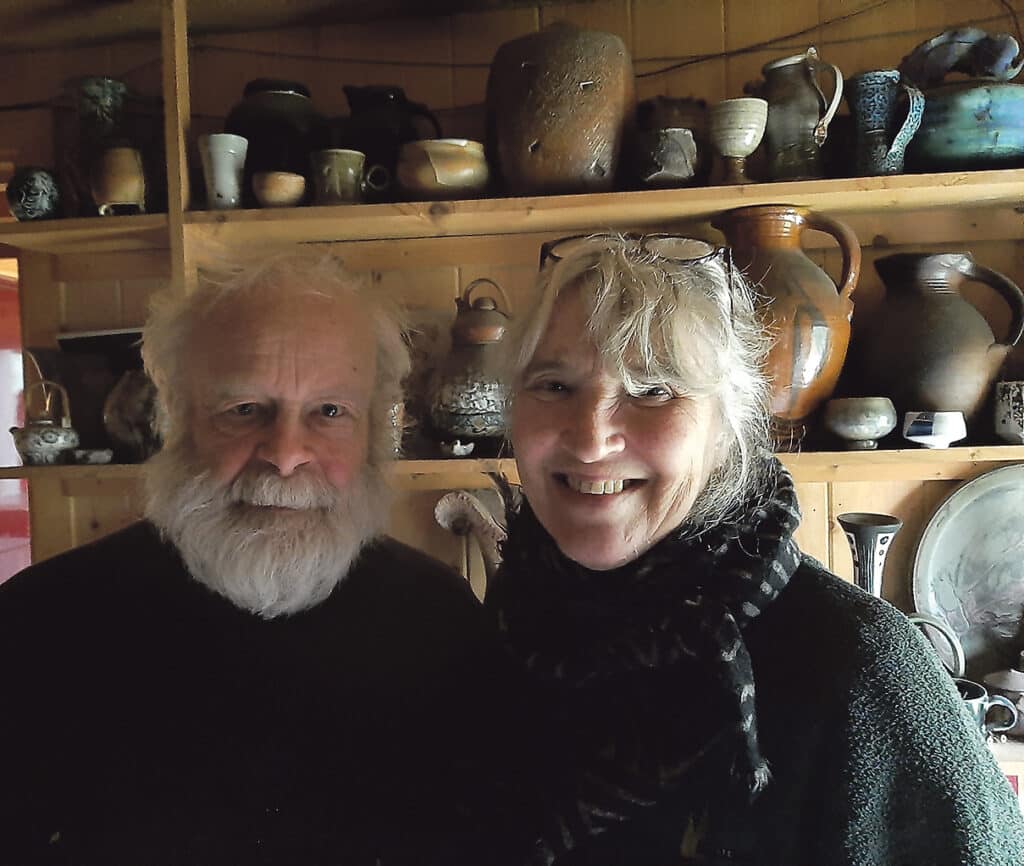 Etain grew up in Dublin and has always had a love of art, however after school she did do a very brief stint as a secretary. "My parents insisted on it," she says laughing "and I hated every minute of it." She went on to study at what is now known as Dún Laoghaire Institute of Art, Design and Technology. On graduating, she wrote to every Pottery in Ireland looking for work and eventually secured a position at the Alderney Pottery in the Channel Islands, which as fate would have it, is where she met her future husband, Cornish man Jim.
The couple worked in various potteries in the 1970s but the dream was always to open their own Pottery together. Hearing a whisper that property was going quite cheaply in West Cork – Etain had spent a summer as a teenager and loved it – they travelled over to take a look around. "The craft movement had really taken off in West Cork with the likes of Pat Connor, Brian Lalor, Leda May and John Verling in Ballydehob," says Etain " and so we decided this place was for us. We couldn't afford anything down around Ballydehob and Skibbereen, so we went back to Alderney with a stack of property brochures to mull over."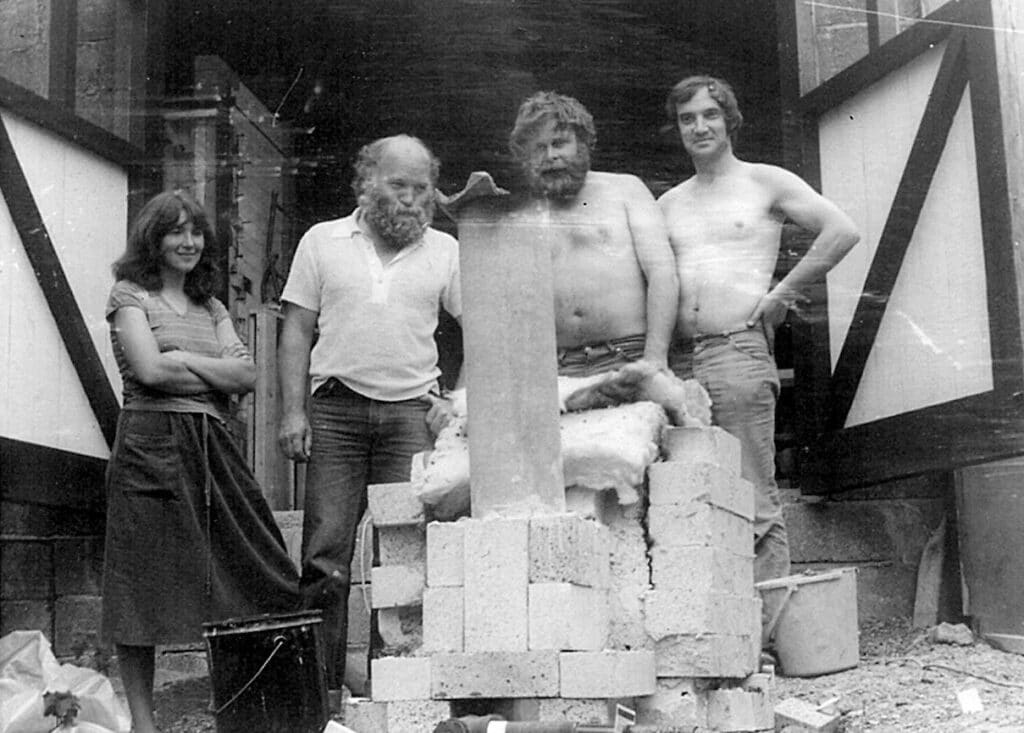 Etain and Jim eventually settled in Rossmore after friends of theirs bought the old convent in the locality. "The property we bought wasn't officially for sale but the real estate agent/auctioneer introduced us to the farmer and the rest is history."
Although it took longer than they hoped for the deal to go through – there was some problem with a will – four years later and Etain and Jim were the very proud owners of a 'ruin' in West Cork. This was 1980, the same year that the Society of Cork Potters was founded, a group that Etain and Jim became central to, organising and hosting most of the annual workshops at Rossmore.
"For the first year, we lived in a caravan on the land, with no electricity or running water, while Jim singlehandedly rebuilt the cottage," recalls Etain.
"We had to go to the village daily to collect cans of water from the village pump and bring back home. My daughters are shocked to hear that I had to wash cloth nappies by hand in this water," she says laughing, "…but I was 25 and it was an adventure. Times were very different."
Jim built a workshop and studio on to the cottage and Rossmore Pottery was born. "The wholesale side of the business really took off,' says Etain. "Pottery was far more expensive back then but people used to save hard for it. It was a popular wedding gift and an awful lot of dinner sets were also sent off to the States." For over 20 years wholesale tableware was a huge part of the business, with Rossmore Pottery supplying shops around the country such as Kilkenny Design Shop
"I eventually felt there was a change coming," says Etain, who decided to do a business course run by the Local Enterprise office and open her own shop in 2005. "Nothing happened overnight but we stopped doing wholesale." Around the same time, Jim got a part-time job teaching ceramics at Rossa College "The idea was also to have a small gallery as part of the shop to showcase local crafts," explains Etain who, as a member of the West Cork Craft and Design Guild, Cork Craft and Design and Society of Cork Potters, has always been very involved in organising and curating exhibitions.
Etain's instinct was right – people were moving away from the more expensive handmade pottery and looking for cheaper gifts – so her combination of ethical fairtrade gifts and Irish crafts made for a successful retail business.
For the next 17 years, Etain Hickey Collections in Clonakilty brought together the best of West Cork art, craft and design with the gallery showcasing the wealth of creative talent in the area.
After hanging up her retail hat this summer, Etain has been busy working on the Society of Cork Potters 40th anniversary book, which is being launched as part of Cork Craft Month with an Exhibition in the Lavit Gallery Cork. "People keep asking me am I enjoying my retirement," she says laughing "but I haven't had a minute to myself." Etain will be showing at the Blue House Gallery in Schull during Cork Craft Month and she is also participating in the online West Cork Creates exhibition. The husband and wife team also regularly collaborate on projects together.
"We all need something beautiful to look at," says Etain, who promises to continue bringing colour into our lives for many more years to come through her striking hand-decorated ceramic pieces.