Gavin Buckley works as part of the front of house staff at Uillinn West Cork Arts Centre. He also writes a weekly blog about the latest events happening in and around the Centre. Over the next four weeks, Gavin will be interviewing four West Cork-based makers. All four are long-standing members of the West Cork Arts Centre and have a keen interest in the qualities of material and form in their work. To read Gavin's blog go to uillinnwestcorkartscentre.blogspot.com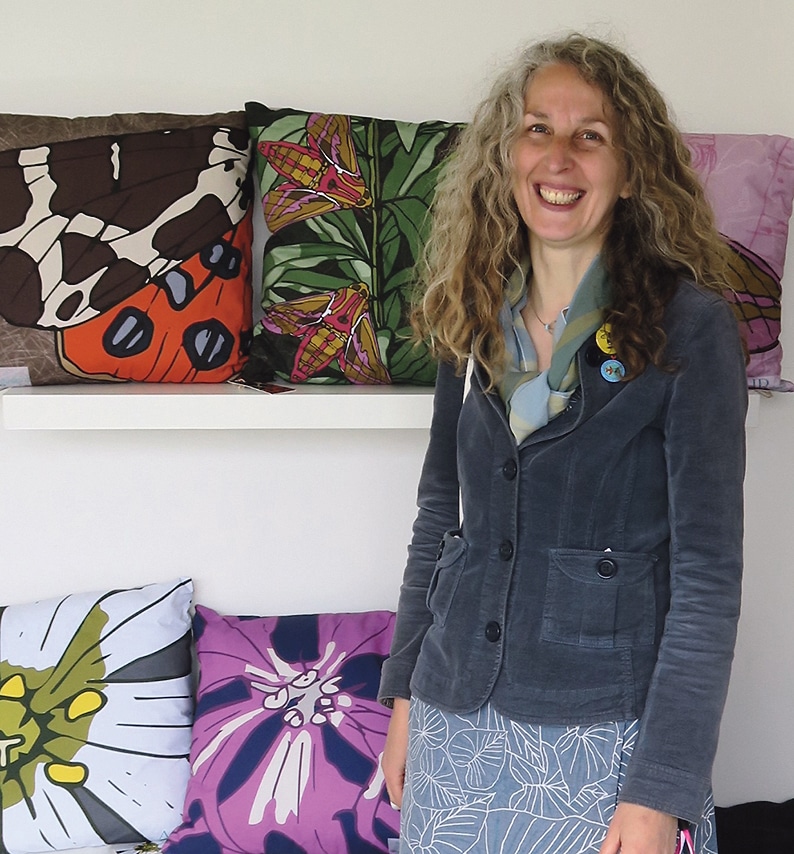 Designer Anne Harrington Rees has been drawing, making and designing since childhood; on paper, in landscaping and in fibre. Her designs, inspired by nature, her love of natural materials and bold, bright patterns, bring the magic of wild Ireland into the home. Over the years, Anne has used her talents to help people of all ages create art: This includes work in primary schools, secondary schools and, as part of the Arts for Health Team, where in the past she worked with the hospital residents of Dunmanway, Clonakilty and elsewhere. Gavin Buckley meets the Rossmore-based designer at the Skibbereen Farmer's Market, where he finds her stall is awash with the vivid colours of her collection.
A selection of tea towels, wall hangings and cushions are neatly displayed on Anne's stand. Besides the notable colours, what stands out are the designs printed upon them. On one item there is an intricate pattern of leaves with a striking flower at their heart. On the next, a multi-layered and multi-coloured graphic of a moth spread radiantly across the material.
Anne is happy to share her background with crafting. "I've always loved creating. I remember as a child my mother and grandmother taught me how to sew and I used to practice by sewing dresses for my dolls. Ever since then and, as I grew up, I've been making things. I even made my wedding dress for example. But besides crafting, I have always been interested in the environment and the nature we have around us. My passion for both is what has led to this current work."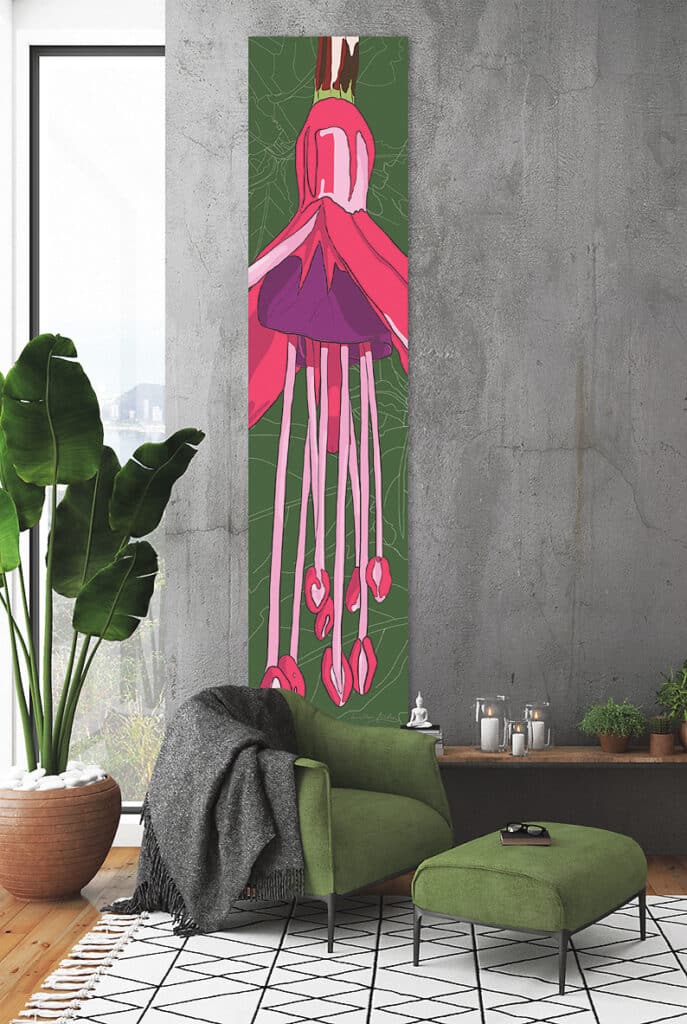 Anne's story is of a life wholly immersed in both crafting and nature. In terms of education, she has a Higher National Diploma in Design Crafts, as well as a degree in Landscape Horticulture. Some of her earliest professional endeavours involved crafting small coiled hand baskets, which she would later go on to display in her first exhibition. This was only the beginning of her success, as she went on to win several crafting competitions both in Ireland and the UK. Besides that, she was a horticulture lecturer in the UK for several years and even had her own garden maintenance business for a time.
It's also evident that she cares a great deal about the environment.
She explains how her interest started. " There were many influences. I was brought up in the countryside. I was always out hunting for blackberries or walking the dogs. We used to grow vegetables in the garden, and my dad would always know the names of every plant. Besides that, my husband is an ecologist and he used to work in a nature reserve where I would help him do bird surveys from time to time. Because I was involved in all of these things, I became aware of the problems facing the natural world. Today, I do my best to raise awareness of these issues because we need to mind what is in the world around us. I think if people don't know about the problems, then they won't know how to protect the environment around them and start doing positive things for it."
Anne primarily focuses on selling at markets these days. She explains the process behind her current work. "It usually starts with me just going for a walk with my dogs and I'll end up spotting things. An insect on a leaf, a budding flower, things like that. I'll take a photo of whatever I find interesting. Later on, I'll layout all the photos I've taken that day or from any day really. From there I'll sketch an image based on patterns that I like in the photos. I'll then scan my sketch into my computer where I add colour using editing software. I also may add further layers on the computer, like the leaf patterns. Once I'm happy with the completed image I'll save it and send it to an Irish based printing company. I feel it's important to support Irish businesses. They then print my image onto the towels or hangings or whatever I like. It's all fairtrade or organic materials too. Once I get them back I must fold them, package them, and get them ready for display. That's it. They are then ready for selling at the markets."
Anne's passion for nature and crafting comes across in her work. To see for yourself, you will always find her on a Saturday afternoon in Skibbereen Farmer's Market or alternatively, some of her work is for sale at Green Dot in Clonakilty. All of Anne's work is also available for purchase on her website: anneharringtonreesdesigns.ie. Follow @anneharringtonrees on Instagram to keep up to date with new designs and market locations.