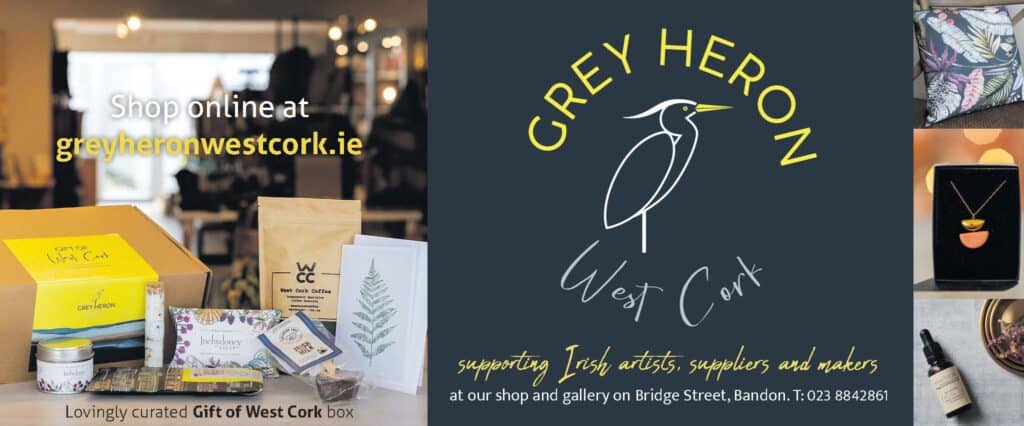 Perched in the heart of Bandon town sits Grey Heron, a design-led gift shop that first opened its bright yellow doors in April 2019. The history of the shop stretches back further though; before refurbishment and rebranding it was known simply as Bandon Craft Centre.
The new lease of life for this craft shop had been a few years in planning. For years brothers Dave and Phil McLaughlin had sought out design-led gift shops whilst travelling up the country or abroad. With each visit they returned to Bandon with some more inspiration, whether it be the carpentry of displays within the various shops, or how each positioned themselves in the market.
"We loved coming back with ideas we'd seen in places like Dublin or Galway, and eventually married some of those ideas with our own taste and interests to design what eventually became Grey Heron," they explain.
Like most other businesses in the non-essential retail sector, it's been a challenging 12 to 15 months but that hasn't stopped the brothers trying new things. "We launched our online shop back in October 2020, which thankfully we'd commenced pre-Covid and we were very happy with the Christmas we had, both online and in store. There was huge goodwill out there to support local businesses."
In the first year of trading, Grey Heron made it to the 'Retail Excellence Ireland Awards Top 30' finals, after a rigorous application process. "We were very surprised, and obviously delighted, to qualify for the Top 30 but the best part of it all is that we received loads of great pointers, which we took on board and are always working on behind the scenes!"
Grey Heron supports Irish artists, suppliers and makers with a very large smattering of local West Cork and Cork makers on its shelves. "We love to help tell the story of the makers and artists that work with us. It's important as there's an unbelievable amount of work behind their creations."
Makers at Grey Heron include Bert from Designer of Things, Ruth of Danu Ceramics, Louise from Inchydoney Candles, Aoife McLaughlin (Phil's wife), Lily of Petal to Petal, Réidín from Warrior Botanical, Tony of West Cork Coffee and so many more.
"We've also been lucky to have some exceptional West Cork artists exhibiting here such as Michael McSwiney, Eilbhe O'Donovan and our town's very own Bandon Art Group, to name but a few, and some seriously talented local photographers such as John Beasley, Stephen Hayes and Jonathan Tyner.
This year Grey Heron also launched its 'Gift of West Cork' gift box, which has really proved popular both online and in store. As its name suggests, this box comprises of carefully curated items from wonderful West Cork suppliers, from edible to bathtime treats.
However, the brother's work doesn't stop here: "We've to keep evolving and we have a very exciting announcement coming in the next month or two which we hope will add a new dimension to our shop so keep an eye out on our social pages @greyheronwestcork."