2020 would have been the 15th anniversary of West Cork artist Geraldine O'Sullivan's summer exhibition. This year, due to the current restrictions on public events, the two-day event has changed to private viewings during the month of August. Geraldine's latest work will be shown in the artist's home gallery and viewings may be arranged by appointment.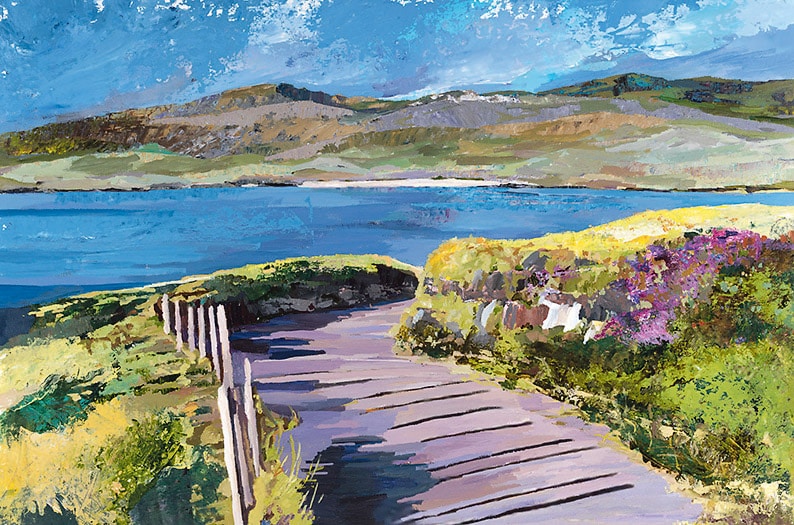 This is not the first time adverse events has forced the artist to quickly respond to 'save the day'! In previous years Geraldine had regularly exhibited in the lighthouse buildings of the Galley Head Lighthouse, by invitation of the Irish Landmark Trust, where her event was becoming a much-loved highlight of the summer. Unfortunately, 15 years ago and just two days before her exhibition was due to open, the Galley Head venue became unavailable. Unwilling to cancel the event, which had been widely advertised and to which hundreds of invitations had been sent, Geraldine decided to relocate the show to her home in Ballylibert, near Castlefreke. 
2020 sees the show return to this first 'pop-up' show format. Geraldine's work can now be seen by appointment in a beautiful, vine-filled outbuilding and a small studio-gallery. O'Sullivan's art has evolved in style and content over the past 15 years, but her original premise, that her art must instil in one a "Sense of Place and Belonging", still remains.
After the many weeks of isolation and uncertainty we have all endured, Geraldine feels that people are searching for art which "portrays that which is recognisable, familiar and reassuring; images of places visited, lived in, of faces and objects which are identifiable and precious."
There is a common theme running through the 2020 collection; Geraldine has painted a series of paintings featuring still water with mirror reflection. One beautiful example is 'Kayaking near Carrighilly', painted after lockdown when a relaxation in the travel restrictions allowed Geraldine to put her kayak back in the water.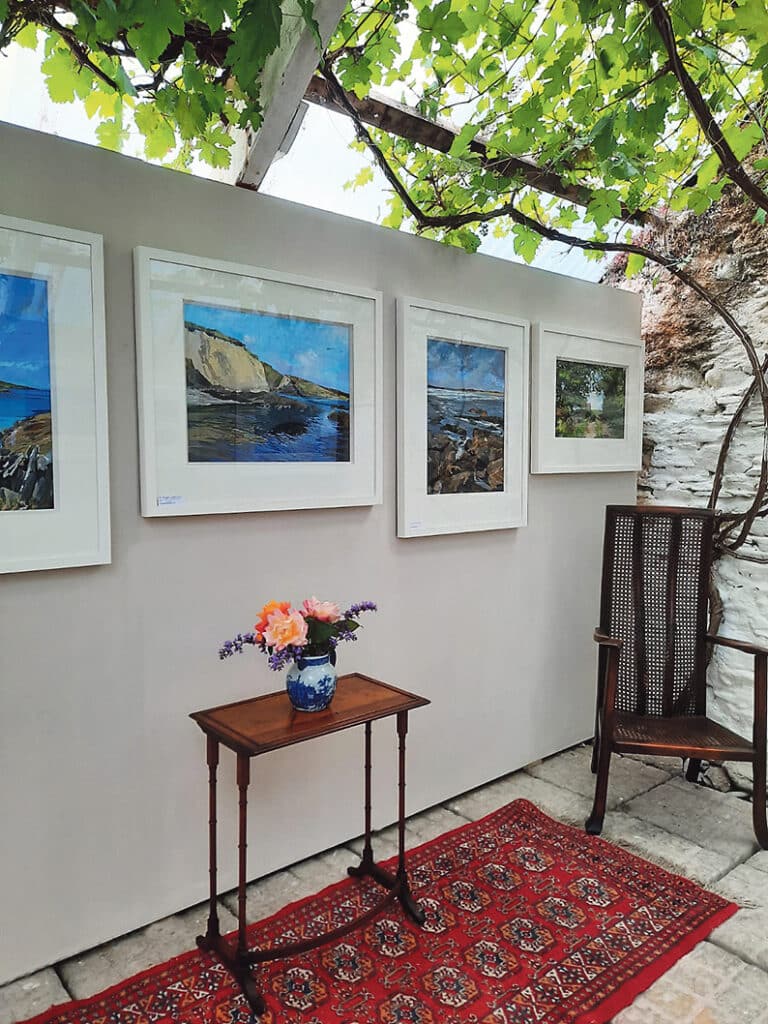 April and May were full of bright light and this is reflected in the paintings, the longer early summer evenings are captured in the panoramic 'Old Coastguard Station, Rosscarbery'.
Artists reflect current moods in their work and this is evident in the two paintings which feature pathways and roadways, devoid of human presence. 'Our townland' is the title to a very calming landscape that captures perfectly an early summer West Cork boreen.
The familiar landscape and coastline were reassuring in a time of such great uncertainty. "Nature was my constant companion,'' says Geraldine. "So much of my time I spent alone, walking every boreen and coastal path within my restricted zone; the ebb and flow of the tides were so reassuring, as was the comforting light of the Gallery Head lighthouse that sweeps past my bedroom window, as if whispering 'this too will pass, all will be well'".
Over the years Geraldine has seen how her art has stimulated conversations, dialogues and interchanges. Her art seems to give people the permission to share thoughts, feelings, ideas and impressions that they might ordinarily not share. There is a painting entitled 'Go the distance' which sums up the ethos of O'Sullivan's artworks.
This year's viewing by appointment exhibit will run for all of August and each viewing is limited to four people. Masks are to be worn please.
Book a viewing by telephoning Geraldine directly on 087 6831751.