Alison Ospina, curator of the West Cork Creates exhibition, talks about life and work in West Cork and what drew her to her chair making craft.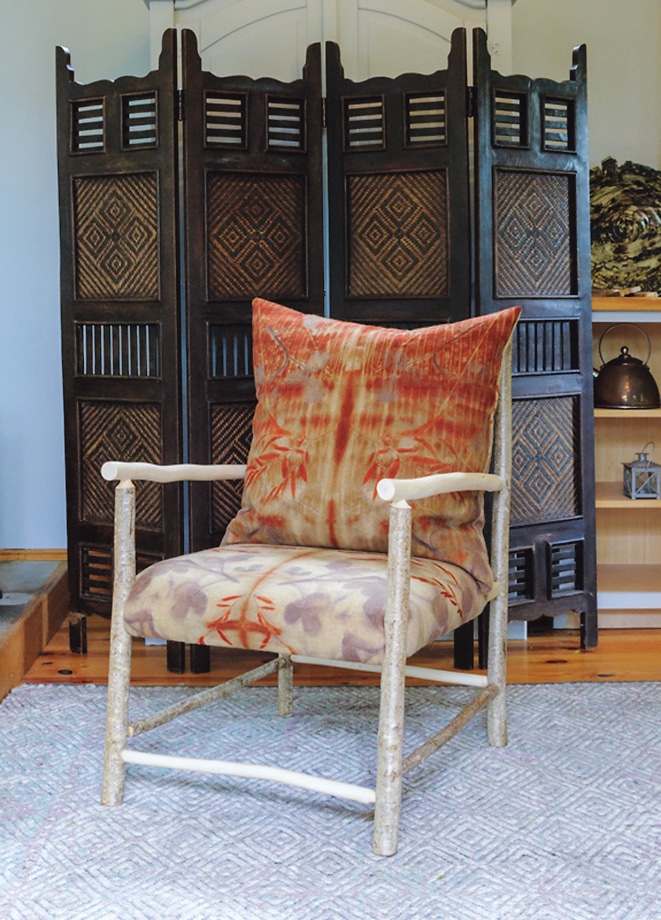 "José and I came to West Cork with our three children in 1996, looking for adventure and somewhere beautiful to live," she explains.
West Cork offered plenty of both and 24 years later Alison is still making her beautiful 'Green Wood Chairs' at her home in the heart of the West Cork countryside surrounded by trees, birds and nature. Her husband's office is right next door to her workshop.
"I like the balance of my life," says Alison. "Teaching, making chairs, writing books and reading."
Alison teaches one day per week at West Cork Campus during term, allowing her time to make chairs and stools at home the rest of the week, although in the winter months she admits that she does spend less time in the workshop and more time writing and reading.
In the summer, she continues making chairs (mainly for exhibitions) and teaches one and three day courses from her own workshop, taking a maximum of three students per course.
In August, she curates and organises (with the help of a dedicated committee) the West Cork Creates Exhibition in Skibbereen.
Alison hasn't always been a creator. She trained as a psychiatric nurse and worked in psychiatric hospitals for seven years before moving to Colombia with her husband José, a Colombian. "At the time I loved working in psychiatry but I didn't really want to go back to it once I had my own children to look after," she says. "I'm not sure where the woodwork enthusiasm or rather obsession came from; I started attending Adult Ed classes part time when the children were small and we lived in London and it just grew from there."
A series of coincidences led her to make her first chair using unseasoned hazel shortly after arriving in West Cork; she hasn't stopped designing and making green wood chairs since.
A self-taught chair maker, Alison has gradually developed her own unique approach and techniques in her business Green Wood Chairs.
Using mostly locally coppiced unseasoned (green) hazel wood for making her chairs and stools, she sources most of her hazel from Tony Scannell who has a woodland in KInsale.
"I have also used birch, alder, ash and rowan but my absolute favourite wood is hazel. It grows as if nature intended it for chair making," she says passionately.
"I don't really separate my life from my work," admits Alison. "I am a chair maker first and foremost. Our children have grown up and have their own homes and lives. I love making chairs and I am at my best in the workshop, physically, mentally, emotionally, creatively. I can't imagine a time when I no longer want to make chairs!"
In 2011, Alison published 'West Cork Inspires', a book about the history of the craft movement in West Cork and one of the highlights in her career. "I hadn't realised when I set out to write the book that it was such an interesting story and an important one to tell," she explains. The book was launched in Ireland at Farmleigh House in Phoenix Park and Alison invited West Cork artist Etain Hickey to curate an exhibition of art and craft works made by the book's featured artists in the Gallery at Farmleigh. "By pure chance, it coincided with the Queen's visit to Ireland and she was presented with a copy of the book and Michael D. Higgins officially launched the book and exhibition. It was so exciting and such a proud moment!"
In recent years, Alison has discovered the joy of working in collaboration with a variety of textile designers to produce original limited edition collections of upholstered chairs and footstools.
This year, for the Harvest exhibition, she has teamed up with textile artist and eco printer Nicola Brown and upholsterer Jessica Finken and they have put together 'Armchairs and Footstools' with eco printed fabrics. Nicola produces single lengths of fabric per chair, which Jessica cuts and shapes to cover cushion, seat and footstool. The eco printing is done with leaves, seedpods and flowers.
Alison is also working with artist Sue Gifford who is hand painting/decorating two Green Wood kitchen stools with a 'Harvest' theme.
Recognised and supported by the Design and Crafts Council of Ireland and Cork County Arts Office, West Cork Creates is now the one annual event run by the West Cork Craft and Design Guild (WCCDG), a group that was set up in 1997, as a support network for individual craftspeople running businesses in West Cork. For many years, the group, with a membership that fluctuated between 15 and 25 at any one time, met regularly and organised events and exhibitions and produced an annual printed brochure. "The world has changed since those days," says Alison "printed brochures are too expensive to produce and often get wasted; organising exhibitions far afield did not really pay off in terms of sales and promotion and turned out to be a lot of work and expense for little return.
"Experience has taught me over the last 20-plus years that developing a reputation at home and building on that is more effective when it comes to promoting the work of local artists and craftspeople and facilitating sales.
This is Alison's sixth year curating the West Cork Creates exhibition, which this year is going online due to the Covid-19 pandemic, making it a rather different curating experience to other years, as Alison explains. "Last week I was in the O'Driscoll Building where the WCC exhibition usually takes place. It was empty, with the plinths we normally use for display all stacked up at the end and I must say I felt a bit sad and nostalgic. I wanted to roll up my sleeves and get started curating the actual physical exhibition there – it is always so exciting! However I think we have made the right call and I hope we will be equally successful, if not more so. I have researched it (online) myself and it seems that the world of online art sales is booming!
"We show arts and crafts together which makes for an interesting show. Our audience enjoys the fact there is something for all interests. Selection is critical; we only show work of the highest standard. In previous years we have been very successful in selling work, which is money that goes back to the artists and helps them to continue on their chosen path."