Dividing her time between London and her studio in Leap where she works obsessively when she's in Ireland, ceramicist Kathleen Standen looks to the ever-changing patterns of weather in the South West, together with such natural elements as rock strata, moving and still water, lichen, wild flowers and the fishing industry as influences for her work: She makes ceramic sculptures and vessels that allow her to explore colour and texture.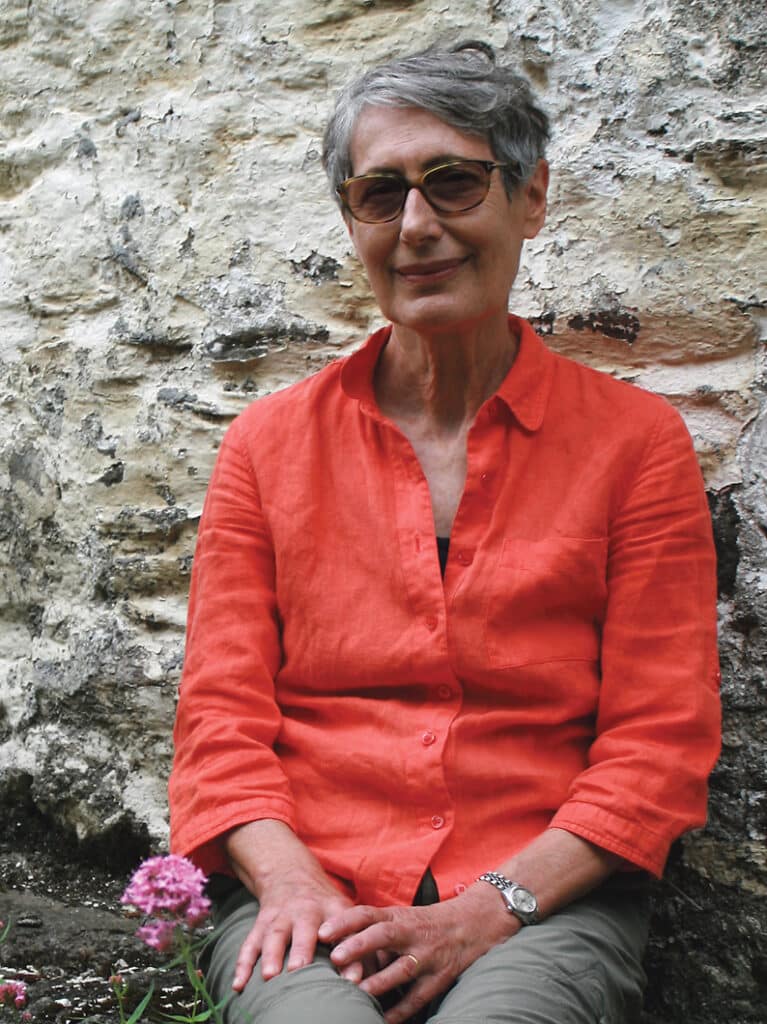 At her coastal property in West Cork, Kathleen is fortunate to be surrounded by 22 acres of land, some of which has been landscaped to assimilate with the rugged beauty of its surrounds. It's this garden with its majestic rock formation, native ferns and mature trees that Kathleen looked to during lockdown for inspiration for her glazed stoneware and earthenware vessels, with relief added, created for this year's West Cork Creates exhibition.
Born into an Irish artistic family in London – her father and brother trained as artists – Kathleen studied Marine Biology and followed a career in teaching in between raising her family before pursuing her passion for ceramics: She left teaching to enroll on a degree course in ceramics at the London Metropolitan University. Since graduating in 2005, she has exhibited in Ireland, USA, Germany, Belgium, China and the UK.
Kathleen's collection includes small sculptures and vessels in addition to large pieces for display in gardens. 'Industrial beachcombing' in the fishing villages of West Cork and by the River Thames in London is central to much of Kathleen's work and some of her finds have become old friends, settling themselves into the undergrowth of her property.
Hers latest work is based on identity and was inspired by Brexit and questions such as: Where do I belong? Is Ireland my home or am I seeing Ireland through the eyes of a visitor? This Identity series comprises three strands: large vessels with lids made in coloured clay with images and texture of West Cork; smaller textured vessels and wall panels based on the colours and textures of The Burren area, where her mother was born; and thrown, glazed stoneware and earthenware vessels with relief pattern, based on Kathleen's garden. The latter work was made during lockdown.
She is currently exhibiting 'Standing Stones' in Richard Scott's sculpture exhibition, in the grounds of Ballymaloe House, where she sold two of her three forms on opening evening.
While the UK is where her family is based, grown-up children and grandchildren, West Cork is where Kathleen's artistic fire is fuelled and she and her husband John have made many good friends here.
Life is West Cork is "nature all around us…coastal walks, cycle rides, sea swimming, boating, and much more," she says passionately. The robust art scene in West Cork is also a draw. "Visual arts, music, plays and general nurturing environment for all aspects of the arts. Declan McCarthy music gigs (Baltimore Fiddle Fair) and Connelly's of Leap musical events organised by Sam McNicolls are firm favourites."
Kathleen makes her own coloured clay, adding organic material, which burns out in the kiln, leaving an eroded surface.
While the work can be physically hard – she shows off the large heavy moulds for her vessels – this doesn't phase her. "There just never seems to be enough time," is this artist's one real complaint.
Passionate about experimenting with clay, Kathleen somehow did find the time to fit in writing a much-lauded book about how clay body additions can introduce remarkable new forms and textures in ceramic work. In 'Additions to Clay Bodies' Kathleen reveals a range of possible effects, and profiles the extraordinary work of contemporary makers using additions in their practice.
When she's not busy creating or writing, meeting the public and talking about her work and ceramics in general is a highlight for Kathleen. She is particularly interested in inspiring young people to strive and has taught at a number of different institutions and societies in Ireland and UK.