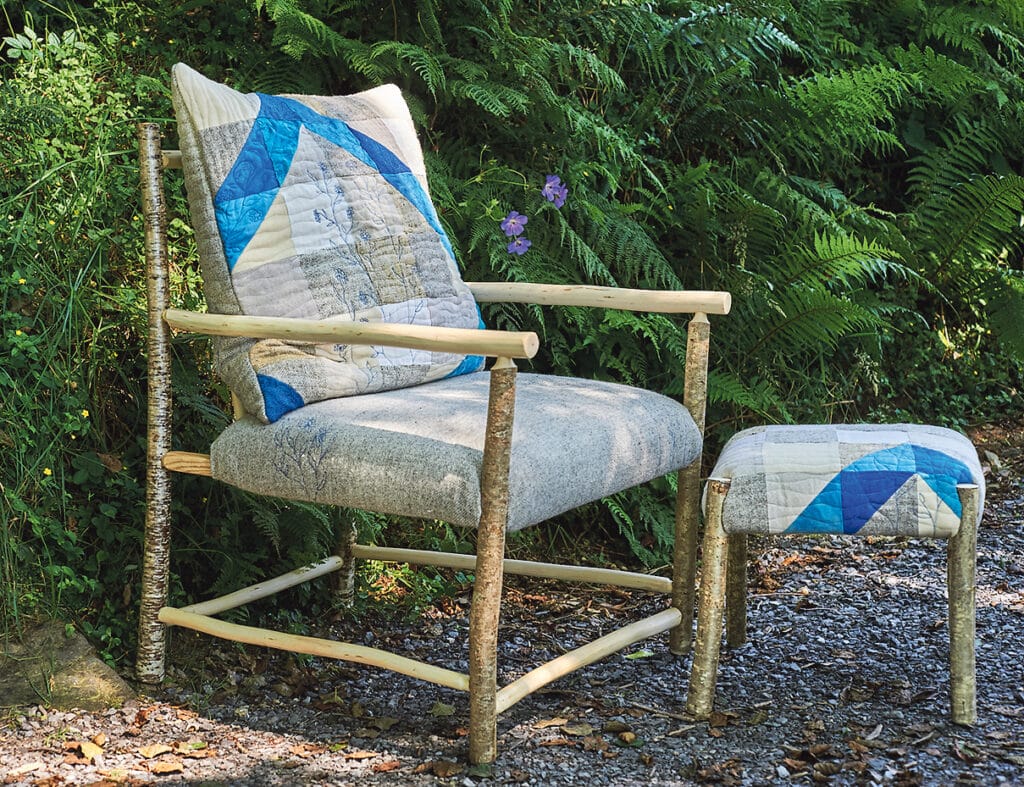 'Collaboration'  is a limited edition collection of hazel armchairs, with footstools, made by Alison Ospina with quilting, patchwork and stitching by textile Artist Mary Palmer. The collection is part of the West Cork Creates Exhibition 2021.
Each year, green wood chair-maker Alison Ospina searches for textile designers with an interest in collaboration to produce an original, limited edition collection of upholstered hazel armchairs and stools.
"I had been making wooden chairs and stools for over ten years and reached a point when I felt it was time to add some colour to my work," Alison explains. "Textiles transform my seating by adding colour and soft textures, which complement the beautiful hazel wood they are made from."
In previous years Ospina has used textiles designed and produced by Orla Kiely, Anne Kiely, Kerry Woollen Mills and Nicola Brown.
This year she is working in collaboration with textile artist Mary Palmer to produce pieces that reflect the 'Home Ground' theme of the West Cork Creates Exhibition 2021.
"My home is my comfort zone, so with comfort in mind, I look for colours and textures which are warm, comforting and familiar. I choose natural materials and organic shades," Alison explains. "The colours I saw around me during the 5km lockdown were stones, tree bark, sheep's wool hanging on the barbed wire fence, wild flowers and plants. Mary and I set out to find the colours which most appealed to us within our limited home grounds."
They chose light Jacob's woollen cloth as a base colour for upholstery with cornflowers, montbretia, foxgloves and ferns for decorative detail.
Mary's quilting and stitching designs add a new dimension to Alison's chairs; her quilting introduces texture to the upholstery fabrics and her delicate, hidden stitching details, with hints of colour, delight the eye. You have to look closely for the detail and you can't help smiling when you discover tiny flowers and leaves hidden in unexpected places, on the seats, footstools and cushions.