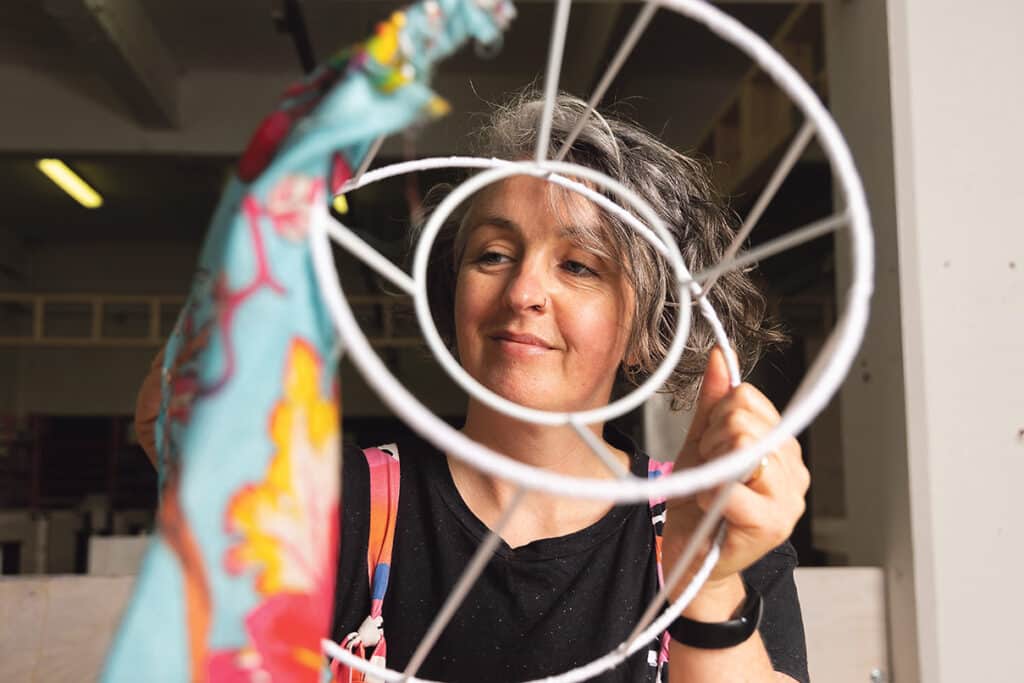 Cork Craft & Design, which brings together the best of Cork's unique craft and design tradition has launched its 2022 programme for Cork Craft Month. Showcasing the best of contemporary Irish craft, over 50 workshops, artist talks, markets and demonstrations will take place across Cork City and County in August. Whether you choose to watch a Crochet Flower Demonstration in the Peoples Parklet on Douglas Street, learn the art of frame weaving with artist Kate Wilson or head to the Roundy for an evening of vinyl, crafting and spoken word, there is an event for everyone of all ages at Cork Craft Month.
Cork Craft Design is delighted to welcome exciting new cultural organisations to the festival. TEST SITE, which is located on the grounds of a former sawmill on Kyrl's Quay will host a range of workshops, talks and outdoor events. There will be two special live performances from the Fresh Air Collective while bookbinding and ceramic workshops will also take place. (August 7, 28)
Located on Centre Park Road, benchspace Cork which is the first co making space in Ireland will host a special Open Evening on August 2 where the public can meet the makers and see their work. Spoon Carving and creating a wine valet are some of the innovative workshops taking place at benchspace during Cork Craft Month. The popular MADE IN CORK Market is back this year and will take place in St Peter's Cork on August 20-21.
There is a very strong Irish language element to the programme with several events taking place in Irish. A selection of these includes Sonia Caldwell's talk on Rush Rattle Weaving as part of the Timpeallacht Exhibition in Kilcoe Studios, Peadar O'Riada's demonstration of Skep Traditional Beehive Weaving and artist Martha Cashman workshop on how to make ceramic bird feeders. Don't miss the Cork Craft Month Billboards which will feature 12 original illustrations by Cork artist Annie Mar and a message in Irish.
Cork Craft Month 2022 Showcase Exhibition Lineage will take place in Castletownroche from August 5 to 28. Curated by Julie Daunt, the exhibition celebrates the legacy and tradition of crafts and the makers of Cork Craft and Design. Throughout August, The Gallery @ No.46 on Grand Parade will host Emerge, a showcase for up-and-coming Cork crafters, Douglas Shopping Centre will host an exhibition of furniture makers while Cork Craft at "On the Pigs Back" will display beautiful pieces created in Cork especially for Cork Craft Month.
To mark Heritage Week (13 to 21 August) a series of traditional heritage workshops and demonstrations will take place at Chapel Hill, School of Art in Macroom. Ceramic artists Jim Turner and Bernadette Tuite will demonstrate the hypnotic wonder of throwing clay forms on the potter's wheel while Ann Mechenlick will give an insight into the art of circular weaving.
Visitors can make their own willow basketry with Rosemary Kavanagh, explore the ancient craft of sculpting with clay with James Horan and learn the art of felting with textile artist Abhainn na Laoi. A special Open Day of Lace will also take place on the 20th featuring the international award-winning Veronica Stuart and traditional lace makers of Ireland.
The full programme for Cork Craft Month is available at www.corkcraftanddesign.com and follow Cork Craft Month on Facebook and Instagram for more. #corkcraftmonth22