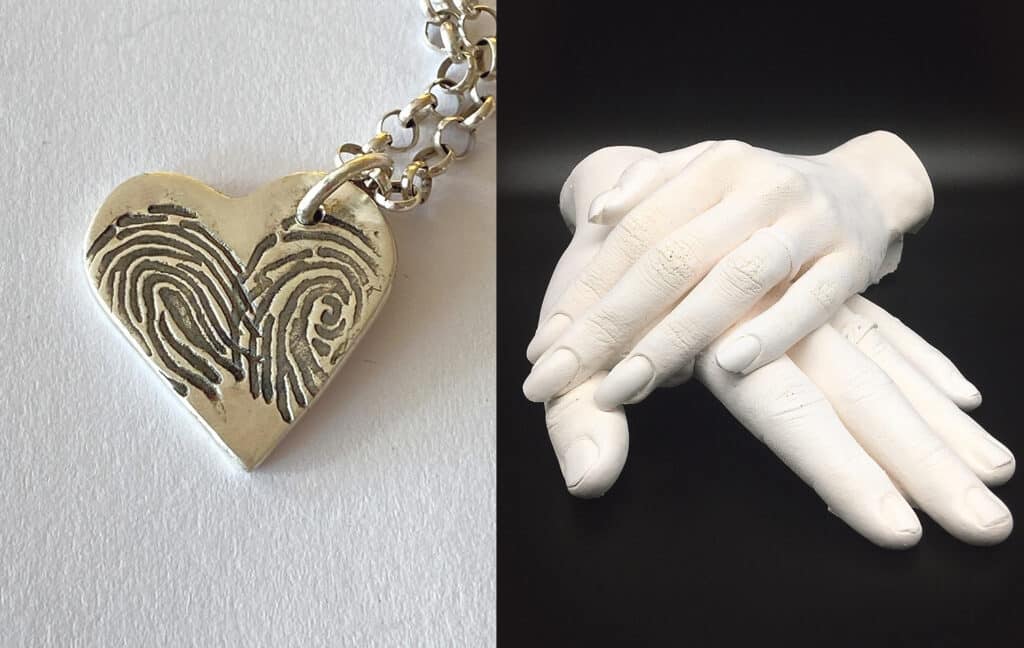 West Cork Casting Studio in Dunmanway is all about family, connections and memories. "I am also about creating new memories," says award-winning artist Maura O'Connell who captures both life and love in bespoke hand casting and jewellery pieces that are full of emotion. "Knowing that I am creating something that is deeply personal to a family is very special; being able to capture a moment in time and in the process capture memories that can be passed on is just priceless."
Maura's previous career as an Adult Guidance Counsellor for FÁS helps her connect with her customers and create lasting relationships. "Often a couple will come to have their hands cast as a wedding gift, return when the babies start arriving and later again they might bring their own parents along to have their hands cast as an anniversary gift," she explains.
Recently there has been a lot of interest in Maura's silver fingerprint jewellery as gifts for couples that are starting out in life and others who are celebrating a lifetime together. "This is a very special way to keep your loved one close and a popular gift item," Maura says. "I recently created a beautiful bog oak keyring with a silver insert that was imprinted with a future couple's fingerprints; she gifted it to her husband-to-be on the morning of the wedding."
However, it is Maura's hand casts that are eternally popular pieces for couples getting married, with guests often purchasing a gift voucher to be used once the couple have settled into their new lives.
The hand casting process is quite fast. First a mould is made using skin-safe materials, which only takes about 25 minutes. Once the mould is made the final piece takes up to four weeks to cast, finish and frame. Casting is suitable for all ages, from tiny little baby hands to hands that hold all the stories and memories of an older person.
"I believe we are as familiar with the hands of our family as we are with the faces so seeing the hands of a loved one, particularly if they have passed away, can bring a lot of lovely memories to mind," Maura explains. "It is a similar experience with fingerprint jewellery as in only that person could have made that fingerprint. Wearing a piece of jewellery with a loved ones fingerprint is very special and can help with the healing process after a loss."
You can contact Maura to discuss gifts or commissions on 086 8771297.
www.westcorkcastingstudio.ie