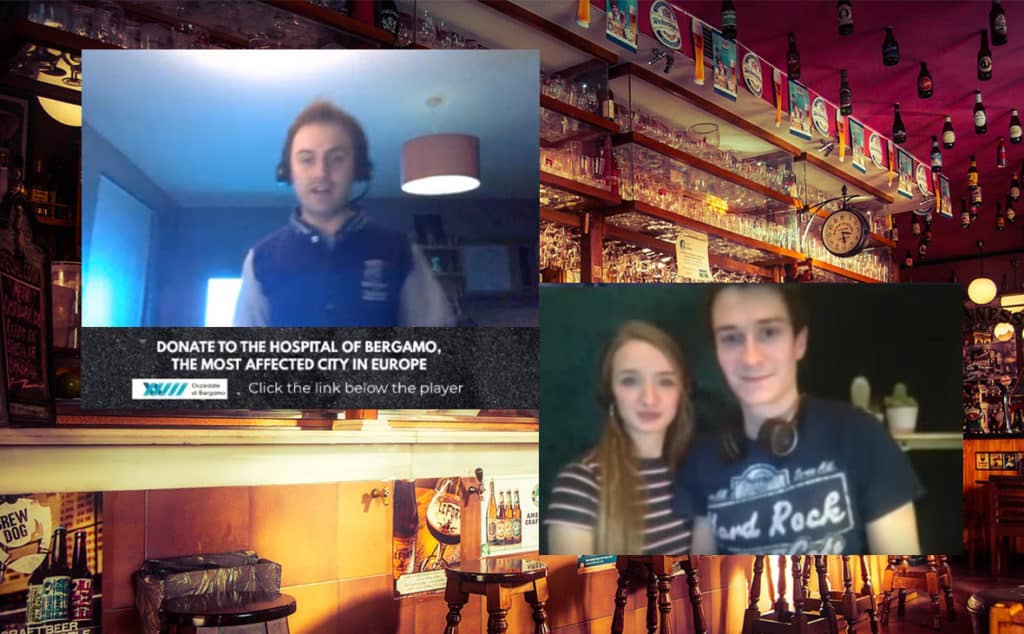 Launched by three friends from Dublin, The Netherlands and Italy, The Quarantine Quiz is an online pub quiz, which aims to bring some fun into quarantine during the Covid-19 pandemic. What started out as a way to enjoy a Saturday night with some friends who can't visit their favourite pubs has now developed into a live stream with over a thousand people watching and playing. The next Quiz takes place this Saturday, April 11.
The Quarantine Quiz is free to take part in but participants are encouraged to donate to the World Health Organisation and to the Hospital of Bergamo, in the most affected city in Europe.
"People are loving it!" says Alex, one of the organisers. "We were meant to be six or seven people drinking some beers during a video call… In three days, our Facebook event got bigger and bigger. During our first event, there were so many participants that our servers got overloaded!"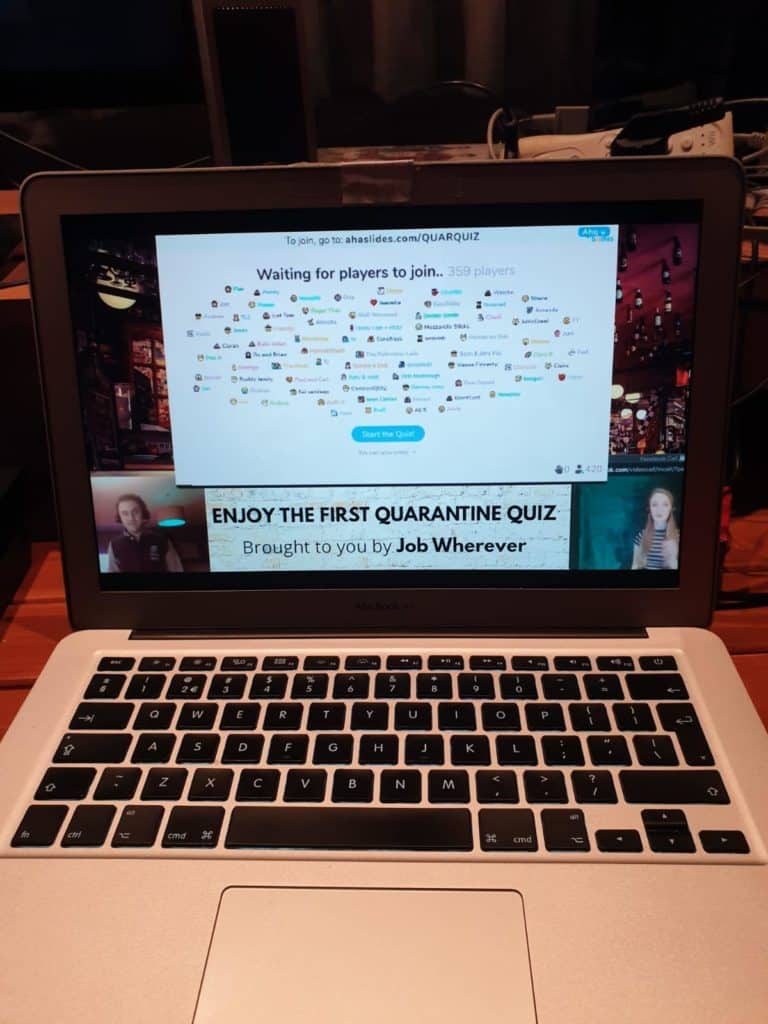 Alessandro Mazzoleni (Alex) is a 27-year-old media producer, who studied in Limerick. Born in Bergamo, Italy, he now lives in Dublin.
Giordano Moro, 28, also from Bergamo, is a mechanical engineer, who studied in Cork. Giordano currently lives and works in Tilburg, The Netherlands, with Ennie, his girlfriend and third member of the Quarantine Quiz team.
Ennie Wolters, 23, is Dutch. She studied Public Administration in The Netherlands and works at the Dutch Ministry for Public Works.
Giordano and Alex have been friends for over ten years. "We've been living in different countries for quite some time but still talk to each other on a daily basis," says Alex. "We usually visit each other on a monthly basis, but due to the current situation we're afraid that this won't be possible in the near future…"
As natives of Bergamo, one of the most affected cities in the world by the coronavirus pandemic, Giordano and Alex find it very difficult to be so far from family and friends.
"At the moment, we live far from home, but we're still attached to it," says Alex. In Bergamo, hundreds of people are dying every day and we're worried for our families. We'd love to be with them right now, even if it'd be dangerous. Experiencing the situation in Italy from a physical distance is frustrating. We only can try to give comfort and attention to our families and friends that still live over there."
Ennie is living in her home country, but due to the current government measures in the Netherlands, she cannot visit her friends or families either. The Dutch government decided not to go into 'full lockdown' but schools, bars and shops are still closed and many people (including Giordano and Ennie) are working from home. "Currently, the biggest discussion in the Netherlands revolves around the possibility of increasing the number of beds on the intensive care. The usually very down-to-earth Dutch people are seriously starting to worry about whether the hospitals can still provide the best care for the increasing number of patients," explains Alex.
Now Irish, Italian and Dutch people are socialising together on a Saturday night through the Quarantine Quiz, the popularity of which has spread throughout Europe and to the US. "Germans and English people are always there! The last time we also got a message from an American couple, sending their compliments from New Jersey!" says Alex.
Participants are chatting with each other on the YouTube livestream during the event! "We had people cracking jokes, supporting each other, and at some point it even looked like there was a romance developing in the live chat!"
For those interested in joining the Quarantine Quiz and having some fun, visit https://jobwherever.com/quarantine-quiz/.
On the official page of the event, you'll find information about the quiz, a quick explanation on how to play and a link to the Facebook event.