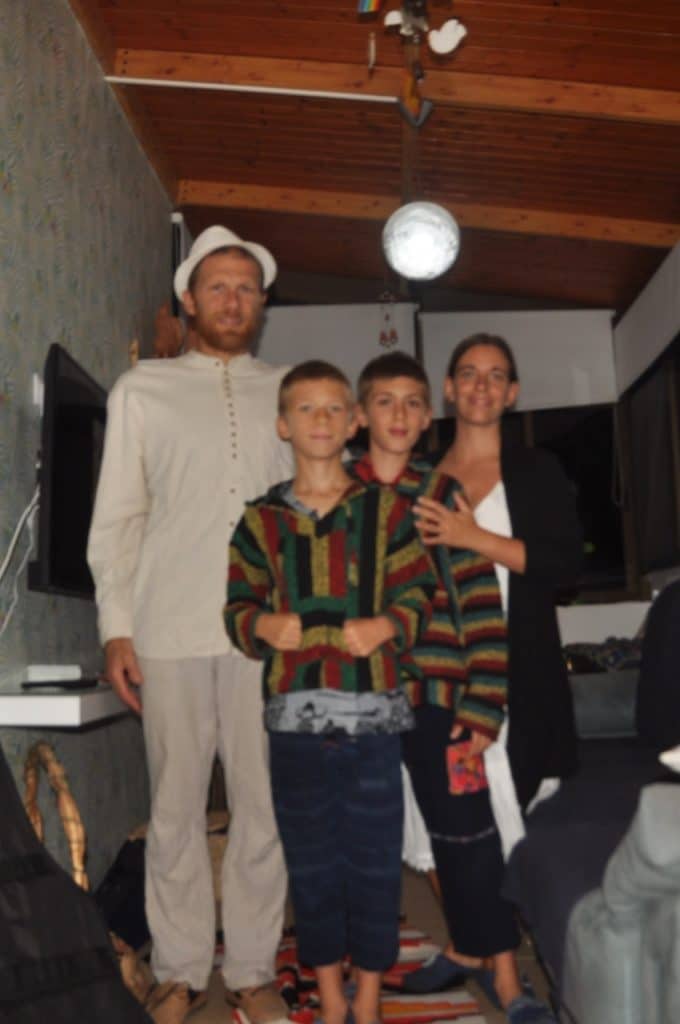 The Leoni family moved from Clonakilty, West Cork to Gran Canaria last September. Mattia, Elena and their two sons Michele (12) and Sam (10) are now living under Europe's hardest lockdown in a 600sqft apartment.
You've been following the news and the stats, so there's no need to tell you that Spain is almost top of the Covid-19 league table… so what can we add? 
Let's start by saying we are technically living in Spain but in reality quite far from it as geographically The Canary islands are in Africa.
What does that change? Well, a few things – all of which are interconnected.
From a safety point of view, there are far fewer cases here (380 in Gran Canaria, where about one million people live, which means, adjusting by population, around half the cases in Ireland) and the virus is not spreading much. Those numbers should be reassuring, but actually they're a shame; it would have been very easy, from a technical point of view, to avoid any cases on this island, and in the whole archipelago. When the virus started spreading around the world, especially in Europe, there were just one or two here that were immediately isolated, so stopping all inbound air and marine traffic would have solved the issue. Of course, for a region living off tourism, and off its links with Mother Spain, that was unthinkable. Now that traffic has been reduced to a minimum and tourism is completely gone, you realise that tough initial tactics would have avoided all the current hard measures, which are indeed quite hard. It's such a shame they were not averted by some smart forward thinking.
So, that's the most annoying thing: we've got very few cases and we could have been kept completely safe but we are under Europe's hardest lockdown, as the government is proud to reiterate.
Of course, social distancing and protective measures (washing, disinfecting, wearing gloves and masks…) are extremely important and some forms of quarantine are necessary (at least for some categories), but here we're not talking about some restrictions, here it's really tough, in ways that those not digging deep into the international news might not have realised.
In Spain people are allowed to go outside for only three reasons: shopping for food, going to a pharmacy or for essential work.  That's the same as in many other countries, so what's the big deal?
The big deal is in the details: in most other countries, moderate exercise is allowed, or even encouraged – as long as you keep a distance, don't stay out too long or go to far from home, you can go for a jog, family members can walk together or people can still meet in groups not bigger than two. Here, we can't go out unless walking a dog (and we don't have a pet).
You can't even go to your foodstore of choice, only the nearest one, which is quite limiting if you're not a mainstream foodshopper and want to buy local and organic, for example. 
Back to the dogs: if you consider that supermarkets and pharmacies don't want to see children, they are in fact treated worse than animals, because they literally can't go outside the door. Unless you let them sneak out for a rebel run to the rubbish bins, when the army is not in sight! 
The army? Yes, not only are beaches and playgrounds cordoned off, not only are the police patrolling the streets (and stopping individual cyclists going to the wrong shops "because people are dying"), but even soldiers are walking around to instil fear about daring to go against the rules.
The virus is killing people but our State of Emergency has killed our freedom of movement and will create serious physical, psychological and economical problems for a lot of people.
It is driving children mad!
And their parents too!
With small houses and no gardens, families are feeling the strain of all this. Not all schools are organised enough to involve children in online lessons for a long period of time, so children instead just receive work to be done at home through a time-wasting digital process where you have to keep checking emails, Google Drive, Google Classroom. You risk a fine (or jail) going out to somewhere that can print documents so the kids have to copy all of it into their copybooks, then you take pictures of sheets and projects and upload them. As a parent, now that I have time to go through the syllabus in more detail, I realise how little they're actually learning and how much time they're wasting, especially now that they're given a lot of 'time-filling' activities and projects. 
Schools and sport teams are sending texts and videos of physical exercise to be done at home, which is nice, but active outdoorsy children still miss out a lot with regard to letting out stress by movement and, most of all, getting fresh air and sunlight. 
Sunshine…sorry for this, we know it's a bit mean on our part, but when you live in probably the best climate on earth and so close to the beach and the sea (with warm water), staying indoors for weeks on end is extremely frustrating: you see the waves, you hear them, you were in them every day, now you can't even get your feet wet! 
And it's been like this from day one of the lockdown, with no intermediate steps: on a Thursday afternoon schools were closed and two days later we were stuck inside.
Too depressing an outlook? Well, it is sad, there's no denying it and 18 days like this, at the time of writing, is a long time. It's a feeling of being held captive. It's not boredom (try to get bored when you are managing two young kids in 60sq metres), so all those articles about the amazing projects you can finally dedicate yourself to and all the books you can read are actually making you feel worse when you're a busy parent. You're told you can catch up on family time, but our life was already arranged so as to have that, we didn't need a lockdown to bestow on us this wonderful opportunity to spend 14 hours a day bumping into each other and to reach such high levels of stress and relational friction that we're happy there's no one living in the flat below us – otherwise it would be embarrassing.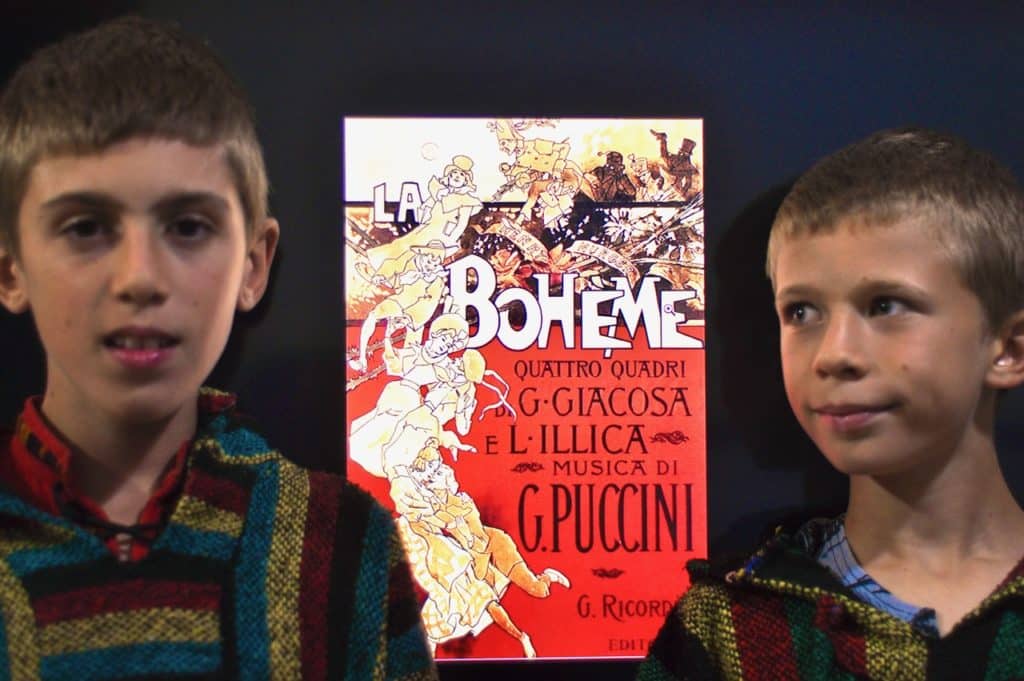 No day goes by without missing normal life and wondering when all this will end, but whenever that is, we'd like to get there mentally sane, so we're doing a lot of special things to try and keep happy: we go to (read 'watch') the opera once a week, even dressing up for the occasion; we cook delicious dishes, including our daily sweet; we write a very short silly or motivational poem every day (rhyming with the lockdown day's number); we run up and down the stairs; we climb up an iron ladder and over a low wall to the apartment complex roof for exercise and sunshine; we pray and play together more; we learn or at least recite poetry; we compose silly songs on the virus; we play and listen to more music than usual; we follow James' lessons on famous paintings (James Waller is an artist based in Clonakilty) and draw and paint more than usual; we have our daily friend-or-relatives call; we tell our lockdown tales with more or less beautiful, interesting or funny pictures on Instagram… 
Let's now finish with some external positives, too, meaning good things happening outside our mad cell.
The empty beach is more beautiful than ever and seeing birds re-claiming that space as theirs is quite a sight.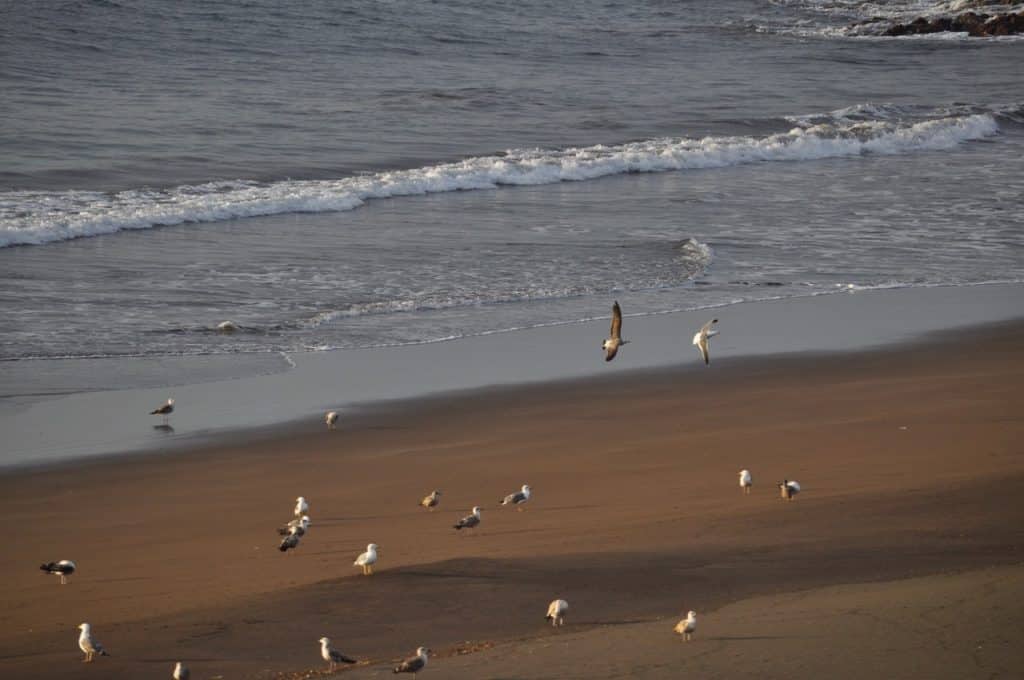 The best element, by far, is the daily community moment: in mainland Spain, at 8pm many people step out on their terraces, or show up at their windows, to clap in support of the health professionals working hard and with risks to help the sick. There are a few people in the neighbouring buildings that have embraced this idea, so every day at 7pm (due to the different time zone), we are on our balcony, not just to clap, but to see and exchange a few words with our fellow captives. As a family, we've decided to make this moment bigger and better; so every evening we offer a short, delicate musical piece, on the piano, the violin or with those instruments accompanying Mummy's marvellous voice. The neighbours seem to like this, so they stay out after the clapping, they listen, smile, clap and thank us; some told us at times they're moved to tears…It's not the quality of the performances, which are way less than perfect: it's the magic of music, it's the sharing, the friendship being created, the empathy.