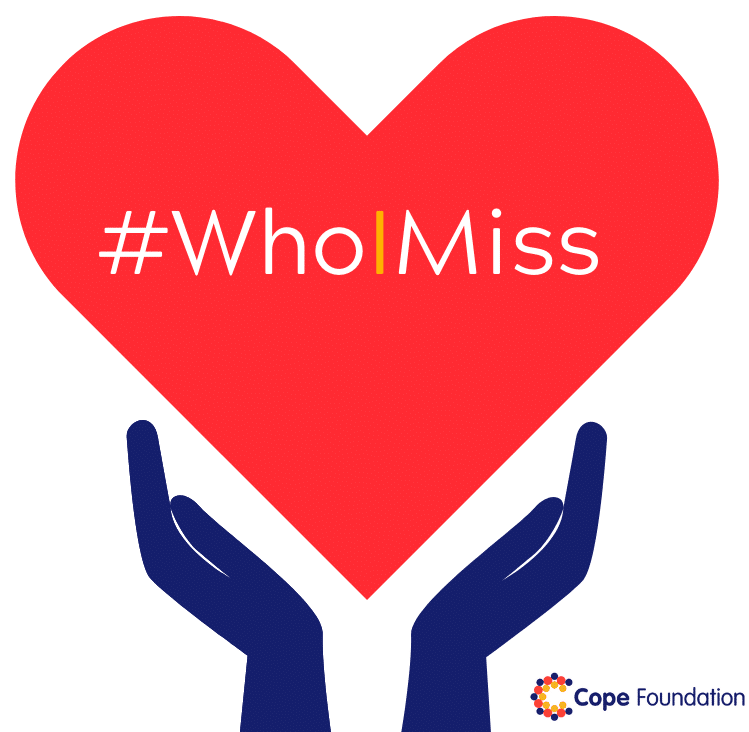 Cope Foundation, the Cork based organisation supporting people with disabilities, is on a mission to keep the people it supports connected to the community they are missing during the Covid-19 crisis. The organisation is launching #WhoIMiss, a fundraising campaign to raise €20,000 to purchase communications devices such as smartphones and tablets for people supported by the organisation that will empower people to stay connected with the people they miss during the Covid-19 crisis.
Cope Foundation is firmly focused on combating the negative impact of social isolation and loneliness and needs to raise funds to purchase devices for the people it supports to help them stay in touch with family, friends and key workers.
Life has been turned upside down for everyone during this public health crisis. Most are able to adjust and adapt, thanks to technology such as smartphones, laptops etc. Never before have we relied so much on technology – it is allowing us to work from home, continue our fitness regimes, chat and see our friends and family and stay up to date and informed about news and guidelines regarding the Covid-19 crisis. For people with intellectual disabilities, the situation is not that simple.
The majority don't have their own smartphone or tablet and are relying on other people to keep them informed and in touch with all the people they are missing. The power and independence these devices will give people is huge. The technology doesn't just solve a problem – it gives the person control and choice and lets them see people they miss, hear their voice, enjoy their smiles and laugh and feel connected again.
Those without access to these types of technology are most at risk of experiencing the dangerous effects of loneliness and isolation during the current situation. Cope Foundation, which is one of Ireland's largest providers of services and supports for people with intellectual disabilities and/or autism, is deeply concerned about the lasting impact this crisis could have on people with intellectual disabilities and/or autism.
Elaine O'Connell, Clinical Nurse Manager in Mallow and Kanturk says "We have come so far when it comes to advocacy and empowering the people we support so that they can live life their way and make choices about their lives – but now, it feels like so much of that is gone. Our residents are relying on staff to make phone calls home and to their friends. A lot of their independence has been curtailed, as we cannot get out and about as normal in the community. The visitor restrictions are really challenging for all of us. It is heartbreaking for our residents, their families, friends, and even for us staff who would ordinarily be in a few different centres or locations on a daily or weekly basis. When I was training to be a nurse, a colleague told me that we would spend more time with residents than we would our own families. This is so true. Not being able to see some of the residents at the moment is very difficult. I also miss being in the car with people we support – it may seem silly but the car is where I would have some of the best conversations with people as they feel they can confide in you privately."
Cope Foundation is on a mission to raise €20,000 to fund a suite of tablets and necessary devices which will be given to people it supports for their own use.
Right now, the vast majority of people with intellectual disabilities and/or autism are not receiving the vital support they need and rely on. Daily routines have had to change, plans and community activities postponed or halted, relationships with peers and staff are confined to the phone or email (for those who have access to such things) and many are now living with family members full time, something that can cause significant stress for the person and their family. All Day Centres are closed, respite has stopped and whilst most residential centres are operating, they do so with very strict visitor restrictions.
Cope Foundation is appealing to the Cork community to help them raise €20,000 to fund a suite of communication devices for people it supports. Go to https://www.idonate.ie/WhoIMiss to make your donation and tell the world who you miss right now. You can share photos or even make a short video for that person on social media and tag them so they can join the campaign too.  #whoimiss