Bingo, mindfulness colouring and recipes among the ideas at the online hub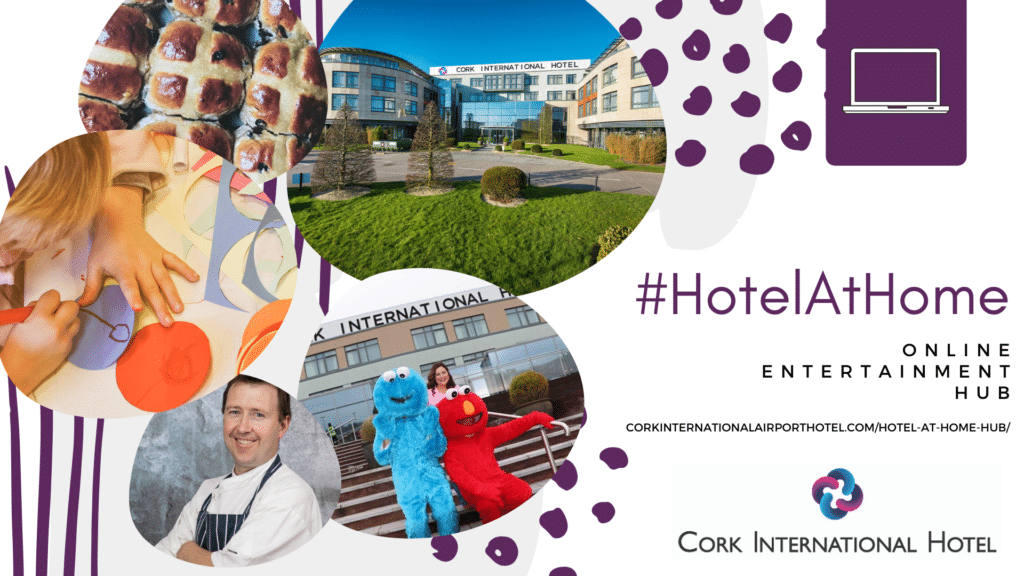 The Cork International Hotel has launched a unique and innovative 'Hotel at Home' Hub curated by the head of digital marketing Megan Pardy. The Hub is an interactive section on the hotel's website for past and future guests to enjoy a wide variety of activities from home.
 
The hospitality professionals at Cork International Hotel are showcasing their skills virtually by uploading activities and challenges daily for people to try at home. The team is aiming to bring a little of their hotel to people's homes during this period. Some of the unique activities already uploaded to the 'Hotel at Home' Hub include a Springtime Wellbeing Bingo Challenge and Mindfulness Colouring. 
The April Springtime Wellbeing Bingo can now be downloaded on the Hub and more Wellbeing activities from the Cork International Wellbeing Committee will be going live in the coming weeks for families and friends to play at home. In addition colouring sheets can also be downloaded for people to enjoy in their spare time. Chefs from the hotel are also sharing their culinary skills, posting well-loved, comforting recipes for people to cook at home.
People are encouraged to check the Hotel At Home Hub daily for new activities. They can also follow the conversation on social media, engaging with others who are enjoying the activities and sharing their own photos by using the hashtag #HotelAtHome.
 
General Manager at the Cork International Hotel, Carmel Lonergan said: "We are missing our guests terribly here at Cork International Hotel but the important thing is that people stay at home during this time and stay safe. We just wanted to let guests know that we are thinking of them and we can't wait to get back to normal. Our team are trying to come up with ideas to keep guests, past and future entertained while everyone stays at home so we developed the "Hotel at Home" hub which has games and recipes for people to enjoy at home, courtesy of our team until they can visit us again."
Check out the "Hotel at Home" hub on: www.corkinternationalairporthotel.com/hotel-at-home-hub/