What a year we have all had! I'm finding it a relief to have something celebratory to plan for, so Christmas couldn't have come at a better time for me. I'm loving the Christmas lights in Bantry, planning our Christmas Day feast and I'm even looking forward to the Christmas Day swim this year – I've been going in a few times every week since the end of the summer, so it's not nearly so daunting!
For this last column of the year I asked the Organico Team for their tips and tricks to get you through the next three weeks, so you arrive at the Big Day feeling as good as possible – happy, healthy and up for a lovely family day with your nearest and dearest.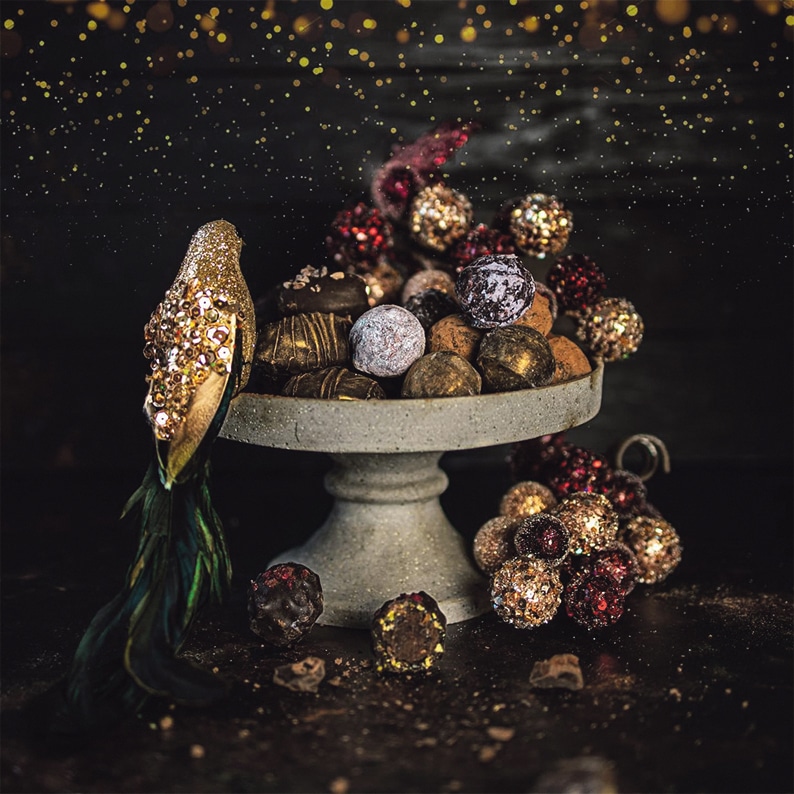 First things first – let's talk about breakfast. If you follow our social media or receive our newsletters, you might have seen that we have launched a new range of Irish made functional foods this Autumn, called Vita Plantae. Vita Plantae is a company run by Eamon Cullen in Newry, Co Down, and they make two products including a jar of deliciousness that has started me eating porridge again after about five years off! They call it The Botanical Blend, and it is a mix of 45 different organic ingredients – including raisins, lots of spices, their own organic kombucha, carrots, orange peel, blueberries, parsley, ginger and lemon peel and juice, along with a botanical herb and spice blend that adds many micronutrients. All this goodness is then fermented for a few months, which creates a blend that is easily absorbed by the body and can be added to various foods for depth of flavour. I think it tastes like jam crossed with mincemeat – and if you add a spoonful to your morning porridge along with a spoon of tahini and a handful of blueberries, you have a breakfast fit for the most challenging month of the year!
The same team also makes a Cider Vinegar, again containing the mother along with the same 45 botanical ingredients which makes it incredibly tasty and healthy. Christine Meadows, Assistant Manager in our Shop, says "I'm really enjoying the raw botanical vinegar, I take a shot of it in a little warm water in the mornings – it's a great way of kickstarting your system and helping to regulate digestion." And it's a lot easier to take than regular ACV (it's a little sweeter) so no need to add honey.
If you wake up feeling tired and daunted by the day ahead of you, then another Irish company, Revive Active, have something they have designed to give you a day-long energy boost. Revive Active is a supplement containing high doses of CoQ10, which is a natural way of boosting your energy, and a sachet first thing in the morning makes a noticeable difference. Santhe, who swims in the sea every morning at 6am (gasp!) says "Revive Active, is my go to for busy periods, a good dose of Co-Q10, and B vitamins amongst other vital nutrients. Take one every day in a large glass of water or add it to your water bottle if you are heading out – it will keep you hydrated and nourished all day".
Laura, of our Baking team, also loves Revive Active. Laura also has to get up early, and says "I love the Revive Active Zest Active especially during the winter months for energy and immune support''. Zest Active has a good range of nutrients, as well as Beta-glucans for added immune boosting.
Stress can cause us to find these next few weeks hard to handle, so if this is something you find affects you, there could be a natural remedy to help you. For example, Stressveda is a new product from the company that makes Udo's Oil; it contains KSM-66 Ashwagandha extract, made from organic roots grown in India. The Ashwagandha is extracted without alcohol or solvents, using a traditional Ayurvedic method, ensuring a full-spectrum extract. Stressveda also contains B Vitamins sourced from organic guava, holy basil and lemons. Ashwagandha is an adaptogenic herb of Ayurvedic traditional 'medicine'. Adjuvants are herbs that help increase the body's ability to resist physical, chemical or biological factors, have a normalising effect on stress management and are generally safe and free of side effects at regular doses. Fleur, our Shop Manager, says "Stressveda really helps me to stay calm during difficult times; I can really notice a difference in my day when I take it. I feel calmer, for focused and less worried. I would recommend it for minor stresses coming up to the holiday season".
Good Digestion is also very important on Christmas day – it could be good to call into your local Healthfood shop at some point in the next few weeks for a digestive aid if yours is prone to act up at all. For example, you might find your Christmas dinner goes down better if you take a good digestive enzyme first – digestive enzymes are needed if you find that rich or heavy meals can make you feel full hours later, or give you gas and pain during the night. Personally, I like the one that Viridian makes, but depending on the meal there are different types so a consultation is a good idea.
Finally, gifts and sweet treats! We have lots of lush Christmas gifts in Organico this year – Dr Hauschka, Weleda and Kinvara Skincare giftpacks all look lovely, and we have a great range of Irish made foods, as well as the hugely popular Moon Mna Diary Journals and Oracle Cards. We love that all our gifts are practical as well as luxurious – given that we are all becoming so aware of the problem of having too much 'stuff' in our lives, giving food and drink, or luxurious organic bath soaks, is very satisfying.
One of the companies we absolutely love working with is called Hungry Crow, based in Clonakilty. Niamh and Mark make the most beautiful (still healthy) treats imaginable – think organic Medjool dates, wrapped in 70 per cent dark chocolate, stuffed with creamed cashews flavoured with rose water. Ailbhe, of our shop team, says: "I've got a big sweet tooth and Hungry Crow Chocolates are what I like to gravitate towards as a little pick-me-up during these busy, festive months and they're a local company, very creative with their gorgeous range of treats and their winter selection is wonderful (especially the gingerbread caramels!)".
Lastly, we have 10 per cent off absolutely everything online and instore on December 7 and 8, and online on Sunday, Deember 6 as well, just for good measure. We hope this makes Christmas a little easier for you financially.
If you would like to ask about anything I have mentioned here, get in touch (info@organico.ie) or go online to organico.ie – we will be shipping all around the country until December 23 (though we are advising you place your order around December 13 to be sure of deliver before Christmas – this is something to be very aware of, as all the couriers, and An Post, are completely snowed under with all the online hopping we are all doing this Christmas).
Have a lovely December folks, and a wonderful Christmas. And here's to 2021!