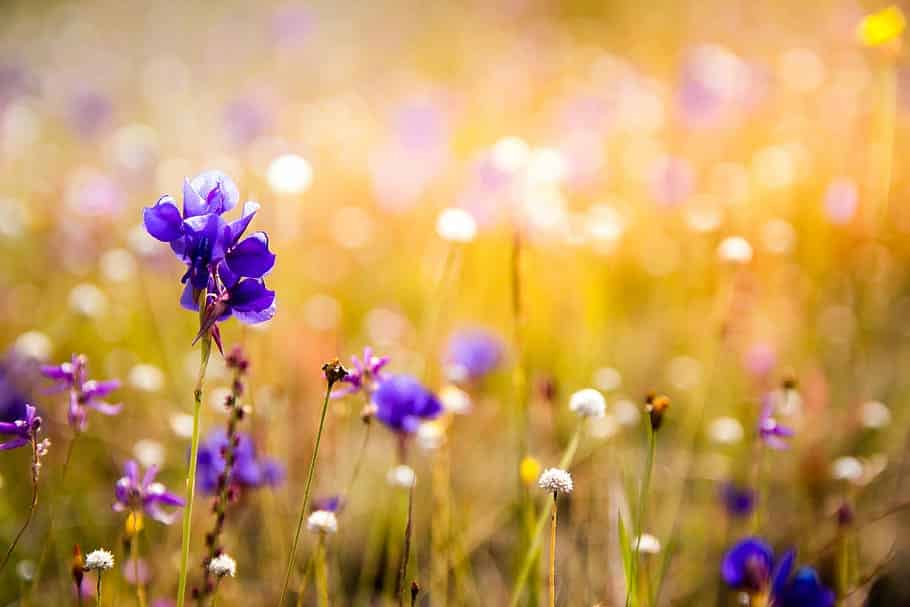 What a great end to an amazing summer! This year I sowed a few areas of wildflower seeds here at Deelish and even across  the road for my neighbour. The results were and still are fantastic. We have had nonstop flowers from May right through the summer. Our bees, pollinators and a huge range of insects, as well as countless people, reaped the rewards of these beautiful flowers. For the small amount of  time and money spent, this has to be one of the most rewarding methods of gardening.
I sowed seed in March but autumn is also an excellent time to sow wildflower seed, as this is the time of year the plants would naturally be dropping seeds after flowering. For best results, I recommend to sow seed at 3-5 grams per square metre. However, if you have good quality soil, have put good effort into preparation so your site is clean and weed-free and you are able to provide water during germination, then you could sow seed at half this rate. The great thing about wildflower seeds is you can grow them in a huge variety of areas. A square metre or two in a courtyard, patches under roses or in the veggie garden, down a drive, or a full-sized meadow! The site does not have to be flat. Sloped banks are good as long as you are able to get on them to prepare the soil. If the bank is very steep, consider establishing an area on the top, where maturing wildflowers will seed down the slope. Most wildflowers are sun lovers so make sure they receive at least four to five hours sun per day, the more the better!
Wildflowers grow well in a wide range of soils. Very poor soils can produce stunted seedling growth but an organic liquid feed will help this stunted growth. Avoid wet or soggy soils. Heavy clay or very acid soils will benefit from adding lime – up to 100 grams per square metre. Fertilising the ground is usually not recommended, as it will encourage weed growth, but I do recommend adding your own compost on poor soil, as this will improve the soil structure and fertility of the soil and is especially good for clay soils. If you have had any digger work carried out on your land, this is an ideal time to think about establishing wildflowers. Use the newly-created bare earth to your advantage and sow seeds straight away. Even if there is only subsoil, get your digger to loosen the surface, and sow seeds in this area.
Wildflower seed must make contact with soil for them to grow. They will not grow on grass or weeds – these must be completely removed and the soil surface broken up to a fine crumb structure. Aim for a clean, weed-free site where the wildflowers will grow fast to beat and suppress any weeds.
If there are weeds or grass growing where you want to sow your seeds, there are a number of organic herbicides now available, or homemade options that I have written about in previous articles. Alternatively, you could burn off weeds with a flame gun, use salt or vinegar spray, add boiling water or overlay mown planting areas with a thick layer of damp newspaper or cardboard, or use weed fabric and then cover with mulch for use in a few months' time. Otherwise, lightly cultivate the soil surface several times to remove weeds, allowing them to dry out on the soil surface each time and remove from site. Sprinkle with wildflower seeds and lightly rake or sprinkle with fine soil to just cover the seeds. Note: wildflower seeds should never be covered any deeper than 2-3mm, as this could stop germination. Once seed is sown, if the weather is dry, moisten the area. Keep soil moist so that seeds can germinate for approximately 10 days. Watch for slugs and snails and, if needed, use suitable organic controls. If birds are seen eating freshly sown seeds, consider sowing a few extra grams per square metre. Like any other seed, wildflowers require ample moisture for the first four to six weeks to germinate and establish. They can then usually survive with minimum rainfall but additional water in dry periods will encourage more flowers. Major weeds that reappear can be hoed or dug out in their early stages. If you have sown seeds in Autumn, the first flowers should start to appear in April. Flowering should begin within about eight to ten weeks from a spring or summer sowing.
Once flowering has finished and the plants look a bit untidy then the area can be trimmed or mown down. If there are not many weeds in the area then cut everything down and leave the trimmings on the ground to drop their seed for next season. At this stage, pull, hoe or dig out any weeds in the area. A light cultivation or rake over is also recommended to encourage reseeding.
More fresh seeds may be required until the area becomes self-perpetuating. For best effect sowing up to 50 per cent of the original amount is recommended, especially if there has been a weed problem. Gently rake new seed into the clean wildflower bed. Some species may become more dominant than others due to local climates and conditions. Have fun experimenting to see what grows best for you.
Many gardeners prefer to grow native wildflowers. Sourcing Irish grown seeds can be a bit tricky, as some of the larger producers encourage the farmers growing the seed to use glyphosate weed killers to prepare the ground for growing the seed (which I personally cannot support) and label them as pollinator-friendly! As well as being lethal to all pollinators, these chemicals destroy the delicate balance of the fragile soil web. Other 'native' wildflower seed suppliers are in fact importing them from other countries and labelling them as Irish. One tried and tested method is to collect your own! The late summer and autumn are great times to collect your own seed from established wild flowers. Collect your seeds just before the plant is about to shed them. As the plant begins to brown, the seeds will be ripening, so you should place a paper bag over the top of a flower head, cut the stem and upend the whole thing.
Tie the top of the bag before putting it somewhere to dry. Hang somewhere with good ventilation. It's also a good idea to write the name of the plant on the bag and location and the date you collected the seed. After a few weeks, check your bags and you should find seeds at the bottom of each bag. If not, you can give them a shake to help shed the seed. The seeds of many plants are best sown in autumn, as they need a cold winter in order to stimulate germination in spring. If you're storing the seed until next spring, store in an air-tight container in a cool, dry place.
If you're just starting out and would like to develop an existing grassland or lawn area (it's best if it's not too nutrient-rich) into a wildflower meadow, Yellow Rattle is a good wildflower to begin with, and the seeds are lovely and dry just now, making them perfect for collection (we also have them for sale at Deelish). Yellow Rattle is also known as the 'meadow maker', so if you have part of a lawn or small field that you'd like to become more species-rich with wildflowers, try adding some Yellow Rattle seed to begin with, which will help to reduce the fertility of your grassland area. It's an annual plant and its roots develop underground where they seek out the roots of plants growing nearby, especially grasses. Once contact is made, the Yellow Rattle draws water and nutrients from the grasses, holding back their growth by as much as 60%. In the resulting space, other wildflowers find room to grow. We also provide single plants of many individual native and ornamental wildflowers each spring. These pot grown plants can be planted directly into the wildflower area and will naturalise over the growing season.
If you haven't given this group of beautiful plants a go, I recommend you do. The flowers just keep coming, there is literally a buzz as bees and other pollinators enjoy the flowers just as much as you do and all for very little effort. I hope you had a great season in the garden and remember, gardening doesn't have to cost the earth.