Skibbereen Rowing Club might have claimed the headlines for the sport in West Cork but the Castletownshend Club has had their own success. Jack Calnan was the cox for the quartet that won bronze in World Coastal Rowing Championships for Ireland last month. Ella Cialis, Karen Hickey, Orla Hayes and Eileen Whooley were the crew that finished third in the CW4x+ A final. Calnan tells Matthew Hurley how he couldn't be any prouder of the team.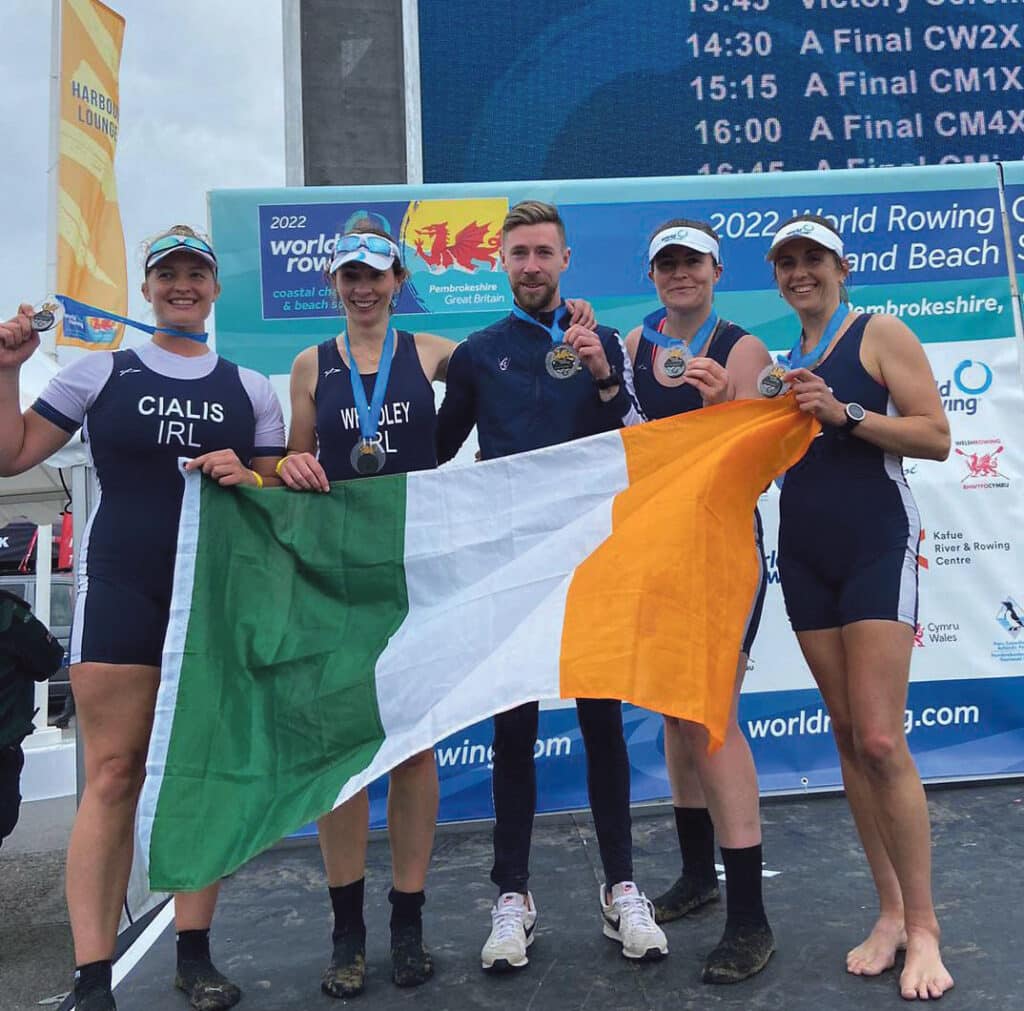 "It was pure elation for all of us. Best feeling we've ever had in a crew. Not having the expectation of coming home with a medal made it even sweeter I think. The team competed in Portugal last year. A lot of pressure was put on them to bring some sort of medal home, but it didn't materialise unfortunately. This year however was different. They went into the world championships in Wales under the radar and delivered."
The fact that the crew weren't expected to do much helped them according to Calnan.
"They trained well all year, and weren't as burned out (as last year). They hadn't the belief in themselves when we started the race. We usually put ourselves in a position thinking we know we're better than this, we can get higher than the crews in front. The rough conditions was also a big plus."
In terms of rough conditions, Calnan means the wind and the rain on show for the big race. That was a great equaliser for the girls who then got a bit more confidence.
Usually a crew would look at its oppositions' strengths before a race. Not the Castletownshend group.
"Before you go out there, you'd be googling the crews you're up against and you'd be getting yourself worked up over who's beside you. This year, the mentality was to go out, row our own race, never mind who's around us and what will be will be," Calnan admits.
There is a great camaraderie between the girls and Calnan, which is reflected in their performances and, according to the cox, there's no reason why they can't push on further in their careers and compete with the best in the world.
"They're not as young as some of the other competitors, they know their own strengths and weaknesses. It's the experience of the crew too, we knew we wouldn't be as fast as others in the race, but we knew we had the ability to catch them with our strength," adds Calnan.
Compared to Skibbereen Rowing Club, Castletownshend is minuscule with only 12 active rowers. However, given the recent success of the quartet, it's likely this number might increase.
"We're a small club, a village in West Cork. We all have our ups and downs but work well together. We have the best locations for training."
One of the biggest differences between river and coastal rowing is that coastal doesn't require competitors to stick with a particular lane during a race.
"The unpredictability and excitement of it gets me. You can go out tomorrow and row a race where it's calm and then a few hours later there's a savage gale.
"It's not like you expect the regatta to be cancelled any time and add to that the 4km course with particular lanes, where everybody is fighting for a spot on the water. You're allowed to have a few clashes if needed. There's huge excitement in that," explains the Castletownshend cox.
"There are a few strong river rowers who would have done coastal rowing and they wouldn't have experienced that before and they enjoy it still. Coming into the Olympics you might see a transition in the older river rowers into coastal."
Whatever the weather, the rowers in Castletownshend more often than not plough on.
"Our rowers might go into the local gyms here as well. On Sundays, depending on the weather, we'd hope to go out on the water. Even if it rains, we have to get used to the conditions. We're lucky to train in the harbour because it's well sheltered. You're guaranteed to get out two or three times on the water during winter. That's a big help," says Calnan.
'With heavy rain we would go out, sometimes with heavy winds. That would be handy for inexperienced rowers to see how they get on. Obviously if it's biblical, we wouldn't go out in it. It stands well to us, not many other international teams would have to train in poor conditions."
Calnan himself used to play some GAA and soccer in Skibbereen up to his early 20s. Once he was given the opportunity to cox around 12 years ago, there was no turning back.
"The older lads said they were stuck for a cox, and I said I'd give it a go. From the minute I got into the boat, I enjoyed it.
"The rowers have it tough in the physical aspect but mentally being a cox is quite challenging. You have to watch what's going on around you. A lot of responsibility lies on me to pick the right line of course we're going and to make sure we're going in sync together. If I make a mistake in having the wrong call for example, responsibility lies on me. Not an easy job but I enjoy it," admits Calnan.
While Calnan prefers coxing to rowing in a competitive setting, he still does some rowing in his down time.
"I've been doing coxing for so long that it comes naturally to me. I'd be pushing on too much at my own age to pick up the rowing and competing on the girls level. On a leisure side, I enjoy it though. I go out on the harbour and get exercise and scenery. Just to relax and enjoy the moment. It's a time to switch off in a way."
There's speculation that Coastal Rowing will be a sport for the 2028 Olympic Games in Los Angeles. Let's hope for the sake of the four girls and Calnan that this will come to pass to showcase these West Cork talents on the big stage.