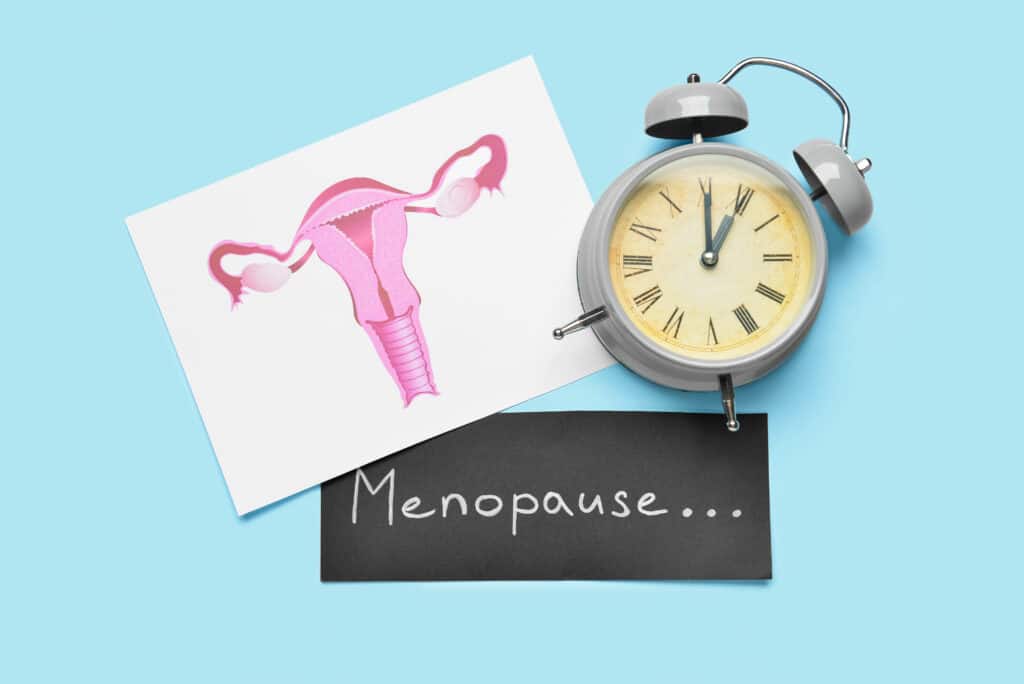 The Menopause: Does discussing it make you feel uncomfortable? There are so many topics that have traditionally been hidden away or unspoken in Ireland. Thankfully this is changing and, as female biology is fundamental to our existence as a species, it's about time! Fifty per cent of us menstruate and sooner or later will go through the Menopause, and these are important aspects of our health that we need to gain a better understanding of. 
In our family there is a tradition of organising talks about the Menopause. About 35 years ago, our mother Caroline organised some of the very first Menopause Days ever held in West Cork. In the meantime much has changed, but bringing women together to talk about this vital topic is still close to our heart – since 2020, over 1000 women have signed up to our online Menopause Webinars, so it's clear that there is still a lot of interest in this topic.
Which is why Organico is hosting a Menopause talk on November 10 called 'The Menopause Breakthrough' with Dr Marilyn Glenville. This time it's a live event at the Maritime Hotel in Bantry, and we are very excited to have Marilyn coming here in person to answer all your menopause questions.
I have to admit, my interest is very personal. When I first realised I was entering the menopause, I asked a few menopause experts why, if this is a natural transition, it's so hard for some women? Why do we experience traumatic night sweats, disturbed sleep, anxiety, mood swings, joint problems and more? Why is it so disruptive?
The responses were varied, but basically one of the things I realised was that part of the 'problem' is that we are out of sync with our biology. In earlier times, we would have started certain things at a younger age – primarily we would have had our children younger. And by our mid to late 40s, we would be grandmothers – not quite sitting back and enjoying the good life, but certainly not being up all night with young children, or juggling school runs, demanding jobs, and managing the stress of meeting mortgage payments. We would have had the hardest more active parts of our lives completed, and the transition to menopause would quite possibly have been much easier without all the modern day adrenaline-inducing stress.
'Stress' is the important word here. And the effect it has on our nervous systems, and hence on our hormones. Because much as we might be oblivious to it, those two are inextricably linked.
However, something that is often misunderstood, I think, is that it's not necessarily as straightforward as being the menopause that causes stress – according to the experts I consulted, it's the underlying (and often unrecognised) stress in our lives that is causing the problematic menopausal symptoms. And this is an important distinction, because it means that one of the first things we need to examine when we enter perimenopause is the causes of stress in our lives. And then we need to consider how to reduce these stresses. Because if we don't do that, and we simply focus on the symptoms, that stress won't go away. We need to find and 'treat' the cause, not just the symptoms.
I found that I needed much more rest. For me, this meant cutting out caffeine, alcohol, late nights and trying to reduce my workload. Instead of parties, I started going to personal development workshops and swimming in the sea. I also took a variety of different herbs and supplements all aimed at calming my nervous system and helping me to deal with the stresses I couldn't remove from my life.
And now, nearly three years on, I feel great. And I'm able to start socialising again – with caution!
I'm very aware that we are all different, and what works for me might not work for you. But we can all learn from each other, and be inspired to make simple changes that can make all the difference.
The main way of working out what works for you is to ask questions, and learn – about yourself, about your body, and about what you need. What we found was the most effective for people during our Webinars was the Q & A. And with Marilyn this time, we are offering an extended Q & A – a space for you to bring your own questions and have them answered directly.
So if you are perimenopausal or menopausal and would like to learn a bit more about what you can do to deal with the ups and downs of the menopause using lifestyle adjustments, diet and supplements, come an join us on Thursday, November 10 in the Maritime Hotel in Bantry (6.30-9pm).
Tickets are €20 (which includes access to the talk, plus tea and coffee and a €10 redeemable voucher to spend on the night) and are available through the shop or through our website on organico.ie.
Organico is open in Bantry from Monday to Saturday from 9am-6pm, and our Deli is open from 9-4pm for takeaway coffee, lunch and treats. Our online shop ships all over Ireland from www.organico.ie. Call us on (027) 51391 or email us on info@organico.ie if you have any questions we might be able to help with.