'The Art of the Impossible' was a saying frequently mentioned, when I spoke with Jette Schmidt, a mum of two and a three x 100 miles (160km) Ultra marathon finisher. We met at the club house of the running club Blovsterød Løverne, in which she has been a member for 35 years. If you saw her on the street, you'd probably think of her as a blond, normal, petite size lady with a beautiful, contagious smile. But get the coat off and put her in running shoes, you'll see that she's really fit, and if you put her in a race, you'll find out she's all about grit. 
"When I first started running back in 1985, I had just learned about marathons, and I secretly thought, that sounded awesome. It was a goal I kept for myself, during my first years in the running club, but in 1993 I went to the Berlin Marathon on a whim. The club had a free race ticket and I was asked if I wanted to go. Since I was already running long distances (I preferred the longer runs and enjoyed running with the guys training for marathons), I thought why not and grabbed the chance. It was a great experience right up until I got to the finish line. Then it hit me – what now?".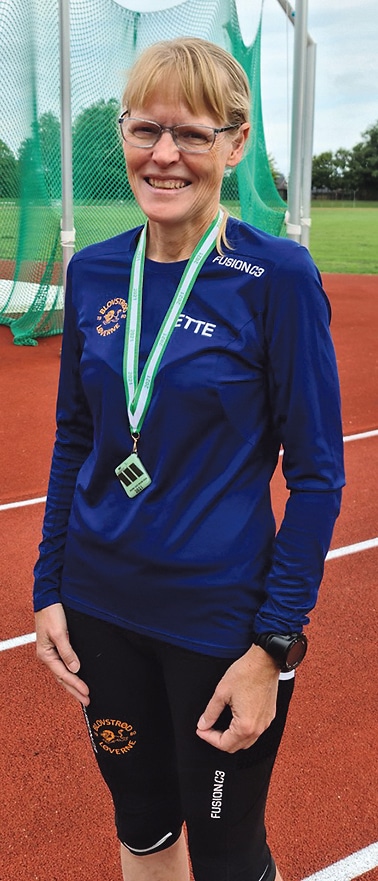 The 'What now?' has since been a constant in Jette Schmidt's running life, for whilst she's doing these crazy athletic sports, she also has to balance a life with two kids, a career, a home, friends and family. "That's the art of the impossible," she told me, "To make room for everything. I've always strived to be 'a whole human being' with room for not only my training and my goals, but also for my family and my career. It might have cost me sacrifices in athletic results, but I don't want to be selfish and only focus on my goals. There has to be time for other stuff as well."
And whilst juggling the needs of two kids, she has also managed to fulfil her second big dream: to compete in an Ironman. In 2012 Jette completed the Copenhagen Ironman, which included 3.8km of swimming, 180.2km of cycling and the running of a full marathon (42.2km).
Scheduling training for the Ironman was like putting together a puzzle. It began with a short run before the kids got up, and a longer one later in the day if possible; a bike ride while the kids were at swimming classes in the afternoon; an early start at work also meant the possibility of an hour of extra training.
Schmidt told me it was the best race experience ever. Her family and friends from the running club and her colleagues from work came out to cheer for her, as she fulfilled yet another one of her dreams.
At the finish line, however, the same thing happened as before. Where there had been a dream, there was now a blank space and Jette was once again left wondering what to fill it with. It was only a month later that the next challenge came, in the form of a 60 km ultramarathon race. "It took me two days to say yes" said Schmidt, who was about to enter new territory, going beyond her 42.2km marathon limit.
In 2017 Schmidt upped her game even further, competing in her first 100 mile (160 km) race around the Danish isle of Mors. "It was a race full of pain after the first 100 km. It was raining and I was miserable. No energy, cold, nothing really worked for me. For a long time after I said, 'Never again'".
However in 2020, maybe on a quest to redeem herself from that first miserable experience, Schmidt signed up again. This time with the help of a coach, Kristina Schou Madsen, winner of the World Marathon Challenge 2020. Together they made a plan for training, nutrition and fluid intake during the race. And as Schmidt's finishing time went down from her first race, she felt much better, so great in fact, that when the ultramarathon she signed up for in Sweden was cancelled, she jumped on the opportunity to run the 'Mors 100 Miles' for the third time.
This time everything was on point: training, nutrition, fluid intake, and her daughters keeping her company at the aid-stations, helping her both mentally and physically to complete the race. "Running this far is a bigger challenge mentally than physically," she says, "You need to eat when you're not hungry and drink when you're not thirsty. I have an arsenal here of saltstick, bars, gels and what-not" (she empties a small box on the table and show me all the different stuff, there needs to be eaten and drunk during the race). "You can run up to around 20 km without drink or food, but after this, your body needs salt and electrolytes and preferably a bit of fuelling (food). After 60 km, that's where you need to add food/fluid intake during your training, so you can try different products and foods and see what works for your stomach".
Schmidt's youngest daughter biked alongside Jette through the night aid-stations. "This was wonderful. It was such a great experience to have her there. She took great care of me and made sure I had everything I needed".
How does one balance all the time spent on training with maintaining one's life? This is a big question, because often when people start on their training journey, they meet resistance from family and friends. Often this resistance is temporary and born out of a fear of change. With time new habits are often formed and accepted. But still, how do you fit in everything?
"I've never stuck to a training plan 100 per cent," says Jette, "there's always something that comes up. And that's fine. That's life and that's how it is supposed to be." She quotes a saying, she heard at a talk: "'Make sure you have the back up from your surroundings. Don't turn it into an egoistic project'. This resonated deep within me, I wouldn't do what I do, without the support of my family and friends."
I hope the stories of Jette Schmidt and David White (published in the October issue) have left you inspired and in awe of what 'normal' people can do, given the chance, the opportunity and the determination – and not least, with the back up and cheer from the people around them. So if you find yourself inspired to take on a challenge, or to be more active in your life, my advice is to take a leap of faith and start. Your health and your life will be enriched from it, but do involve your loved ones. If you feel resistance, don't give up. Give it time and give them reasons to become involved, maybe as a training partner, or someone to hold you accountable.
In the case of Jette Schmidt and David White, it is quite clear, that the root of their success in their extraordinary achievements also belongs to their loved ones. In the words of Schmidt: "The art of the impossible, got possible with a little help and support."
Questions and comments are welcome as usual at: taniaskitchenfitness@gmail.com or via www.instagram.com/trainwithadane (@trainwithadane)