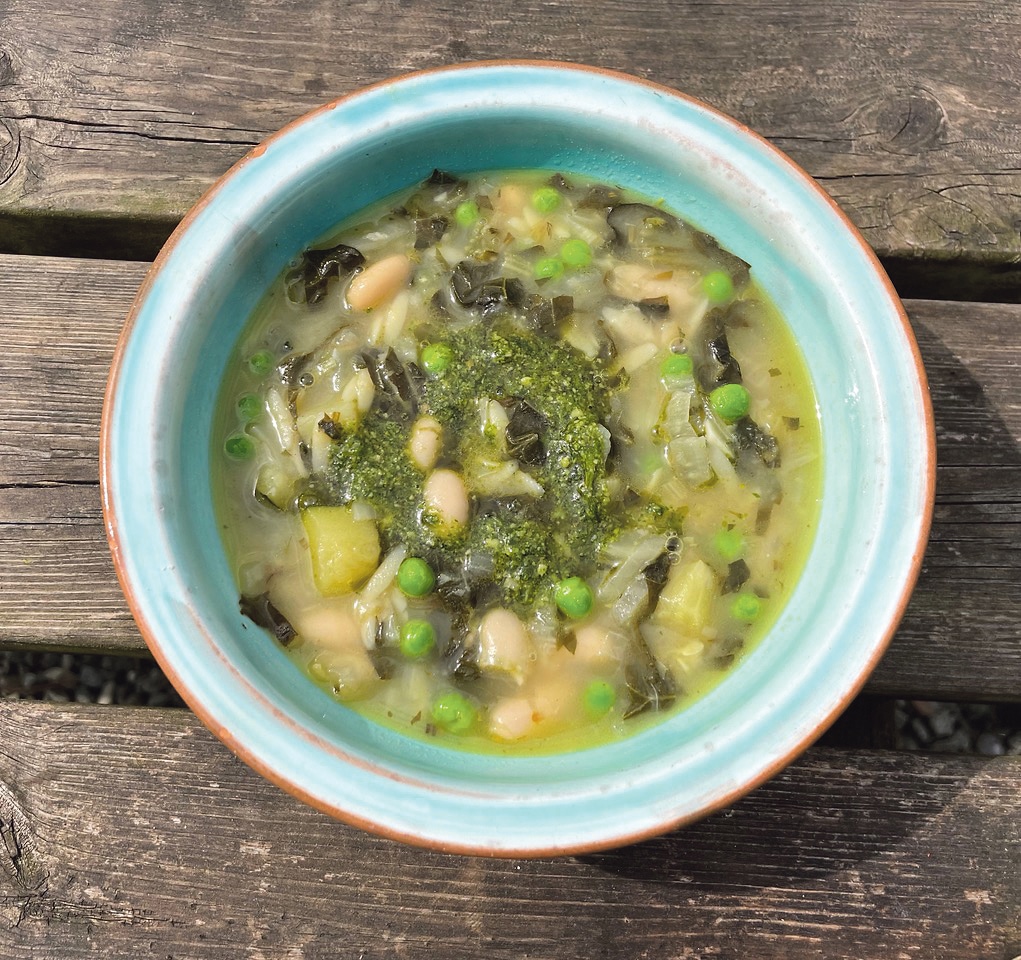 The garden is producing at full speed. There are gazillions of green things – kale, spinach, salad leaves, rocket and chard and lots of potential with all the new seedlings. We have some experimental crops on-the-go this spring, spurred on by last month's conversations about food security. We've sown quinoa, oats and beluga lentils, which have all germinated and now we're about to plant them out. I know this isn't going to change anyone's life but it'll be interesting to see what can be grown and harvested on a domestic level. 
The glasshouse is jam-packed and the annual plant pot shuffle is on as we pot seedlings up and then wonder where to put them. At the moment we are stripping all the spinach and chard out of the tunnel to make room for the tomato plants. We have finally eaten the last of the leeks and are making our way through the cauliflower crop. It's amazing how much there is to eat. All very green but that's just what we need at this time of the year. A good shot of phytonutrients to help our systems keep powered up.
There have been some beautiful days lately. Clear blue skies, wall-to-wall sunshine but very low temperatures. I am caught out again and again by looking out the window and thinking it looks gorgeous only to go out and be totally underdressed and freeze. It's perfect growing weather though especially with regular sprinklings of rain, and when there's a little more warmth all the seedlings will thrive, as will the grass, which doesn't actually need any encouragement.
This recipe is a kind of seeing out the old season and ushering in the new with a combo of vegetables that have grown over winter and a few new arrivals. It's perfect for cold sunny days. Spring minestrone is a creamy comforting soup or stew made from gently cooked seasonal vegetables, beans and pasta – no tomatoes – it's not a red soup but a blonde soup. We always save Parmesan rinds in our house. The bit where it gets too difficult to grate. We stash them in the fridge until we can use them. They impart an amazing depth of flavour and creaminess when added to soups and stews. Don't forget to take it out before serving though as they are pretty freaky to come upon, apparently they become like chicken skin! If you don't have any Parmesan rinds just leave them out. We like eat this minestrone with herby green pesto drizzled on the top. Basil pesto would be perfect. It's ideal for a large lunch or an informal dinner.
Spring
Minestrone
Ingredients:
• 1 medium large onion
• 3tbs olive oil
• 1 Parmesan rind – optional
• 2 stems celery
• 1 bulb fennel
• 2 sprigs rosemary
• 2-4 cloves garlic
• 2 medium potatoes
• 3-4 stems kale or cabbage
• 1 litre vegetable stock
• 2 small courgettes
• 1 can cannellini beans
• 2tbs orzo pasta
• 150g peas
• A little fresh pesto to serve
Method:
Peel and chop the onion. Put a large saucepan onto the heat, add enough olive oil to cover the bottom and the chopped onions. Add the Parmesan rind if you have one, then cook on a medium heat whilst you chop and add in the other vegetables.
Dice the celery, chop the fennel and chop the rosemary. Stir into the onions. Peel and dice the potato and add to the pot. Watch the heat – turn to medium low. Don't let the vegetables brown. Reduce the heat if they begin to stick and add a little more olive oil – the vegetables should be gently sizzling and softening in the pan. This will take 10-15 minutes – no rush. The longer the vegetables sweat the sweeter they will become. Season with a little salt and pepper. Peel and chop the garlic and strip the kale or cabbage from the stems then slice into ribbons. Give the ribbons a little chop to make them shorter. Stir the kale and garlic into to the pot then cook until the kale wilts. Rinse the can of beans and add to the pot along with the vegetable stock. Begin with one litre, you'll probably need a little more at the end of cooking. It gets quite thick as the pasta will absorb the stock. Cook for 10-15 minutes then dice the courgettes and cook for a few minutes then stir in the orzo. Cook for a further eight minutes then stir in the peas and remove from the heat. If you've used a Parmesan rind now is the time to fish it out and discard. Check the seasoning, it'll probably need a little more salt and pepper and add more stock if it is too thick.
Allow the minestrone to sit for at least 10 minutes before serving, an hour is even better and the next day superb!
Serve in large bowls with a drizzle of pesto on top.
Here's to warm sunny days!
Karen
Lettercollum Kitchen Project
22, Connolly Street, Clonakilty
phone 0238836938
www.lettercollum.ie
karen@lettercollum.ie