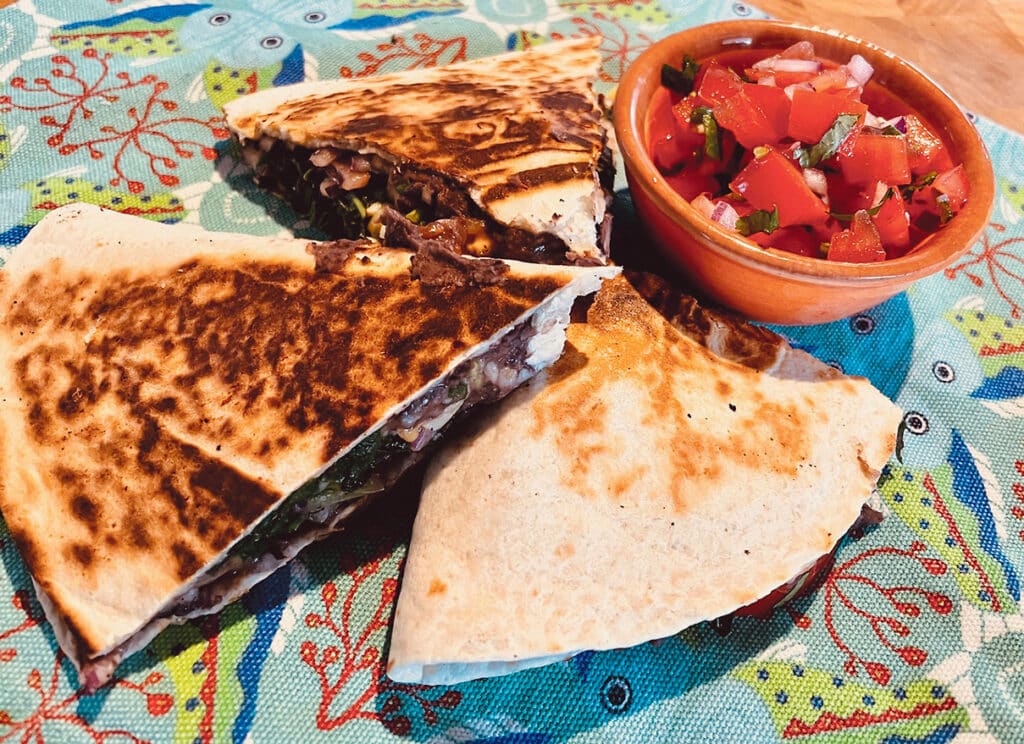 Tyaludas (tai-uoo-das), a simple Mexican street food, are sometimes referred to as Mexican pizzas when they are served open faced, but they are more often folded in half and eaten on the go.
This dish, which hails from Oaxaca in the south of Mexico is a delightful construction made of tortillas spread with refried beans, other various fillings-of-choice such as shredded meat or crispy grasshoppers, then grated cheese, avocado, salad and salsa. The tortilla is gently folded in half, like a calzone, then cooked on a dry pan so that the cheese melts but the salsa retains its fresh bite. Oaxacan cheese is fresh and stretchy, a little salty and melts beautifully. We use mozzarella, which behaves well as a substitute.
When we put Tyaludas on the menu at our shop everyone thought they were delicious but it sparked a conversation about avocados. We originally made our salsa with avocado, red onion, tomato, fresh coriander and lime, which was absolutely yummy. The avocados were a problem though, as they don't grow here and, although we can buy them the quality is unpredictable, so we put our thinking caps on and decided to use kale instead.
Right now we have a lot of kale in the garden. As the days have become warmer, it has picked up and is producing like crazy. Kale is like a sustainable avocado in this part of the world: The same high-powered nutrients of avocados to feed our bodies and brains without the air miles. It loves our climate and grows prolifically for much of the year. It's a little sluggish in December but as soon as the daylight increases it's off again.
Kale is very versatile – we use it in so many ways – but I think my all time favourite is stir-fried kale. We grow soft leaf varieties such as Raggety Jack and Asparagus kale, which are excellent for everything. Curly kale and Cavalo di Nero are more suited to cooking. All of these kales work well for this recipe and are delicious sandwiched with refried beans and cheese.
The refried beans can be cooked from scratch but you can also buy pouches or cans of refried beans, which work well and cut down the cooking time. We cook our black beans from scratch as we use a lot of them but a can of black beans is very convenient if you want to make your own refried beans – super easy and worth the little extra effort
The recipe might look lengthy and complicated but really it's just a couple of quick procedures and an assembly job. This is a vegetarian recipe but add cooked chicken, pulled pork or beef if you feel the need.
Serves 4
Refried Beans
• 1 onion
• 2-3 cloves garlic
• 400g cooked beans (1 can)
• 1 tsp smoked paprika
(optional)
• Oil to fry
Peel and chop the onion. Heat a frying pan, adding a little oil and the onions, then fry gently for five to 10 minutes without browning.
Peel and chop the garlic, stir into the onion then cook for a couple of minutes. Add the cooked beans and smoked paprika. Mash everything together with a fork or potato masher, adding a little bean cooking liquid or water if needed to help it along.A hand held blender will also do this job. Season with salt.
Stir Fried Kale
• 10 large leaves of kale
• Half tsp fennel seeds
• Half tsp chilli flakes
• 1-2 cloves garlic – peeled and chopped
• 1-2tbs olive oil
Wash the kale and strip out the centre stem then slice into ribbons.
Heat a frying pan, adding enough olive oil to cover the bottom; turn the heat to low, add the chopped garlic, fennel seeds and chilli flakes and allow the flavours to infuse for a couple of minutes without burning then turn the heat back up and stir in the chopped kale. Do this in batches to allow the kale to wilt down in between additions. Stir-fry the kale for two to four minutes – depending which kale you are using. Add 1tbs water – the steam will make the kale relax – and you're ready to go
Salad/Salsa
• 3 ripe tomatoes
• 1 red onion – peeled and finely chopped
• 1-2 chillies- finely chopped
• 1-2 cloves garlic – peeled and finely chopped
• Juice of 2 limes
• Handful chopped coriander
Cut the tomatoes in half, scoop the seeds out with a teaspoon and discard then cut the tomato into 1-2cm dice.
Put all of the above into a bowl and gently mix together. Season with a little salt.
Tlayudas
• 4 tortilla wraps
• 150-200g grated mozzarella
• Plus all of the above
Heat the tortillas on a dry pan so that they soften. Lay them out on the counter then spread with the refried beans, on one half put a layer of kale then add the tomato mix and grated mozzarella. Carefully fold in half. Heat a large heavy pan then turn the heat to low. Slip in the prepared tlayudas and cook each side until golden, crispy and the cheese has melted. You'll probably have to do this in batches.
Eat with hot chilli sauce.
We're hoping that by the time you read this recipe we will have re-opened. We are just waiting for the current Covid situation to improve and the government to change the restrictions. We're ready to go in our newly painted shop and looking forward to see everyone.
Here's to an open April!
Lettercollum Kitchen Project,
22, Connolly Street, Clonakilty
0238836938
info@lettercollum.ie
www.lettercollum.ie
lettercollumkitchenproject.com