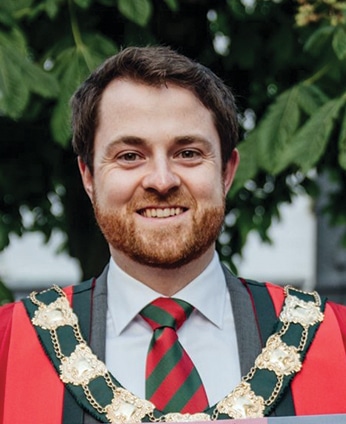 In his monthly column Mayor of Clonakilty Michael O'Neill jnr highlights some of the important issues facing Clonakilty and West Cork and how we can make improvements to our local areas.
When I was planning out this monthly column at the start of the year, I thought that I would spend this month outlining some of my wishes and hopes for West Cork. I was going to say that I would like to see more of a focus on some of the things that make it special. Our food and music were top of the list with special centres of excellence hopefully built in the future like the arts centre in Skibbereen. Our volunteers need to be prioritised above all and our festivals cherished. I had a list of other things…like more of a focus on the sea for recreation and to see more hurling played, as it is an amazing sport. I also wanted to see thousands of trees planted and a return to more wildness in our landscaping – a wildness that is beneficial to nature and truer to our identity.
Covid-19 however has come and utterly changed everything to the point that my hopes for Clonakilty and West Cork seem very trivial indeed now. I want to start by saying that my thoughts and those of Clonakilty go out to anyone who has been affected by Covid-19. I cannot imagine your pain at this difficult time and want to say that everyone is wishing you strength. I also want to express the deep gratitude of Clonakilty to our frontline heroes and all of our essential workers. We greatly appreciate everything that you have done and sacrificed for us. You are true heroes and an inspiration to us all.
A special mention must go to everyone in Clonakilty Community Hospital, the carers and the loved ones of anyone associated with the hospital. As Mayor, I visited the hospital for many fantastic events. One of the last times was at Christmas when I visited every ward and every patient to wish them a happy Christmas. I was blown away by the warmth of the patients and the gratitude that they had for the exceptional staff. It breaks my heart to think of the tragedies that this virus has brought to our beloved community hospital.
Against the backdrop of this monumental suffering, it is very hard to focus on things like my wishes for West Cork. I do hope though that the pain that this virus has caused and the inspirational sacrifices of our essential heroes strengthen our resolve to continue our fight against Covid-19. We owe it to them to ensure that we do all the right things to stop the spread. I know that it is hard to keep it up week after week, but I have seen that West Cork is full of amazing people over my time as mayor, so I know that you can do it.
We have to continue this fight and part of that fight is to mind our communities. Look after the vulnerable by ensuring that they have what they need and reach out so that they do not feel alone. Look after your own physical and mental health by connecting to the stunning natural beauty that we are lucky to be blessed with here in West Cork. I would also like to stress the importance of shopping local whenever possible. This crisis could have a negative effect for years and every penny that we can keep in West Cork will save businesses, protect jobs, keep more people here, help families and help our communities. Shop local!
One day this crisis will pass and when it does the steps that we have taken now will lead to a brighter future when we can look forward to realising our wishes and hopes for West Cork.
Sláinte.