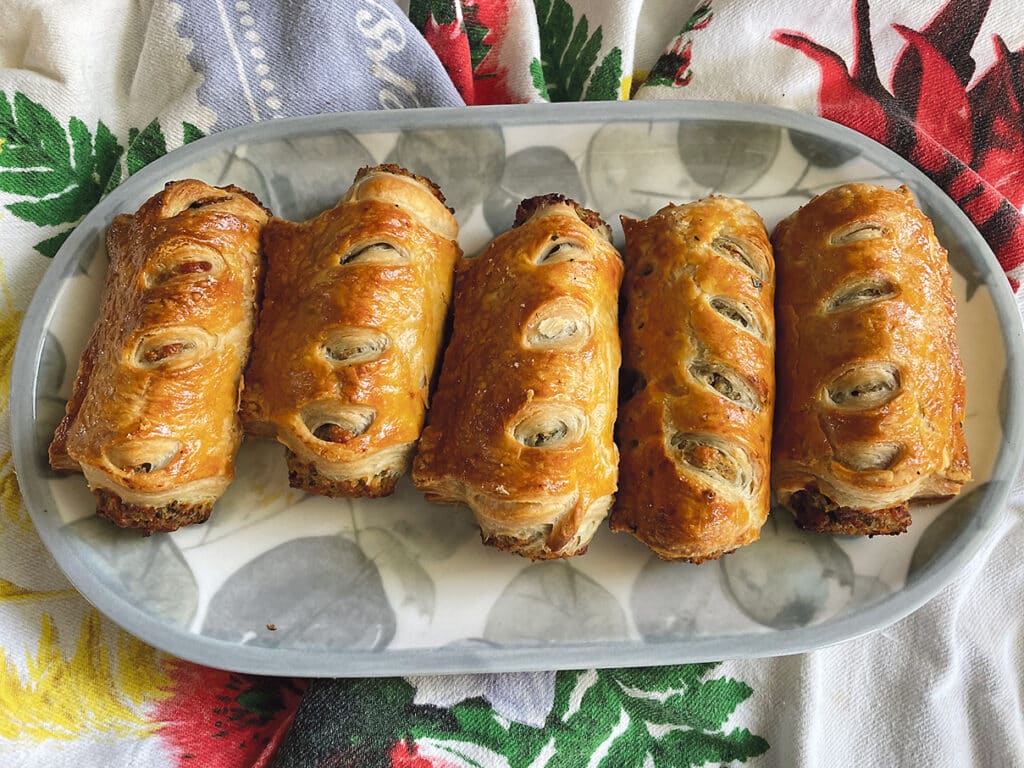 When I was a kid we ate sausage rolls every Christmas. They came out when visitors called or when we got home after Christmas shopping – which was the day before Christmas, not the entire month before, so sausage rolls were quite a treat.
Sausage rolls are a great invention. Sheets of pastry that enrobe sausages or whatever will behave like a sausage, baked until the pastry becomes flaky and golden. They've been around since the time of the Greeks and the Romans who cooked meats wrapped in pastry and, in the seventeenth century, the Hungarians were filling croissants with sausages. Some years later the French were wrapping them in pastry and promoting them during the Napoleonic wars, which is how they made their way to London. The English embraced them and travelled with them all over the Commonwealth where they are very keen on pies. They became quite a food phenomenon. Apparently a leading American supermarket recently made the news with 'puff dogs' some kind of hotdog affair but I don't think they have a chance. Flaky pastry and delicious filling is hard to beat.
Sausage rolls actually became quite a presence in my life when we had the shop. We must have baked zillions. As the shop is now closed, I thought I'd share our very popular vegetarian sausage roll recipe.
Truth be told it's not really our recipe as, like most recipes, it has past life; this recipe came from Joe's mum Jane. I'm not entirely sure what the original incarnation was but the recipe below has been tried, tested and enjoyed by many.
Sausage Rolls are easy to make, as the filling can be made ahead, and frozen puff pastry is widely available. Look out for butter puff pastry, as it will be vastly superior in flavour if you can find it, but no worries if not, I'm sure you will still be delighted with the result.
It's important to work quickly with puff pastry, as it needs to remain cool. If the pastry is lying about it will warm up and the (hopefully) butter or fat between the layers will melt. If your kitchen is very warm, chill the counter with a bag of frozen peas before rolling, this will give you a head start.
Vegetarian
Sausage Rolls
Ingredients:
• 1 onion – grated
• 275g fresh breadcrumbs
• 250g grated mature cheddar
• 1 handful chopped fresh herbs – parsley, thyme, chives etc
• 1tbs Dijon mustard
• 1 large pinch cayenne pepper
• salt and pepper
• 1 packet frozen puff pastry
• Flour to roll
• 1 egg
Method:
Put all the ingredients for the sausage mix into a bowl and mix by hand. Keep squishing until the mix comes together and will hold its shape.
Preheat the oven to 180 degrees Celsius.
Lightly flour a clean counter and quickly but gently roll the pastry into a rectangle, roughly 24cm x 40cm. Then cut the pastry in three lengthwise.
Take the sausage mix and roll into a cylindrical shape the width of a sausage and lie it along the middle of each section.
Crack the egg into a small bowl, add a couple of drops of water and whisk well. Brush the egg wash along the front edge of each section of pastry i.e. the side closest to you. Carefully take the other side of the pastry and bring it over on top of the egg wash. Gently press down the edge then use a fork to 'crimp' the edge together. Take a clean pair of scissors then run along the top of each roll making little snips. Brush with egg wash then cut each section into sausage rolls – small ones for cocktails or bigger ones for appetite relief.
Carefully transfer to a baking sheet.
Bake for 20-25 minutes, until flaky and golden.
Makes approx. 15 sausage rolls.
Enjoy the festivities and if you are looking for a gift for the foodie in your life 'Food for Today' my vegetarian and vegan recipe book would make a great gift!
Wishing you all health and happiness.
Seasons Greetings,
Karen
Lettercollum Kitchen Project,
Timoleague
info@lettercollum.ie
www.lettercollum.ie
023 8846251