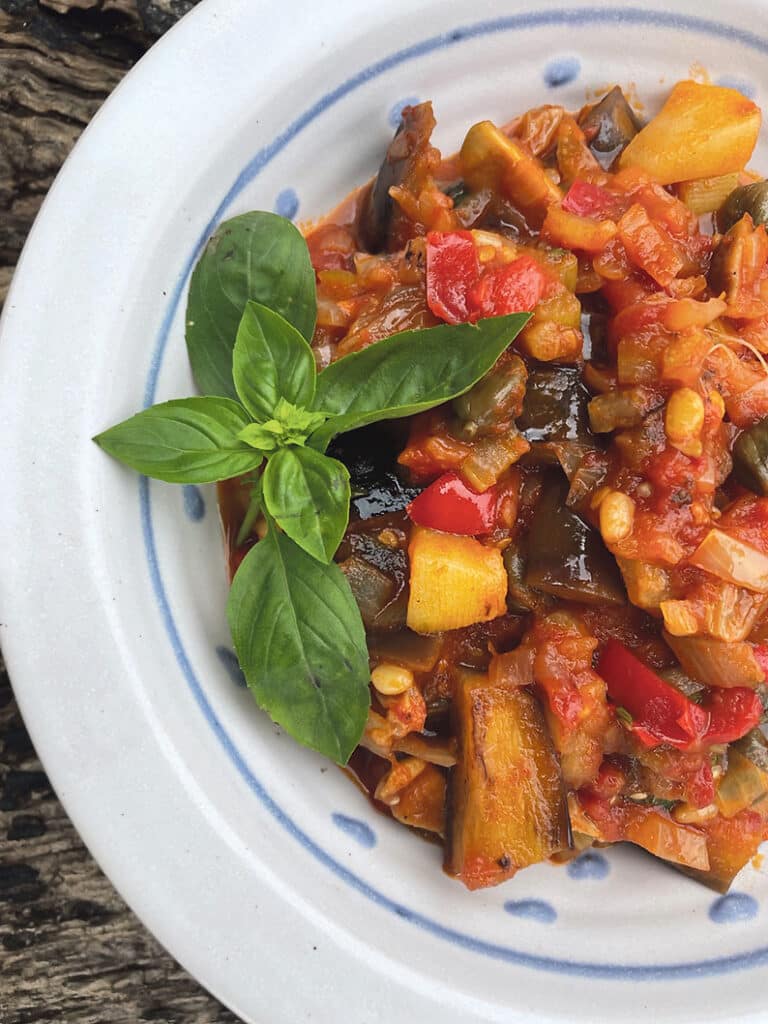 The garden is beginning to look a little woolly now that it's the end of September; the apples and pears are falling from the trees and the courgettes have slowed so much that they have become a valuable commodity again. Even the beans are beginning to be defeated with the drop in temperature, but to be honest we have eaten so many beans that it's time for a change. The pumpkins are dragging their feet a bit which, considering we had quite a lot of days over 18 degrees this summer, is strange, but no doubt they will have caught up by the end of next month. There has been enough rain for them to continue to grow.
We have a great crop of aubergines in the tunnel, which partner well with the ripe tomatoes. Both are technically fruits and members of the nightshade family and, as they generally grow in harmony with each other, they turn up together in a lot of recipes.
I have been making Caponata, a Sicilian dish, which is like a sweet and sour version of ratatouille. It's one of those recipes with lots of variations and secret family twists. Some recipes include raisins or sultanas and some peppers and courgettes. It's a very flexible recipe so use what you have and what you enjoy. I've added a pear from our ancient gnarly pear tree, which produces very hard fruit. It's not traditional but I think it's an interesting addition.
Caponata can be eaten warm with meat and fish, as a side vegetable, stirred through pasta or on bruschetta (toast rubbed with garlic and olive oil). It's one of these dishes that gets better, as it sits, so if you have time to make it ahead and can leave it for some hours, so much the better.
For this recipe you need to find yourself a beautiful bright aubergine that's nice and taut, avoid any that are soft, as they will have been picked some time ago.
Caponata
Ingredients:
• 1 aubergine
• 1 onion
• olive oil
• 3 stems celery
• 1 hard pear
• 3-4 large ripe tomatoes or
1 can tomatoes
• 2 tbs capers
• 3tbs golden sultanas
• 2-3 tbs pitted green olives
• 20g pine nuts
• 3tbs good red wine vinegar or balsamic
• 1-2 tsp sugar
• Handful fresh basil
• Salt and pepper
Method:
Dice the aubergine into 2cm cubes, toss with a little salt and put aside for 15 minutes.
Soak the capers in a small bowl of water to remove excess salt then drain.
Peel and chop the onion, heat a medium pot, add enough olive oil to cover the bottom and stir in the onion. Cook on a medium heat. Chop the celery small and add to the onions. Season with a little salt then leave it to gently sizzle away without browning. Peel and chop the pear and stir in. Cook the vegetables for ten minutes, until they begin to melt down.
If you are using fresh tomatoes, cut them in half then grate them on the coarse side of the grater over a bowl. If you using a can, then roughly chop the tomatoes. Stir the tomatoes into the pot, increase the heat, and when it's bubbling away, turn to simmer. Season with a little salt and pepper.
Take a handful of the aubergines and squeeze them to remove excess water. Do this to all the aubergines. Put a frying pan onto the heat, add enough olive oil to just cover the bottom of the pan and add the aubergine. Toss well then cook over a high heat for a few minutes, until the aubergine takes a little colour. You might need to do this in two batches. Add the fried aubergine into the pot then stir in the sultanas, olives, capers, vinegar and sugar. Leave to gently simmer for 15-20 minutes stirring occasionally.
Heat a small pan and gently toast the pine nuts then stir into the Caponata.
Chop the basil, add, then check the seasoning – it probably won't need any more salt as the olives and capers look after that department.
Take off the heat and leave to rest before eating.
Enjoy the last of the summer's harvest…we'll be eating cabbages soon!
Karen
Lettercollum Kitchen Project,
22, Connolly Street, Clonakilty
023 8836938
karen@lettercollum.ie
lettercollum.ie
lettercollumkitchenproject.com