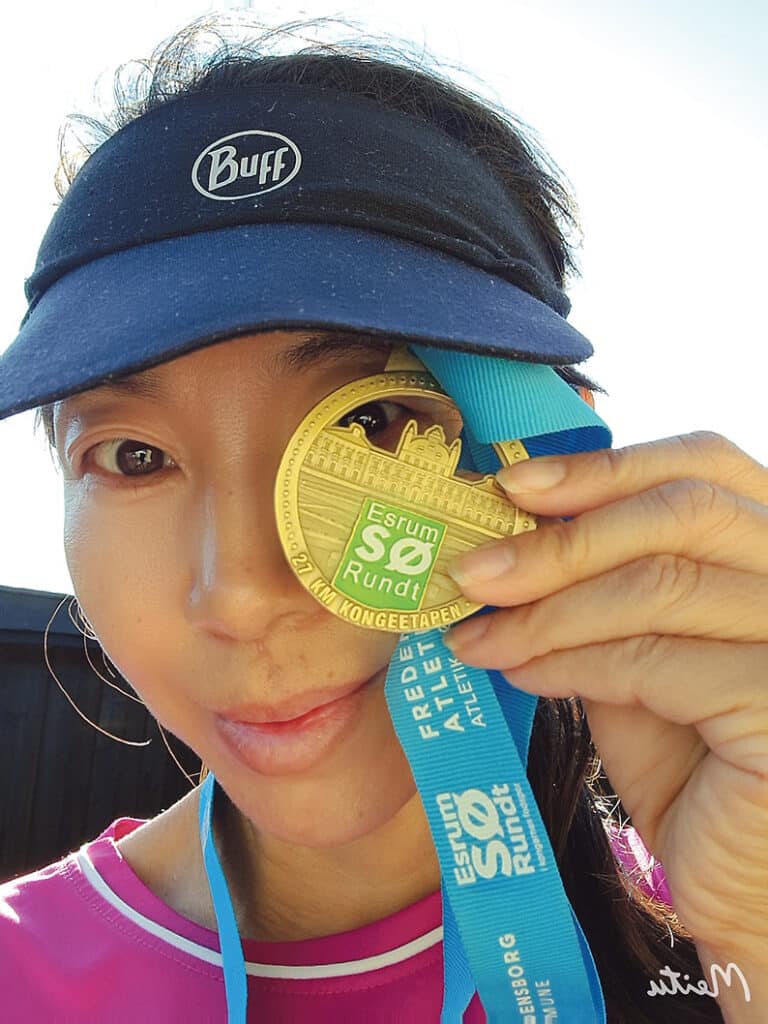 The headline this month is a twist on Nike's 'Just do it' slogan, because I did do it! If you read my DIY Fitness column, you'll most likely know, that I signed up for a 27K race this August, because I felt it was time to challenge myself on the distance and the race sounded beautiful. And yesterday I did it. 
In spite of or inspired by
As the stars aligned, it seemed that two weeks out from race date, everything pointed to NOT race. My sleep was very poor, down to four to five hours a night; this did take a toll on restitution, which meant my body didn't heal up as well, as it should have after the harder sessions. So two weeks out my hip started to make problems and I was exhausted mentally and physically, sleep-deprived and ready to throw in the towel. Race week came around and I managed to bang my knee in a kid's ride in the funfair park and on race day my period decided to come a day early (just ask any woman in your life how inconvenient that is).
In spite or maybe inspired by all the obstacles, I got myself to the starting line Sunday morning, half excited, half scared of the task ahead of me. I felt under-trained, injured and out of my comfort zone – because in running there are no short cuts or luck. There's a distance and there is you – and there's a clock that keeps ticking. I had two goals: To run the full race and not to be last.
I ran with a smile on my face for 24 of the 27 kilometres. On my way I chit-chatted with fellow runners and enjoyed words of wisdom and experience from other runners who knew the route well. As promised, the route was beautiful, with a scenic view on the lake and rolling hills making it never boring. After 24km I could however feel my hip quite clearly and also my shoes seemed to have shrunk half a size; I felt my toes screaming for new shoes or even better no shoes at all.
Lungs and heart felt great. Toes and hip not so much. It became a battle in the mind. At this point I could have walked to the end and still made the cut off time, but I was determined to finish, as I'd started: Running. So I ran. One foot in front of the other. One step at the time.
Since stopping or walking was not an option because I needed, for myself, to finish the race running. I talked both hip and toes into just going a little further and make it to the end. The last 900m were one long, straight ever-inclining steep hill. I'd heard about it from the other runners, and they weren't kidding. It was pretty gruesome. Kind of like the hill you find in Ardfield on the way to Inchydoney that just seem to go onwards and upwards. But I ran it, and ran it 'fast' with my last drop of energy, and finished in upright style, even able to walk around afterwards. Besides stopping and getting a great medal and a bottle of water, the best thing was to see an old friend who came to cheer me at the finish line. A very welcome sight. Seeing a familiar, friendly face after facing a tough challenge, was great. (So if you know anyone tackling a race or competition of any kind, go out and support them. They'll appreciate it.)
Challenge takeaways
This was my first race to conquer all by myself, as I had no training partner and no race buddy. I didn't even know anyone who had signed up for the race; it was, in fact, just me and my running shoes. It made it a big deal for me, as it really was and felt like 'My own project'.
I know that undertaking challenges are often most fun if done with other likeminded people. But I will encourage anybody who reads this, to at least one time take on a individual challenge all alone. Getting out of your comfort zone and rising to the challenge can make us grow, and we can learn a lot about ourselves in the process. How we plan and organise? How we react to changes and obstacles? What we need to feel supported and succeed and what (and maybe who) we best avoid to keep optimistic about our project?
If I were to give starting advice to you who are thinking of entering a race, or taking on a test, or any other kind of 'new' challenge, these three points would be the essence.
1. Have a date and a time goal and make a plan according to this. (If you never run, don't enter a marathon that's a month away.)
2. Make a checklist for the things you need to succeed. (What do you have now, what do you need? Can you buy or borrow? Who are your supporters and who will drag you down?)
3. Be fluid to allow changes and yet still reach your goal. (Be consistent with the plan, but don't fret if you have to push training from Wednesday to Thursday.) For example, if it's a race, make a plan for the months leading up to the race. Know how many days a week you will run, how long and how fast. (Google or Garmin is a good friend to have when looking at training plans if you are new at this. Also: Going from couch to 5K – or more – is totally doable. Give it your time and consistency, and you will get there.) Make sure you get rest and restitution as well.
Regardless of what your goal is, the keyword is preparation.
Also important: Especially when talking about sport specific goals – when the training intensifies, as it does when you enter a race, meet or competition, the risk of injuries will also increase. And if you're unlucky and get injured, is there a new plan to be made? Can you continue on your prep if you modify your training plan? Or will you have to stop and step down, heal up and do it next year/next time?
For me, after getting my hip injured two weeks out, I decided to only do short, slow, easy runs. Keep my legs moving, but at the same time, go so light and easy, it didn't aggravate the hip and cause the injury to get more serious. It worked, as I'm still standing a day after the race and plan to run again tomorrow.
So if you encounter an obstacle, can you adjust and still reach your goal? Perfection often gets the best of us. 'If I miss one training, it'll all be for nothing', 'If I eat this piece of cake, all my dieting is for nothing', 'If I…. I might as well give up'.
Instead accept changes and obstacles as part of the process, stick to the plan/training schedule and as much as possible, enjoy the process and get the reward in the end.
I can tell you that coming home yesterday and showing my son the medal and seeing his eyes light up made it all worth it. He might not grasp what 27 hilly kilometres feels like, but he made me feel like the proudest mum for seeing this through and overcoming.
If you have any questions or comments my mail and/or Instagram is open as usual:
taniaskitchenfitness@gmail.com or www.instagram.com/trainwithadane