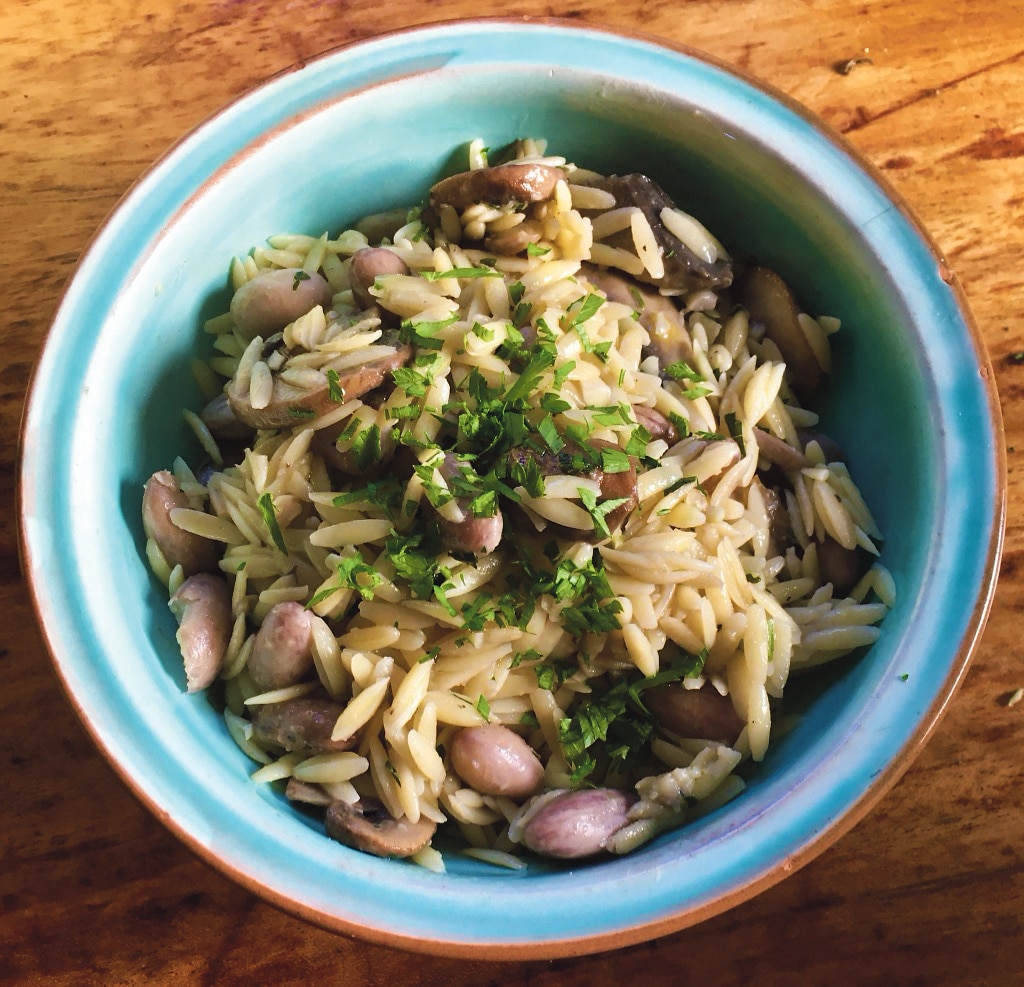 The brief Indian summer is settling into autumn and the temperature is dropping rapidly. The seasonal merry go round continues even after the strangest summer in my memory and the vegetable world carries on oblivious to the chaos which can only be a good thing.
It's time to put away the courgette recipes now as we're harvesting the pumpkins and corn. Or I should say, should have harvested the corn but the birds ate it whilst we had our heads turned. Luckily the pumpkins are safe in their armour and we are storing them for winter use.
Pumpkins need to be 'cured' once picked. This entails keeping them in a light well-ventilated place for two weeks before beginning to eat them. Curing hardens the skin, which ensures they will sit through the winter and also improves the flavour. We've harvested more than thirty pumpkins so no doubt come March we will have pumpkin fatigue and begin to look forward to courgettes again!
This month's recipe has nothing to do with pumpkins although roasted pumpkin would not go amiss stirred through this fast and comforting dish.
What we're celebrating is the mushroom season. All over Europe mushrooms are foraged and Ireland is no different, the mushrooms are out there if you know where to look and which are safe to eat.
An easier option is the farmers' markets, which usually have someone selling a selection of mushrooms. Failing that the supermarkets always have at least two varieties that have been cultivated and will provide that earthy umani flavour.
Here is a recipe that I made when I had a small bowl of borlotti beans sitting on the kitchen counter that had been picked a few days previously. It was too small to have any real purpose but too valuable to waste. A can of borlotti beans would work just as well. I had a bag of mixed mushrooms from the farmers market – shiitake, oyster and portobello and then I discovered a tub of Glenilen crème fraiche in the fridge – surely the creamiest and tastiest, all cooked up with some orzo, comforting and delicious – if little blonde – it was on the table in ten minutes.
Any mushrooms would do the job.
Orzo is pasta, shaped like rice, which cooks up plump and velvety and wraps itself around flavours.
The awning for our shop has arrived in time for the changing weather. The bright yellow colour is like a ray of sunshine to queue under, especially if sheltering from rain. We are happy to take orders and also have a good supply of orzo if you want to try the recipe below.
Serves 2
Borlotti, Mushrooms and Orzo
Ingredients:
• 400g cooked borlotti beans – or one can drained and rinsed
• 200g orzo
• 300g mixed mushrooms
• 2 cloves garlic, peeled and chopped
• 2 heaped tablespoons creme fraiche
• a little chopped parsley
Method:
Put a saucepan of water to boil to cook the pasta
Slice the mushrooms and chop the garlic
When the water boils add a heaped teaspoon of salt and the orzo. Cook for 5-7 minutes – check the packet for cooking time
Heat a large sauté pan. Add the butter and olive oil and as soon as the butter melts add all the mushrooms and stir well. Keep the heat high and stir the mushrooms every minute until they almost begin to brown. Add the borlotti beans then stir in the chopped garlic, cook for one minute longer. Take the pan off the heat.
At this stage the orzo should be cooked. Drain it and add it to the pan.
Stir in the creme fraiche and parsley and you're ready to go.
Happy Autumn Days
Karen
Lettercollum Kitchen Project,
22, Connolly Street, Clonakilty
info@lettercollum.ie
www.lettercollum.ie
0238836938