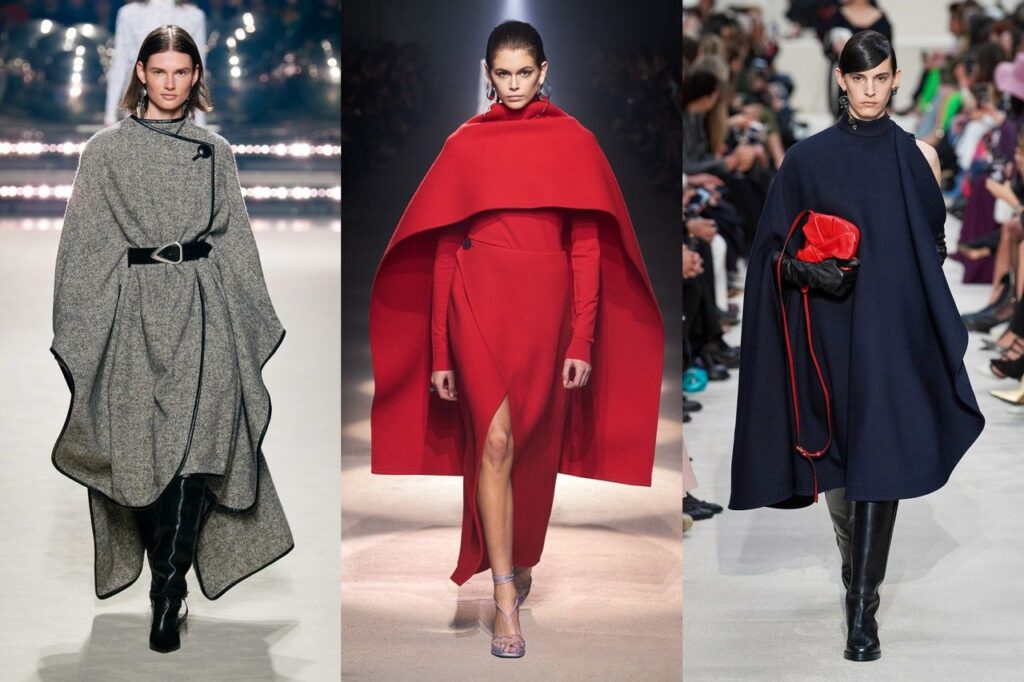 Bare toes in summer – there is nothing quite like it, until there is a chill in the air; then your toes look for comfort inside big thick fleece socks. All it takes is two chilly nights in a row and fleece sock sales dramatically go up. They are as cheap as chips yet the feel good factor is enormous. While there are a multitude of changes happening globally, the common denominator in fashion circles is that everyone is looking to be more mindful in our consumption and buy items with longevity in mind. I guess we all do need to be more conscious and avoid any trends that may have a short shelf life. We need to focus on styling tweaks that we can achieve with classy autumn pieces or updates that will last far beyond just this season.
While designers always show outrageously flamboyant clothes on the runway, the sudden global shift has caused a significant change and forced that they now show a selection of 'actual' wearable pieces, more than any other time before. This is a wonderful reflection of the customer's desire to make more considered purchases with sustainability in mind, invest now and wear forever.
As clothes wearers, we have all decided to insist that our wardrobes work harder for us than ever before. We want well-loved pieces to be open to being styled in many different ways and also, across multiple seasons. So what do you spend money on now that will last? Boots, outerwear and glorious knitwear will always top the 'Fall' list. You might call boots the bread and butter of autumn attire as they fall in under the 'staple' category. Ankle boots are still as big as ever and available in a wide variety of colours. I guess we think and think again before we buy boots with a slightly higher heel because our social life has changed dramatically. The flatter the boot, the faster they are selling. There will always be the exception to the rule; a cool suede boot with a decent heel in a glorious shade, with blue denim jeans and a chunky jumper is very much it. This chic outfit will take you from 'girly lunch' to afternoon shopping and on to a late dinner with no fuss, just a very classy and understated finesse.
Understated luxury is the keyword in many collections that are filling up our favourite boutiques; it's all about top quality knits, cashmere and neutral tones. Knit dresses and jumper dresses are making a return as a wardrobe essential, just throw it on and ready to go. They might not suit every body shape but they do look really cute with tights and boots. Victoria Beckham gets it very right with her cutout ribbed wool-blend turtleneck midi dress; it is absolutely gorgeous and with the ever-so-gorgeous price of £1,150!
Silk separates are finding their way into our hearts and our wardrobes. There is nothing quite like that feeling of luxury, that gentleness and elegance that can only be found in silk next to your skin. I've spotted a few glorious silk bow tie blouses that will dress up jeans and have you ready for any classy event… Although it might be harder to find the events to go than the blouses this year! Might I suggest that you keep an eye on any photographic exhibitions or artists who are showing their collections; it's a lovely way to spend your free time, support someone local (even if you don't buy – spread the word) and an opportunity to get dressed up. Some are by appointment only to keep numbers down with current restrictions but there is nothing stopping two or three of you from going together and having a bite to eat somewhere after. There are plenty of incredible artists and photographers around West Cork so get planning with your friends.
Comfort will always be key but this year it seems to be taking the lead, as loungewear is selling phenomenally well. The focus is on fitted silhouettes, not slouchy baggy bits. Merino wool hoodies worn with sleek leggings, classy runners and a cashmere fitted coat on top should give you an idea of how fashion is incorporating elegance with comfort… and pulling it off exceptionally well.
Big boxy blazers have made a comeback with many buying online in re-sale stores. If you have the confidence to up-style a big jacket that you already have, just go for it. Prada re-released their grey wool blazers and added a black belt around the middle. It's a great look, a confident look!
Sexy is back but not peeled on bodycon; there is a big shift towards fitted silhouettes but with a longer hemline and a relaxed feel thanks to knitted fabrics. This is a more elegant version of bodycon, figure-enhancing rather than figure revealing. Team with second skin boots to keep all the lines clean and smooth.
Capes, capecoats and ponchos are big outerwear items – from tweed to fringing, everything works. The look is very much 'large country estate house lounging' but I'm sure that we can all pull it off right at home or walking down the street, the most important thing is that you get out and get moving 'no matter what'.
Statement collars have been welcomed by the masses, the ideal fashion statement for any video call. They make an impact; there is no doubt about that.
The 'Boho-chic' kind of easy luxe with a folky twist is brilliantly featured with intricate precious embroidery and rich fabrics taking over. While some of the dresses can be toned down for anyone to wear, the choice of footwear will decide whether you are on the bohemian cusp or not. Thick chunky boots or Doc Martins will, most definitely, seal the deal.
Make sure that you have some really colourful thick knit chunky jumpers; they are a real fun addition to your wardrobe and are sure to sell out fast. Retire any scraggy hats and invest in some new ones; after all, for many months going forward, they could be your most- seen crowning glory. Always choose colours that make your eyes pop. Big wrap-around scarves are 'the bee's knees', they are exactly what you need this time of the year so raid your winter stash now and get ready for all sorts of outdoor adventures…then make those adventures happen!
Enjoy the changing season; the one thing that you can always rely on is CHANGE. Learn to adapt as quickly as you would change your shoes or your coat. The last few months has shown us that at times we need to embrace uncertainty, not recoil as a result of it. It's still a wonderful world out there and it's a better place because you are in it!