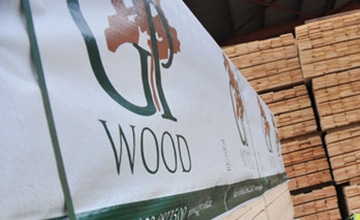 Established West Cork employer GP Wood is hiring. In a welcome jobs boost for the local area, the company has on-going vacancies for general operators, forklift drivers and mechanical fitters. The group currently employs approximately 150 staff with a further 250 indirect employees in their forestry operations.
GP Wood operates two of Ireland's largest and most technologically advanced sawmills. Both mills are located in West Cork – one in Lissarda and the other in Enniskeane. Both of GP Wood's facilities utilise some of the most modern wood processing techniques found in Europe today and the company prides itself on being almost completely carbon neutral.
The majority of the timber used by GP Wood comes from Coillte but GP Wood also purchases a significant volume of thinnings and mature plantations directly from private growers and offer very competitive prices.
GP Wood's products include structural timber; timber for pallets and packaging; timber for fencing post and rail; timber for decking; co-products including woodchips.
Committed to excellence in environmental management and consistently at the forefront of technology, GP Wood built Ireland's first bio-fuelled combined heat and power plant at its Enniskeane facility. The forward-thinking company is committed to sustainable development using only raw materials from sustainably managed forests.
A constant supply of sawdust and bark fuels the plant and produces the necessary heat for the kilns to dry timber while also generating a surplus of green electricity, which is fed into the National Grid. By consuming these co-products on site rather than transporting them elsewhere, GP Wood has substantially reduced its carbon footprint.
In addition to producing its own sawn products, the company also imports part-processed timber from Scandinavia, Russia, the Baltic States and mainland Europe. The company has diversified into added value markets through their joint venture investment in Eirebloc, manufacturers of pallet blocks from recycled timber.
GP Wood was formed in April 2013, as a result of the merger of two of Ireland's most successful and long-established timber processing companies; the Grainger Group originally founded by William Grainger, based in Enniskeane, County Cork and the Palfab Group of Lissarda, founded by the O'Callaghan family also based in County Cork. GP Wood is one of Ireland's largest and most diversified timber processing operations. Both original companies were established in the mid 1970s.
Growing sustainably
"We at GP Wood, take our environmental responsibility seriously and are fully committed to sustainability in our technologically advanced production facilities. We are proud of our role in the cycle of renewal and actively participating in timber sustainability for future generations. Our environmental and social responsibilities are the guiding philosophy in our day-to-day operations. Of equal importance is our commitment to supplying our customers with world-class products at competitive prices. Our relationship with our customers is based on shared values of professionalism and a commitment to quality service," said Conor McSwiney Compliance Manager of GP Wood.