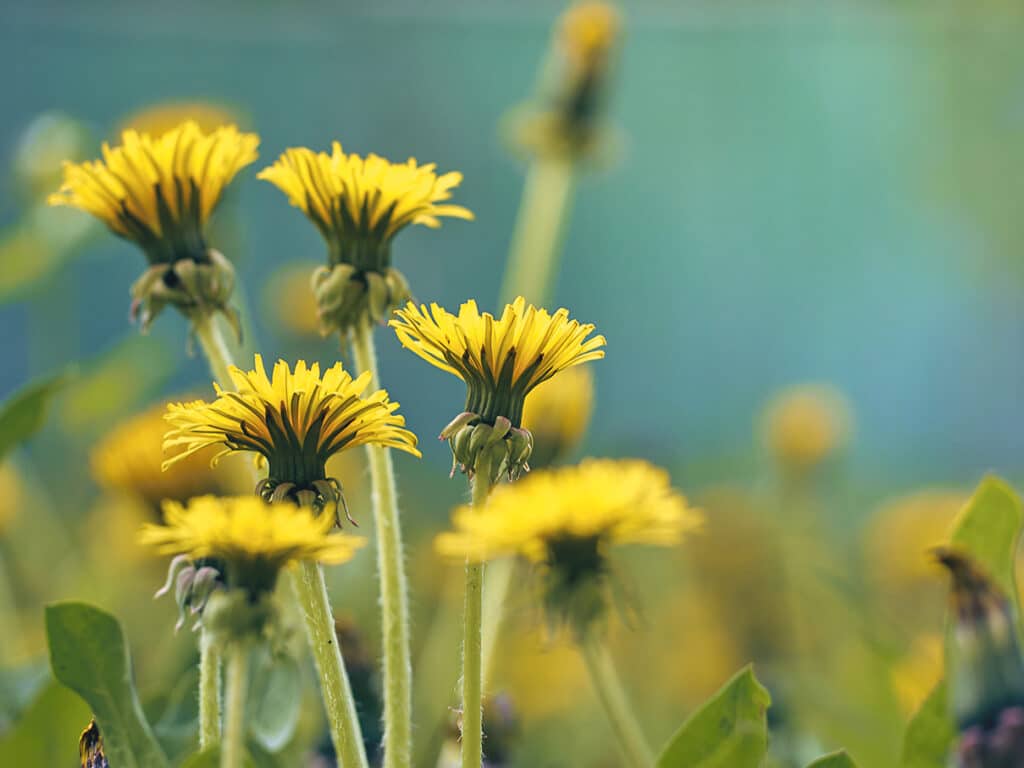 As many of you will know, we at Deelish Garden Centre do not use or sell chemicals for use in the garden. We advise gardeners to use chemical-free and, if possible, organic gardening solutions to everyday challenges like pests, diseases, weed control and many other gardening issues. By practising this method of gardening, the benefits are many, such as greater resistance to pests and disease, building habitat for pollinators, wild life and soil microorganisms, as well as your own health. Once  gardeners  have  made  the  change  from using  chemical products to  organic  solutions, very few  look back.
In previous articles, I have looked in detail at various natural solutions to many of the gardening issues mentioned above. Another area that is very important to me and other gardeners, as well as farmers, is the ongoing use of glyphosate (the main ingredient in Roundup and other herbicides) on farms, gardens and public spaces to control weeds. As this harmful chemical is now recognised as a carcinogenic substance, with hundreds of millions of euros having been awarded in law suits, it amazes me that these products are still available for sale in shops. As well as the harmful affect on humans, this ingredient has been linked to the rapid decline of pollinators and other wildlife. The damage to delicate soil microorganisms is huge and it can take decades for the soil to recover, if ever. As Rebecca wrote in last month's article for Deelish, the value of healthy soil is priceless. Indeed the future of feeding our growing population and increasing biodiversity around the world is dependent on it.
On a positive note, I was delighted to an article by Eoin English in the Irish Examiner that stated; "Cork City Council has decided to stop using chemical-based glyphosate weed killers in its parks and on some 500km of public roads."
After almost 50 years of using chemical herbicides, the Council will move to more expensive and time-consuming but pollinator friendly methods such as steam jet application, electric strimmer and organic herbicides. Vegetation (weeds) will be allowed to grow in certain places throughout the year.
It seems to me that it is a step in the right direction, with more action needed very soon. It is also great to see farmers being offered organic farming grants, as the use of glyphosate products is not used in this method of farming. Ultimately I think as a nation we will need to change the way we view our garden, roads and outdoor spaces. For example, not expect every inch of our gardens, roadsides and parks need to be perfectly weed-free and manicured. Consider leaving an area or section to 'rewild'. Encourage wild flowers to grow, leave that self-seeded willow to grow into a beautiful tree even though you didn't plant it yourself. In this approach, not only will we continue to have beautiful gardens and countryside but we will provide valuable habitat for a wide range of wildlife including our priceless pollinators, without whom our crops and flowers will fail to grow. When designing and adding new features in your garden, try to incorporate as many of these natural wild areas including ponds, woodlands and wildflower meadows.
If you do feel the need to keep some areas well maintained such as lawns, paths and driveways research natural alternatives to achieve your goal. Feel free to visit us here at Deelish Garden Centre in Skibbereen and we will be happy to guide you in the right direction with our great range of natural gardening products. Enjoy the great gardening weather we are having at the moment and remember, gardening doesn't have to cost the earth.