Bandon-based, food supplement business SOMEGA have just launched a new liquid Vitamin C food supplement, with a range of Vitamin D supplements to follow shortly. According to nutritionist and co-founder, Dr. Paula Gaynor "SOMEGA's new range of Vitamin C and Vitamin D supplements are a natural extension to our product line and are particularly timely given the current heightened need to support immune health".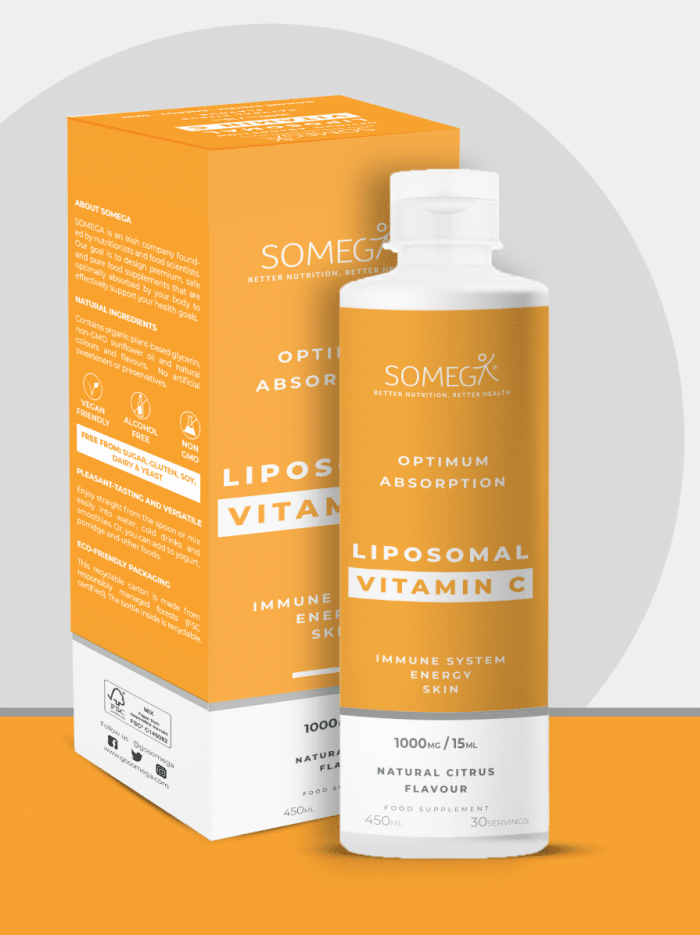 SOMEGA launched its first supplement, pleasant-tasting Easy Omega-3, last year. Stocked now in health stores and pharmacies nationwide, it has proved hugely popular with adults and children alike and benefits brain, heart and eye health. SOMEGA's new products contain vitamins which not only support immune health but have many other health benefits too.
Vitamin C is a powerful nutrient, essential for health. As humans can't make or store Vitamin C in our bodies, it's vital to have a regular daily supply, be it from food or a food supplement. When it comes to supporting your immune system, Vitamin C is key, which is why Vitamin C supplements are often the first port of call for many people when they feel a flu or cold coming on. Research shows that Vitamin C has a positive impact on energy levels: it helps reduce tiredness and fatigue and increases iron absorption. Vitamin C is vital for skin health and helps protect cells from damage which contributes to ageing and a range of health conditions. Vitamin C supports the nervous system and psychological function.
The drawback to regular Vitamin C supplements is that the Vitamin C is poorly absorbed, so the amount available to support health is diminished. Vitamin C is susceptible to degradation as it travels through the digestive system. Additionally, the human body tightly regulates and limits how much of the Vitamin C can be absorbed, with the excess passing into urine.
According to SOMEGA co-founder Mark Clifford "SOMEGA's new supplement, Liposomal Vitamin C, is made using cutting-edge liposomal technology to overcome the limited absorption of regular supplements. With this advanced technology, we protect the Vitamin C within tiny, nano-sized, bubbles called liposomes. Liposomes safeguard the Vitamin C as it travels through the digestive system and enhance delivery of the Vitamin C to the cells for maximum health benefit".
In addition to enhanced Vitamin C absorption, SOMEGA's Liposomal Vitamin C has other key features worth noting. This expertly formulated supplement contains only natural ingredients, is vegan-friendly and alcohol-free, unlike many liposomal food supplements which surprisingly contain alcohol as a preservative. Like SOMEGA's Easy Omega-3 product, the Liposomal Vitamin C tastes very pleasant. It has a natural citrus flavour and can easily be taken straight from the spoon or added to cold drinks and smoothies. While some food supplement companies package their products in non-recyclable single use plastic sachets, SOMEGA chose to use packaging that is eco-friendly and recyclable.
SOMEGA's range of Vitamin D supplements, which will support the immune system and bone health, will be launched later in the summer.
SOMEGA is stocked in An Tobairin (Bandon), The Olive Branch (Clonakilty), For Goodness Sake (Dunmanway and Skibbereen), Organico (Bantry), Loop de Loop (Castletownbere), Nature's Corner (Macroom), O'Riordan's Pharmacy (Enniskeane), Rosscarbery Pharmacy, Glengarriff Pharmacy and Beauty Rooms, Collins Kinsale Pharmacy.