Another Christmas has slipped gently by and here we are in 2022.
As always I enjoyed Christmas. I love that business takes a break and there's time to enjoy family and friends, even if it means meeting outside to avoid the dreaded virus. We shared lots of family dinners, taking turns to cook, trying new recipes and perfecting old ones.
I was thinking what did I eat that stood out on my taste memory; we ate so much. Amongst the many dinners, some elaborate and some simple, were roasted carrots.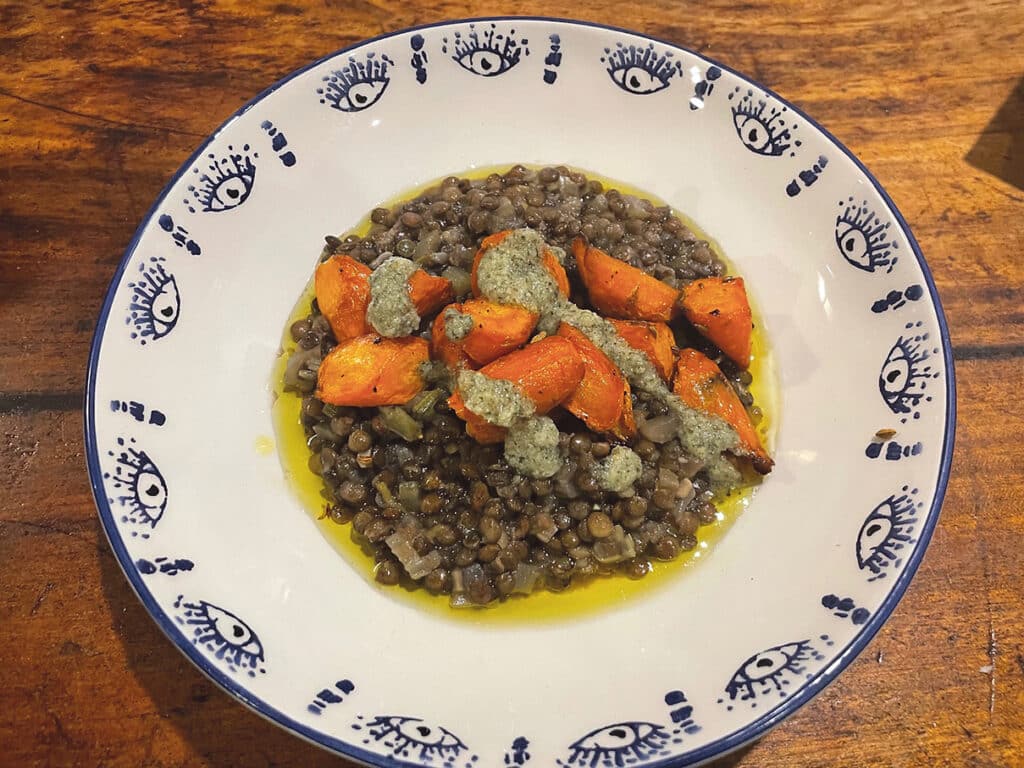 I know! Roasted carrots, they sound so mundane but cooked properly roasted carrots retain their bite and at the same time transform into melt-in-your-mouth sweetness. Once roasted there are so many options to include them in or to accompany dishes.
Our roasted carrot moment came about when there was very little in the vegetable basket and to be quite honest there were no great expectations. We roast carrots regularly, usually in a medley of roasted vegetables but this time, partly due to necessity we roasted them solo in chunks.
Roasting all root vegetables enhances their flavour. The dry heat of the oven releases the water in the vegetable which shooshes off, as steam releasing the natural sugars which caramelise and bring about a great depth of flavour.
It's important to know when preparing this dish that the vegetables are going to shrink, taking the water out will set this in motion – the opposite from pumping food full of water to plump it up. What looks like an alarming amount of carrots will finish up about half the volume and if you can't eat them all they are excellent added to salads or soups the next day.
Carrots grow in Ireland, they're local, sustainable and a great colour. Colour in January is always a bonus, grey days need colourful food. The brighter the vegetables are the more antioxidants and serotonin within. All of these factors will help us to keep us well and positive. My mum always told us to eat up our carrots because they would help us see in the dark which could be another bonus.
Here's a roasted carrot recipe combo that we enjoyed.
Roasted Carrots,
Lentils and Pumpkin Seed Salsa
Ingredients:
• 700g carrots
• 1tsp fennel seeds
• 30mls olive oil
• Salt and black pepper
• 1 tsp honey
• 200g puy lentils
• I red onion
• 1-2 stems celery
• 1 leek, white part only
• 50mls olive oil
• Salt and pepper
• 1 tbs of your best balsamic vinegar
• 50g pumpkin seeds
• 2 cloves garlic
• half a preserved lemon
• 25mls olive oil
• Salt
Pre heat oven 190ºc.
Peel the carrots and chop into chunks, roughly 3-4cms. I like to chop on the diagonal as this gives bigger sides to caramelise – it also looks more interesting.
Put the carrots into a large bowl, drizzle over a little olive oil, add the fennel seeds, some salt and cracked black pepper then toss them all together. The carrots should be lightly coated in oil. Tip the carrots onto a large roasting tray – they need to be in a single layer otherwise they will braise rather than roast. Set the timer for 30 minutes then remove the tray from the oven and toss everything again, cook for a further 20 minutes. Finally take the tray out again, drizzle a small amount of honey over the carrots – not more than 1tsp, then toss the carrots once more. Roast for a further 10-15 minutes.
To prepare the lentils, peel and chop the onion, dice the celery and the white part of the leek. Heat a pan. Add the olive oil and the vegetables. Season with a little salt then cook on a medium heat until the vegetables begin to melt down. Stir in the lentils, then cover with 500mls water. Bring to the boil then cover with a lid and turn to simmer. Cook for 35-40 minutes or until the lentils are tender. Taste to check. Season with salt and pepper then stir in 1 tbs of your best balsamic vinegar, this will brighten the dish up.
To make the pumpkin salsa toast the pumpkin seeds gently in a dry pan on a low heat. They will begin to crackle and pop so keep an eye on them and don't let them brown. When the popping subsides tip them out of the pan to prevent them from cooking further. Peel and roughly chop the garlic and roughly chop the preserved lemon. Put all the ingredients into a jug and buzz with a hand held blender or buzz in a food processor. Taste and season with a little salt and thin with a little water if it is too thick to pour.
To serve put the lentils into a shallow bowl or onto a plate, heap some carrots on top and drizzle over some pumpkin seed salsa. Excellent eaten with potato wedges – which can be roasting at the same time as the carrots.
Enjoy!
Happy New Year everyone, wishing you an abundance of health and happiness
Karen
Lettercollum Kitchen Project
22 Connolly Street, Clonakilty
www.lettercollum.ie