Skibbereen native Grainne O'Keeffe joined the Ludgate Digital Hub CLG in Skibbereen in 2020 as CEO of a national thought leader in rural regeneration. Ludgate's goal is sustainable job creation in a rural location leveraging 1gb fibre optic connectivity closing the gap on the rural digital divide. To date, the Ludgate social enterprise has nurtured and enabled over 700 direct and indirect jobs in West Cork – a disadvantaged area by function of geographical remoteness – through a combination of co-working facilities and curated elevator programmes.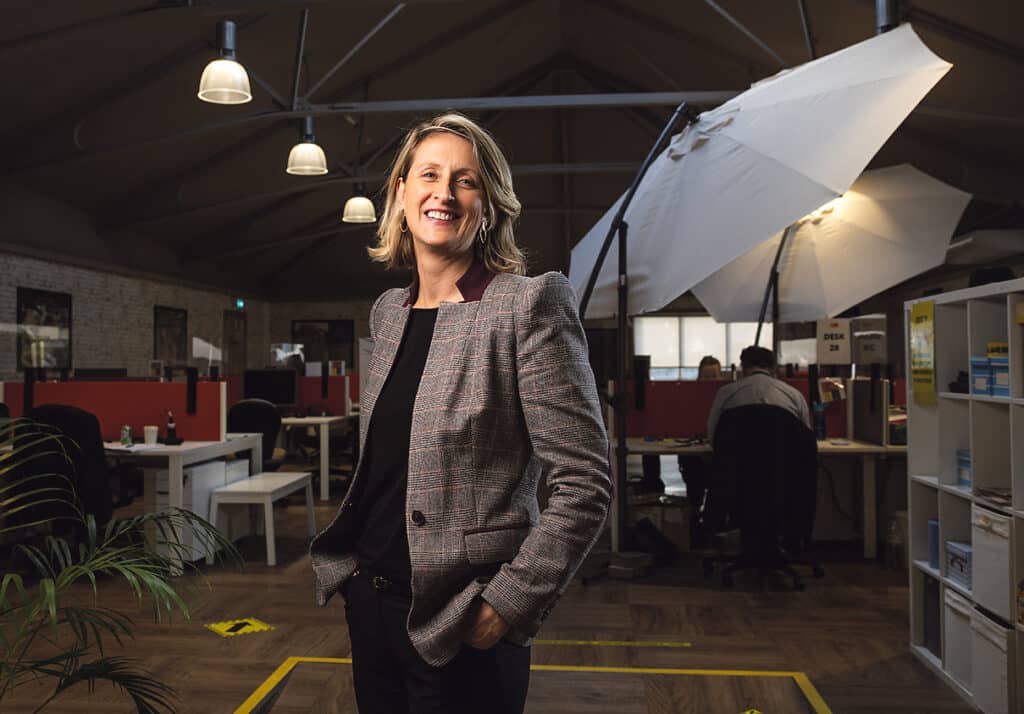 The Irish Government's rural policy, launched in March 2021, seeks to replicate the proven hub model in other rural remote areas with the goal of economic empowerment leveraging digital enablement. 
"When Ludgate first opened its doors its primary role was a co-working hub for remote workers, solopreneurs and start ups in the region," shares Grainne. "We have since expanded our offering to include a wide range of value added elevator programmes that enable and nurture working in a rural location."
While she aspired to be a teacher when younger, the Mercy Heights student went on to study law at UCC and completed a Masters in Business Studies at the Smurfit Graduate School of Business, UCD. That was back in the nineties. More recently she became a part of the life-long learning brigade after enrolling in a diploma with UCD/Institute of Bankers in Sustainable Finance.
After University in the nineties, the Bank of Ireland graduate programme sent the ambitious young woman to Jersey, Channel Islands. She went on to spread her wings within the financial services sector, gaining a wealth of international management experience spanning 20 years across London, Tokyo and New York.
"The first six years of my career post graduation were with JP Morgan in London, Tokyo and New York so I love the fact that JP Morgan Investment Bank has now arrived in Clonakilty through the recent acquisition of Global Shares," she shares.
After JP Morgan she joined Goldman Sachs Investment Bank and held a global position for a number of years before opting out of the paid workforce to take care of her young boys for a few years. On returning to the workforce and having returned also to Ireland she spent a number of years with Spearline in Skibbereen as Head of Innovation before joining Ludgate to lead the team there.
According to leader Grainne, whose role is setting the strategic direction of the organisation, the people who make it all happen at Ludgate are a very happy team in a very happy hub
"It's important to me to create a productive but happy environment in Ludgate and I believe we have achieved that. Collaborating with my team, the hub members and the wider hub and start up and SME community are very motivating and enjoyable."
Grainne is also responsible for ensuring there is enough revenue coming in to cover staffing and operational overheads.
Funding is one of the biggest challenges. "It's always on my mind," says Grainne. "We are continuously exploring revenue generating opportunities that deliver value for the region. Funding opportunities come through state and EU funding as well as corporate funding from AIB who have backed us from inception. We also collaborate with the Irish Tech Hub Network and the Connected Hub Network and there are significant synergies through such partnerships. Our recently launched 'Friends of Ludgate' initiative targets new channels of corporate and philanthropic sponsorships."
Staying relevant through Covid lockdowns was also difficult. "We solved this by pivoting to online virtual knowledge sharing webinars and hiring a marketing manager."
Over the past three years, Ludgate has hosted over 36 events with close to 2000 attendees. "Given we were novices in virtual hosting we are very pleased with our recently developed expertise," shares Grainne. "Our online social media presence is extremely active."
The plan is to launch a number of new initiatives in the coming months that focus on the net zero transition challenge. One of these initiatives will see Ludgate partnering with RetroKit, a Clonakilty-based home energy upgrade consultancy company and another initiative in collaboration with MTU will focus on enabling the growth of sustainability driven SME's in the region.
One of the initiatives that Grainne is most proud of working on to-date is a pilot programme that Ludgate recently completed called ReIgnite, which was designed to nurture and signpost female returnees to the workforce.
"Having been out of the paid workforce myself for a number of years, I recognised how intimidating the return to work can be," she says. "When skills become rusty our confidence is impacted and this can be an obstacle to embracing new opportunities. Our ReIgnite programme was designed to be a refresher of soft and technical skills for women in an environment that offered support and solidarity. This pilot initiative was a resounding success and brought a lot of joy to the Ludgate team knowing we were able to play a role in nurturing west cork women to return to the workforce. We hope to be in a position to run this programme again in the future."
"Say Yes to everything…" is Grainne's advice to anyone starting out and looking to succeed in business "and then figure out how to execute and deliver.
"Saying no to opportunities is not in my dictionary!"
Outside of work, the CEO, who lives with her family in Clonakilty, is looking forward to introducing her kids to her love of international travel and having lots of adventures along the way.