Jelly Fish Surf Shop in Clonakilty is one of Ireland's leading surf and swim specialist shops and has been serving that community, all ages and abilities, for almost 20 years. Since first opening Jelly Fish Surf Shop has recovered from recessionary times, lengthy street closures, flooding and other disruptive weather events but the forced closures due to the Covid pandemic has been the biggest challenge to date, says business owner Nollaig Hurley. Nollaig's determination to never give up caught the attention of the judges of the Network Ireland West Cork Businesswoman of the Year awards and she won the Established Business category. Nollaig will now represent the West Cork branch at the National Awards.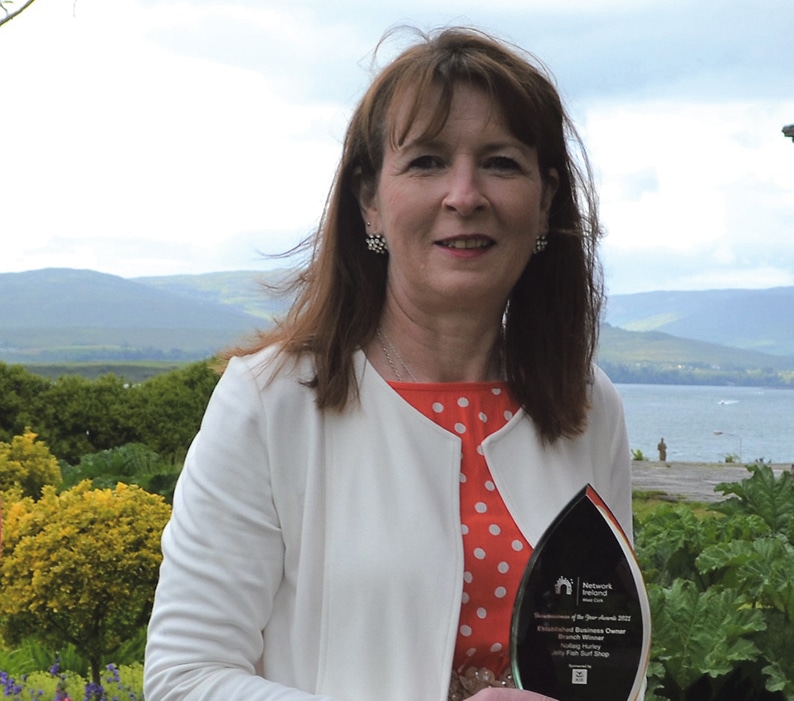 Taking full advantage of our beautiful West Cork coastline is a passion for Nollaig Hurley who spends much of her free time swimming, surfing, hiking and sailing. It's no surprise that she chose to open a shop to help others access and enjoy our waters, no matter the weather.
"My ambition was always to become self-employed," Nollaig explains. "The idea of opening a surf shop was a bit of a light bulb moment that came to me over a pint after a surf session; my surf buddies were bemoaning the fact there was nowhere locally you could buy surf wax, let alone a decent wetsuit. I did a bit of research, secured some suppliers, a business loan and a premises…and as they say, the rest is history."
By taking a calculated risk, followed by sheer hard work and determination, Nollaig has seen Jelly Fish Surf Shop (JFSS) become in her words "the best little surf shop in County Cork (it's the only one!)". This feat was acknowledged in 2019, when the shop won 'Specialist Retailer of the year' in the Independent Irish Retailer Awards, and this year by being selected to compete in the national Network Ireland awards.
Nollaig emphasises the contribution made by a very competent staff to the shop's popularity with customers. Whether you are beginning your surf journey or you are a seasoned open water swimmer, the JFSS team has the technical knowledge and experience to assist in finding the right product with the right fit. "I work with a great team, with whom I have a great camaraderie. It's never a dull day working here!"
Being a small retailer, even in the dynamic tourist town of Clonakilty, is not without its challenges. "Brexit has certainly impacted on the supply chain, causing delays and increased costs," Nollaig says. "Ensuring stock levels are there to meet the increased demand of so many people embracing open water swimming can be tricky, as Covid restrictions and Brexit still impact on production and shipping worldwide."
Of course, the Covid pandemic and ensuing forced closures were the biggest challenges the business has ever faced. However, Nollaig has embraced and adapted to these challenges, increasing opening hours at the bricks and mortar shop in Spiller's Lane to seven days a week and developing an e-commerce site, www.jellyfishsurfshop.com. The website meant that the business could offer a 24/7 shopping experience to a national customer base. In addition to this, growing a social media presence keeps customers up to date with all things new in store.
JFSS is a stockist of quality surf/swim/general purpose wetsuits and accessories, surfboards, bodyboards, SUPs and related hardware. In addition the shop stocks a significant range of lifestyle clothing brands such as Roxy, Quiksilver, Protest, Oxbow, Weird Fish, Greenbomb, Billabong, O'Neills and more. You will also find Tilley hats, Stance socks, Buff neckwear, Jack Wolfskin, Didriksons, Oakley Sunglasses and other specialist technical items that are essential for days spent outdoors.
"Looking forward, the plan is to develop and increase the range of Jellyfish Surf shop own brand products," says Nollaig. "Currently our offering consists of towelling robes and all weather changing robes for adults and kids, own brand clothing, T-shirts, hoodies and Buff neckware."
Like every business owner, Nollaig says she is still working on improving the balance between work and play. "It is important to take time out but not always possible when the season is in full swing and it is 'all shoulders to the wheel'. I love my holidays and I am lucky that in the off season I can take plenty of time-out and the Jelly Fish Team are more than capable of keeping the boat afloat."
But even when the shop is "manic" she still finds time to walk with her dogs, "It's my absolute favourite pastime and the most rewarding –always time well spent."