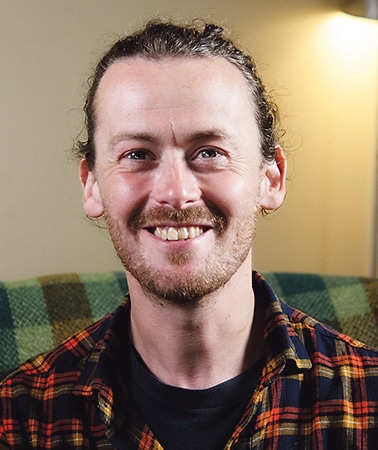 Training Wheels, an initiative delivered by Clonakilty-based Ulick O'Beirne, is one of seven new Cork social enterprises to graduate from the prestigious Irish Social Business Campus (ISBC) 'Business for Social Impact' programme.
The free programme, designed specifically to create and develop sustainable businesses that make a positive social impact was run in cooperation with SECAD in Midleton, Co. Cork. 
The 2020 incubator has seen nine new initiatives advance through the five-month programme with seven of these enterprises from Cork and the other two from Limerick and Kerry.
Training Wheels works with children, people with disabilities and migrants on their social mobility and confidence. They are working on creating a forest school with a focus on nature immersion, allowing people to reconnect more intimately with nature through cycling. Ulick also does cycling coaching in schools and community groups.
With a long background in environmental responsibility, Ulick has developed and delivered a range of initiatives based on cycling. He has delivered, for a number of years, cycling programmes to schools and has been instrumental in a number of community initiatives to create the equivalent of a men's shed around cycle repairs. His new venture is one that is trying to draw together both his love for engagement with the natural environment with his equal love for cycling, allowing people to reconnect more intimately with nature through cycling.
He said, "I aim to facilitate a wide culture of cycling in West Cork; with community, solidarity, and sustainable resilience at its heart."
Eamon Ryan, CEO of ISBC said; "Covid 19 has proven how the wellbeing of our communities is dependent on people who step beyond the norm in addressing unmet demand for critical services. We all owe an increasing debt to those socially motivated people, as exemplified by our participants, who simply want to contribute positively to the benefit of us all."
Participants came from throughout Munster and in keeping with the communities they serve, demonstrated great resilience in adapting mid programme to an 'on-line' delivery. Indeed, some also adapted their delivery in direct response to Covid 19 within the programme.
The range of challenges tackled in the 2020 Programme is very diverse. The seven Cork enterprises range from creativity and wellness in young children, enhancing fitness in the older generations to a community centric arts hub and much more.
The other Cork enterprises are Greywood Arts, an organisation that links the creative arts with local community, AltCamp which connects people who want to camp with landowners, Weplay who aim restore a sense of fun to children that comes with physical activity, An Sugan who are developing a thematic community museum of Irish language and Gaelic revival in Ballingeary Co Cork, LionHeart Gateway which is a meditation adventure game for young people and FittStick which is a wellness system that uses the walking stick.