Two years ago Conor and Bernadette Hegarty took the first steps in a new adventure together. Newly-married, the couple decided to combine their honeymoon with a research trip for their business idea – their dream was to create a purpose-built glamping site overlooking the Atlantic at their home in Ardfield near Clonakilty. The couple set off on The Wild Atlantic Way, finding plenty of inspiration along the way. Fast-forward to 2020 and despite being refused a bank loan and having to deal with the fallout from Covid-19; with the help of their local Credit Union (Clonakilty), Conor and Bernadette have successfully opened Mountain Forge Escape. With stunning coastal views and surrounded by flora and fauna, this fully equipped glamourous campsite offers an excellent base from which to explore West Cork.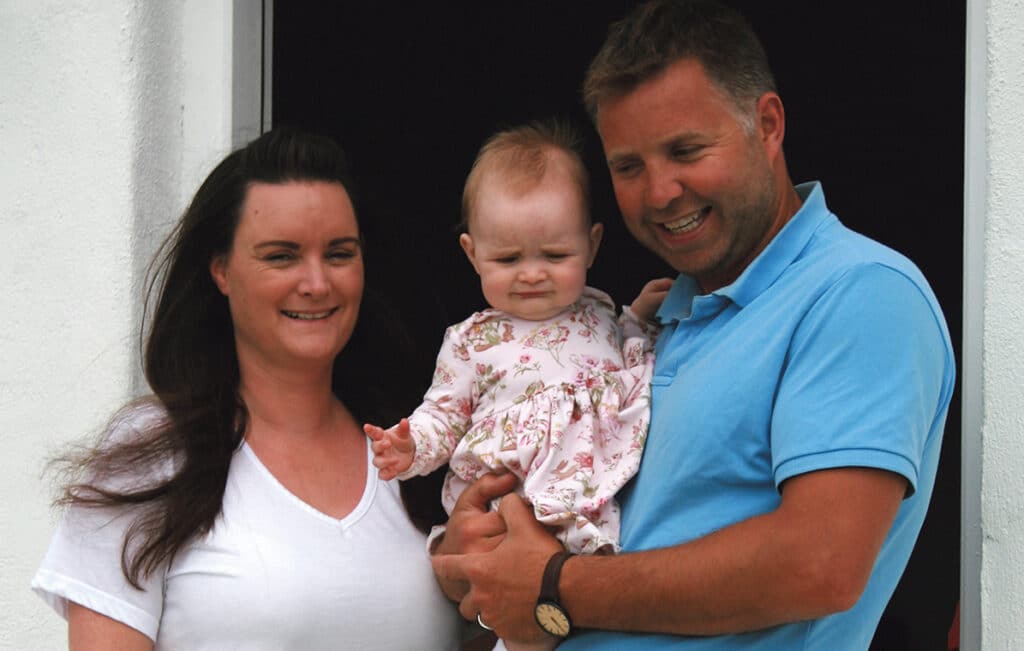 Conor and Bernadette are keen to emphasise that they couldn't have gotten their business off the ground without the support of Clonakilty Credit Union. "We had been told by our local bank that we shouldn't have a problem getting approval for a small business loan," says Conor, who on the back of that continued to drive on with the project. The couple was devastated earlier this year when their bank loan application was denied. "We walked into Clonakilty Credit Union in February and explained the situation," says Bernadette. "They went above and beyond for us and within a week, we received a call saying that we had been approved for a small business loan of €60,000. It's the reason our business is here and thriving today."
Although the pandemic delayed the planned March opening, the campsite has been exceptionally busy since lockdown lifted, with the main attraction, the Dome, already fully booked for July and August. One-of-a-kind in Ireland, the soundproof and air-conditioned Dome, which boasts a large wraparound window, offers the ultimate in luxury and comfort in the outdoors. Ideally suiting a couple, the Dome is proving very popular with Irish families this summer and can fit up to six comfortably. With such a strong demand, Conor and Bernadette are already planning on adding another four Domes to the site in the near future.
The two-acre campsite has pitches for 30 tents and 16 campervan or caravan spaces. The campervan awning and parking areas provide water and power within each pitch and a chemical disposal unit is located on-site within walking distance. On departure, a concrete base is available where customers may release sink wastewater. An additional toilet facility is located beside these pitches. "We learnt a lot during our Wild Atlantic Way trip," says Conor. "The power points within each pitch, chemical disposal unit and wastewater release area are all as result of advice gleaned from other campsite owners."
A bit of a history buff, Conor has given a nod to the past on the campsite in the form of an old-time white cottage topped with a red corrugated iron roof and natural slate. The pretty building, which Conor built himself, houses the reception area and a warm, homely, fully equipped self-catering kitchen. A separate entrance leads to wet rooms, separate ladies and gents showers and toilet facilities, all wheelchair-accessible. There is also a laundry room. Work on a covered BBQ area is underway and eventually the Dome will also boast a private outdoor hot tub.
Conor shares how Mountain Forge Escape got its name. "In the 19th Century, Mountain Common had a horse race track, which was located very near to where our campsite is now. Horses had to be shod and there was once a working blacksmith's forge very near our campsite; you can see the old cart wheel jutting out of the ground today."
A private walkway links the campsite to the village and in just over five minutes you'll reach the local playground, football pitch and tennis courts. There is a shop in the local creamery and Conor's sisters have recently taken over the local restaurant, The Mountain House Steak and Seafood Bar. There are five spectacular beaches just a five-minute drive away.
Conor and Bernadette are already making plans to add to the experience at Mountain Forge Escape on the Wild Atlantic Way; a yurt, double decker bus and even a treehouse are in the ten-year plan! It's an idyllic retreat for anyone looking for a comfortable yet affordable holiday in a beautiful location.
Visitors can look forward to a warm welcome and an experience that will no doubt bring them back to West Cork again and again.
www.mountainescape.ie