Severe flooding wrecked havoc across many towns and villages in West Cork in recent weeks. Bantry, Skibbereen, Bandon and Rosscarbery were all badly hit with flooding also taking place at Dunmanway, Connonagh, Clonakilty, Drimoleague, Leap and Ballydehob. John Bohane hears from business owners and local representatives about the damage and need for action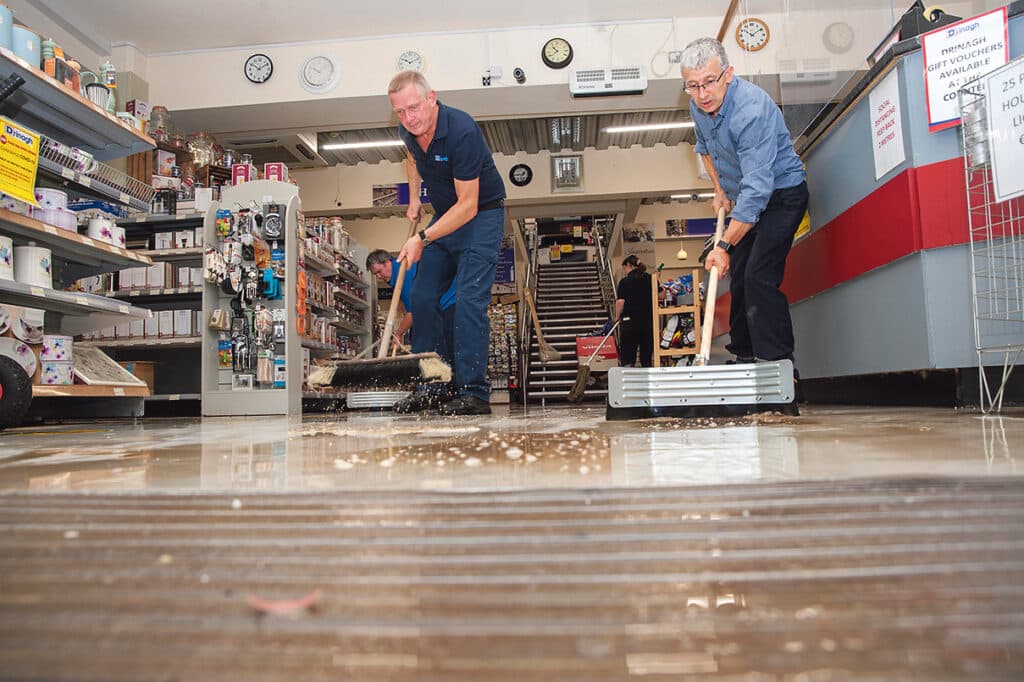 The unseasonal high volume of rain in August, combined with high tides and lack of culvert defence mechanisms led to distressing scenes in many businesses, residential properties and on many roads throughout West Cork. The substantial damage caused untold heartache for businesses and residents alike in the various communities. The only positive to emerge from the recent flooding destruction was the great community spirit, which shone through in all the local towns and villages. Businesses and locals rallied around helping prevent more damage, which typifies the great character and sense of humanity in West Cork.
Bantry town in particular suffered acute damage in the late hours of Monday, August 24 with Barrack Street, New Street, Main Street and The Quay area destroyed by flooding and businesses and residential property suffering huge damage.
Shane Spillane, proprietor of O'Connor's Seafood Restaurant in Bantry, was overwhelmed by the scene he encountered on arriving at his restaurant. "It came up through the drains and streamed in everywhere including the front door. Our only luck was to have tiles on the floor," he says. Although Shane acted quickly, removing all the furniture from the restaurant, there was of course still damage. "We had to close for two days in order to get it professionally cleaned such was the volume of water," he says. "You couldn't write the script at the moment unfortunately…first with Covid and now severe flooding."
On a positive note, the picturesque town of Bantry has had a strong summer with large numbers of visitors. Local businesses such as O'Connor's Restaurant were happy with footfall over the past few months. "Business has been very good," says Shane. "However, I think we have to keep in mind that we have been probably busier due to so many other places being closed, an unfortunate side-effect of the pandemic."
The strong community spirit in Bantry was evident in the days after the flooding with Shane and his team feeding the huge groups of volunteers in clean up action throughout the town with soup and curry. The restaurant owner was full of praise for the role everyone played. "The emergency services were great, all putting in huge hours and doing Trojan work," he said. "We were affected badly but there were other places that suffered much worse so were happy to help raise morale and assist others under stress, as we are all in this together."
Richard Harrington, owner of The Quay's Bar in Bantry echoed Shane's sentiments. Born and raised in Bantry, Richard said this was the worst flooding he's ever seen in the town. Richard was working when it happened. "I opened the blinds and saw two feet of water inside the door at 11.30pm," he shares. "I was lucky that I was able to put sandbags out immediately, which was a huge help. Like O'Connor's, staff at The Quay's were able to act quickly, and again having tiles on the floor helped. "We had very minimal damage compared to other places who were not so fortunate," says Richard. "Your heart would go out to the other business owners."
Richard, known to all as Paco, was full of praise for the huge support he received from friends and family members, as he embarked on his clean-up operation. "Everyone rowed in and helped one another. Two friends of mine rang me from Kerry and Dublin respectively, offering to come down and help with the clean up," he revealed. That gave a little boost. Everything helped. My staff were also great; a few hours of mopping and brushing got the job done." The Quay's was able to open the following day at 12noon.
"Bantry urgently needs the flood relief and the culvert works to be completed," says Richard. "We are very prone to flooding, our system is outdated, and it badly needs upgrading. The recent flooding hopefully will focus minds and ensure progress is made quicker, which will benefit everyone in the local area."
Local county councillor Danny Collins, in his role as chair of the West Cork District, called a meeting for councillors and the council executive, which was held on Monday, August 31. Danny, who runs the Boston Bar in Bantry town, revealed that the necessary finance is ringfenced for the proposed flood relief scheme.
"€6.7 million has been set aside for the flood scheme in Bantry," he explained. "This has been in the pipeline over the last few years. They reckon work won't be completed however for another three years, as it will have to go through the due process and all the relevant parties."
Danny promises that the councillors, as elected representatives, will keep the pressure on to ensure the work gets done as quickly as possible. "We will keep driving this on so the work is completed," he assured. "I also brought up the Humanitarian Fund Scheme to ensure residents and business owners get adequately compensated. This scheme presently only covers businesses, but I have written to Minister McGrath to stress the need for residents to be helped also."
Councillor Collins explained the culvert works are completely separate to the flood scheme. "Minister O'Donovan and Minister McGrath also revealed that the money will be there for this work, which is good news," he said. "The response from the various ministers has been very strong and we are guessing the culvert work will be done in the same timeframe. There are different stages to this job and hopefully plans will be put in place to ensure the disruption to the town won't be too bad during works carried out."
Danny recalled his upset upon arriving into Bantry town on the night of the flood the flooding occurred. "When I saw what was in front of me, I nearly cried," he said. "I saw the volume of water coming down Seskin over a four-foot wall, which was a scary sight."
Danny says the town was fortunate there wasn't a high tide that night. "Everyone is drained from the year we have had. Business owners were just getting back on their feet and then this happens. Some businesses opened the following day, while others have yet to re-open."
He is however confident the town will get back on its feet. "Hotels and bed and breakfasts are all reporting a good summer due to domestic tourism," he says. "Bantry is a great town with a lot of great organisations doing good work behind the scenes. Everyone works together for the good of the local community and the future is bright."
Bandon town was also hit that night; the town's drainage and sewer network overwhelmed by the incessant rainfall. Flooding occurred on Bridge Street, Brady's Lane and South Main Street and a number of residential homes and businesses were damaged. Only prevention works from emergency personnel stopped more extensive damage on the night. A lot of anger was expressed by locals and business owners who are dismayed at the constant flood damage to their town despite millions being spent on work in recent years.
Just less than a week before, on August 19, Skibbereen town, in particular Bridge Street, also suffered flooding damage. Once again unrelenting pressure on culverts resulted in the street being flooded. Great community spirit was again evident, which ensured business owners were able to re-open in the immediate aftermath of the flooding.
Ashling, Daly, owner of Beatique by Ashling Daly on Bridge Street acted quickly to limit the damage to her salon. "I got an awful fright when I arrived initially," she said. "There was almost two feet of water at the door and it was up to the windowsill. It came in halfway up the skirting on the inside." Ashling said she was fortunate that help was on hand from great neighbours and friends. "The community spirit was brilliant and I am so grateful to all who helped. We got to work immediately getting a lot of the water out, which ensured no lasting damage to the floors. I stayed closed the following day, as everything was wet, and I had to give the whole place a thorough clean."
Thankfully the flood relief scheme worked in Skibbereen, which helped ensure the rest of the town's streets were unaffected by the flooding. Ashling and her business colleagues are hopeful the recent work on the culverts will further alleviate their fears going forward. "Hopefully it won't happen again. All the various business owners and residents have been through enough," she said.
Earlier in the month from August 12, Rosscarbery and surrounds suffered millions of euro in damage caused by torrential rainfall over a period of 72 hours, which resulted in flash floods affecting multiple properties. Roads were also destroyed.
Cork South West TD Christopher O'Sullivan has vowed to keep working on behalf of all the residents and business owners who have been affected by flooding in West Cork. "My heart goes out to all who were impacted. The frequency of these events and the amount of towns impacted in Cork South West is frightening. It begs the questions, 'are our towns prepared for the extreme weather, which is becoming far more common?' A commitment has been given to Bantry by Ministers McGrath and O'Donovan, which is great news. I welcome this, but this work needs to happen immediately. Bantry has been flooded five times in the last 30 years. In my role as a TD, I will be pushing for this scheme to be implemented immediately. I will also be working on ensuring residents can avail of the Humanitarian Grant along with business owners. There were a number of roads destroyed in West Cork, which also need to be repaired immediately."
The Clonakilty-based TD was lavish in his praise for the great community spirit in all the various towns and villages. "It was great to see. People were out with their brushes and generally helping out. On a positive note, the Bandon and Skibbereen Flood Relief Schemes generally worked. They were successful, as without these, more of their streets would have been flooded. In saying that, a thorough investigation still needs to be carried out however. Local authorities have questions to answer in regard to culverts. That is the least that business owners and residents deserve."
The following are extracts from statements released by the Cork County Council Communications Office in relation to the flooding events in Bantry, Skibbereen and Bandon respectively.
"A detailed assessment is now underway into the Bantry flood event, involving Cork County Council and the other relevant agencies, including the Office of Public Works (OPW) and Irish Water. This will inform decisions on short-term and longer-term actions, which will feed into the development of the OPW Flood Scheme and Culvert Works."
"The Skibbereen flood event is being reviewed jointly by Cork County Council and the OPW to ensure that the works in both The Cutting and Cork Road areas are robust going forward. It is expected that a construction tender process will commence in the coming weeks for the culvert and drainage works on the Cork Road, as funding support has been confirmed from OPW and TII."
"Irish Water's Bandon Main Drainage Scheme is also in progress. This will involve some storm water separation and some upsizing of combined sewers. This work, when completed, will provide significantly increased storm water capacity."