"It was like being dropped out of an aeroplane into the Atlantic," says Eileen. "I was 22 and madly in love." Swept off her feet on a dance floor in Skibbereen, in 1967, Eileen McCarthy (22) of Castlehaven married Tim Joe Whooley (30) of Lisheen, joining three generations of Whooleys who had served the people of Aughadown for over a century in their busy country shop. The couple chat to Mary O'Brien about life way back when…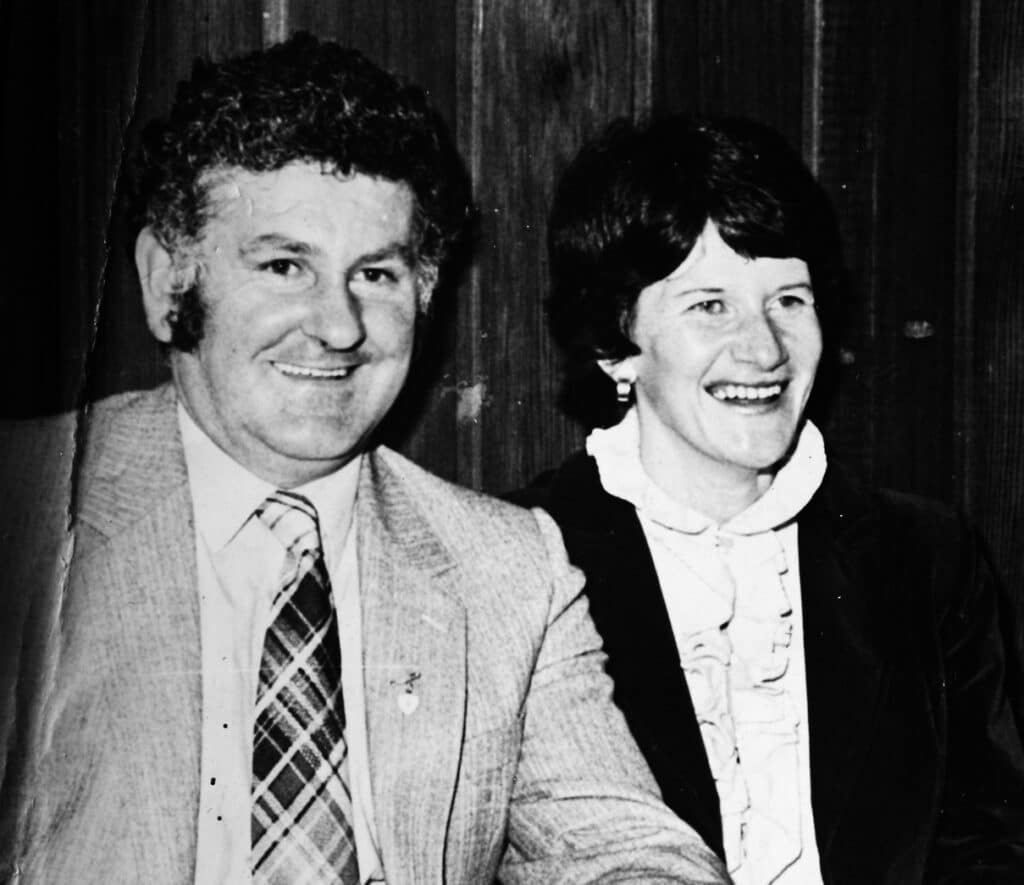 In those days, small grocery shops were inherent to the social fabric of rural Ireland and the local community, with a visit as much a social activity as it was an essential part of daily life. 'The Shop' in Lisheen as it was simply known by was a place to buy and sell but also to meet neighbours and friends and exchange news and banter. 
After the wedding, Eileen, a young shorthand typist, moved into the family home with Tim Joe, his three brothers, and their mother Kit; running the family shop in Lisheen with Tim Joe until it closed its door in 2002 after 102 years of service. The family also had a small farm and, aside from the shop, Tim Joe ran a hackney business and delivered coal.
The story of 'The Shop' begins a long time before this with another marriage, that of Patrick Whooley of Lisheen to Margaret McCarthy of Heir Island. They opened a store further south in Lisaree in 1896 in what used to be called 'Eugene's Cottage'.
Patrick was a fisherman, the owner of 'The Pride of Toe Head'. While he was off fishing, Margaret ran the shop and raised a family of 17 children who, with the exception of four girls, all emigrated to America.
Rumour has it that Margaret was so strong she could lift a 10 stone bag of flour on her back up the ramp to the shop. She was also known for being a very good-humoured woman. "She had a kind word for everyone who visited the shop," recalls Tim Joe of his grandmother.
Patrick and Margaret subsequently moved to Lisheen and ran the shop there until their son, Michael John (Tim Joe's father) who was in the Merchant Navy returned from America in 1930. On May 5, 1931, Patrick signed over the place to Michael John for the sum of £200 pounds, five cows, one horse, one pony, all pigs and stock in trade and all other goods. Tim Joe still holds the receipt of this transaction.
Michael John married Kit Duggan from Foilnamuck, Ballydehob shortly afterwards and she joined him in running the shop. For a while they also ran a small creamery.
While the shop was always open, when Tim Joe's grandmother Margaret was saying the rosary in the evenings, customers knew better than to interrupt. Tim Joe recalls how he'd come back after delivering coal and the decades of the rosary would be interspersed with questions or remarks. "It would go something like 'Holy Mary Mother of God…did Dr. Twomey take coal today?…Hail Mary full of grace the Lord is with thee… did Gerard Brien take coal today and did you get the paraffin oil for Mrs. Daly?'" he explains laughing.
When Tim Joe's father died in 1959, Tim Joe suddenly found himself full time in the shop along with his mother and some of the family. "None of us had much interest in the shop at that time," says Tim Joe "except maybe to steal a few sweets out of it!" Nonetheless he says he never thought of doing anything else. "I enjoyed it all my life and was happy at it."
Growing up he recalls cycling everywhere or walking the 14-mile roundtrip to Skibbereen and back. "Just for something to do, we'd walk in to 'see the time' on the town clock in Skibbereen," he says. "We might get a bottle of lemonade and a bun in a shop before walking back home." They'd change into their kit on the way to matches, hiding their clothes underneath bushes.
Tim Joe was 17 when he started delivering coal and, purchasing his own lorry later on, he stayed in the coal delivery business until 2000. He continued driving his hackney until 2017, transporting people from all walks of life; from prisoners to Cork jail to tourists to Shannon Airport to Cork junior, minor and senior GAA players to matches. On many occasions it would be six in the morning before Tim Joe got home himself after dropping players off. "And in all that time I never got a penalty point," he shares proudly.
With Tim Joe's passion for dancing – he started Lisheen Dance Platform in the early '60s, along with John and Timmy Whooley and Jerry Minihane – it seems apt that Tim Joe and Eileen's story began on a dance floor. Up to 350 people, many arriving by bicycle or on foot, would attend the dance sessions on the concrete platform at the side of the road next to Minihan's pub in Lisheen. Entry was a shilling. Tim Joe recalls with humour a headline in his local paper at the time that read something like 'Judge cuts short holiday to issue licence to Tim Joe Whooley for Lisheen dance platform'.
Other popular dance spots included Crowley's Hall in Union Hall, The Lilac in Enniskeane and the Town Hall in Skibbereen where Tim Joe and Eileen first laid eyes on each other. "He had just finished doing a line with someone," recalls Eileen.
Theirs was a double wedding, shared with Tim Joe's youngest sister Mary and her husband Cliffy Minihane. The ceremony at St Patrick's Cathedral in Skibbereen was followed by a breakfast reception for 195 guests at the West Cork Hotel. It was a daytime affair so everyone was home by six that evening. Tim Joe kept the receipt, which includes three rounds of whiskey for the men, totalling £245. The newly weds stayed with Eileen's sister for their week-long honeymoon in England.
Tim Joe and Eileen took over the shop after they married in 1967. While life was busy, there was never a dull moment. Eileen got on very well with Tim Joe's mother Kit. "There was never a cross word between me and any of the Whooleys in all the years we lived together," she says.
'The Shop' in Lisheen was like an Aladdin's cave. "Entering the shop, an unforgettable aroma struck the nostrils, difficult to describe – a mixture of fresh bread, bacon, fruit and so on," recalls local man Eugene Daly.
"There were sacks of flour and sugar, chests of tea, boxes of raisins, currants, sultanas, all of which had to be weighed and placed in paper bags, barrels of pigs' heads, sides of bacon, stockfish. Shovels, pikes, nails, hammers, scythes, hanging from the roof – everything from a needle to a ton of coal could be bought.
"On the shelves was a cornucopia of goods – various varieties of sweets, two pound pots of jam, Golden Syrup, Lifebuoy soap, Rinse washing powder. Metal posters advertised Wood-bine cigarettes, Mac Smile blades, Bird's custard."
The Whooley family were renowned for their kindness and goodwill. There was never a No Credit sign in this shop. "People paid when they could with money from the sale of eggs or butter or when they sold an animal at the fair," explains Tim Joe. "We had to carry the cost and the biggest challenge was if you had to get an overdraft," say Tim Joe, who recalls the interest rate being at around 21 per cent at one time. In 1968 a half pound of tea would set you back four shillings, a packet of sugar cost one and nine pence and a pound of butter one and ten pence.
After mass on a Sunday, Tim Joe would ferry people from the church to the shop in his hackney. This was always a great social occasion, with neighbours catching up on the week's news while getting their bits and pieces.
GAA was a hugely important part of Tim Joe's life. He was a Junior selector with Skibbereen, Carbery and Cork and played with Skibbereen before the Ilen Rovers club was formed. He was President, Chairman and Treasurer of O'Donovan Rossa and still helps to run the club bingo on Friday nights.
As well as looking after the shop and milking the small herd of cows, Eileen ran a bed and breakfast for a while in the seventies, providing the local work men who stayed with three meals a day. She also made sandwiches for people on their way to work in the mornings.
In the sixties and seventies, Tim Joe recalls buying rabbits from local men. Sometimes they would exchange them for cigarettes. Local children would pick blackberries for three pence a pound, which would be placed into 40 gallon barrels with a preserving fluid and shipped up to Cork Farm Products on the train with the butter and eggs, guinea hens and other goods bought from the islanders and people in the local community.
Tim Joe had a day in court when the local sergeant in charge of weights and measures called him out for being overweight with his measures of paraffin oil. "For every 39 gallons I sold, I was wronging myself a gallon," explains Tim Joe, his eyebrows raised. He was fined 10 shillings for his generosity. Eugene Daly remembers when there used to be a mix of motor cars, bicycles and horse and traps in the yard in the fifties. For many years, the yard was also where the paraffin, coal, pig ration, maize and other animal foods was kept.
In the late fifties, there was a huge fire in the yard which nearly destroyed the shop. Over 40 local men were on site within ten minutes to help. The meal was saved but the store burned to the ground. The storage buildings in the yard were eventually replaced with apartments with many of the usually longterm tenants becoming good friends over the years with the Whooleys, who always kept that generosity of spirit they were renowned for. Descendants of the famous Vincent Van Gogh even stayed there at one time, and kept in touch for a long time after. Over the years, Tim Joe and Eileen developed a great love of travel, taking trips to the US and Europe, sometimes visiting family and people they had met through the shop or accommodation.
While it was the end of an era when 'The Shop' in Lisheen closed its door for the final time in 2002, the close-knit way of life that Tim Joe and Eileen grew up with had faded significantly in the years leading up to it. "I think the takings were two loaves of bread on that final day," recalls Tim Joe. "It was time." Centralisation had stolen the way of the small rural shop.
Fifty-five years on from their wedding day and Tim Joe (85) and Eileen (78) are still happily ensconced at their home in Lisheen. Life is quieter now but the happy couple enjoy each other's company and both keep active. When they're not at home, they're out walking their two beloved dogs, Liz and Susie, on country roads, at bridge or bingo or off visiting someone somewhere. Eileen still bakes so visitors to their home are always treated to a delicious slice of something with their tea. Running the shop, open from eight till late seven days a week for so many years, meant always being at the beck and call of someone, so while their memories are nostalgic, the couple appreciate the freedom that retirement has brought them in their golden years.